Effectiveness of Distribution of Zakat Funds at Baznas Kab. Labuhanbatu
Faliha Ardhelia Nasution

Fakultas Ekonomi & Bisnis Islam, Universitas Islam Negeri Sumatera Utara

Ahmad Perdana Indra

Universitas Islam Negeri Sumatera Utara
Keywords:
Effectiveness, Distribution, BAZNAS
Abstract
This study differs from the concept of the importance of education for each individual. In education, many economic factors do not support the citizens. Therefore, the government established an official body tasked with the welfare of the poor, namely Baznas. Not only in the field of education, Baznas must channel its funds effectively to mustahik (zakat recipients). The purpose of this study is to determine whether the distribution of zakat funds at Baznas Labuhanbatu has been effective. The National Zakat Agency (BAZNAS) is a non-structural government agency that manages zakat in the Labuhanbatu Regency area. This study uses a qualitative method. The qualitative method uses a descriptive approach. Based on the data presentation and data analysis, it can be concluded that the distribution of Zakat funds, at Baznas Kab. Labuhanbatu is carried out in two ways, namely active service (direct distribution) and passive service (indirect distribution). The effectiveness of the zakat fund distribution program at Baznas Labuhanbatu in its distribution can be said to be effective because it has fulfilled all the elements/benchmarks of effectiveness.
Downloads
Download data is not yet available.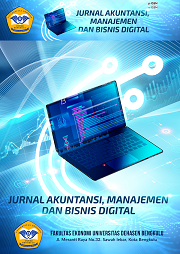 How to Cite
Nasution, F., & Indra, A. P. (2022). Effectiveness of Distribution of Zakat Funds at Baznas Kab. Labuhanbatu. Jurnal Akuntansi, Manajemen Dan Bisnis Digital, 1(2), 185–188. https://doi.org/10.37676/jambd.v1i2.2405
Copyright (c) 2022 Faliha Ardhelia Nasution, Ahmad Perdana Indra
This work is licensed under a Creative Commons Attribution-ShareAlike 4.0 International License.