Property Business Competitive Strategy Analysis at PT. Rizki Mandiri Barokah
Utami R.A Padang

Universitas Islam Negeri Sumatera Utara

Wahyu Syarvina

Universitas Islam Negeri Sumatera Utara
Keywords:
Competitive, Intensive, Strategy, Resources
Abstract
The need for a place to live today will always be the main need of society. These needs make the demand for housing will continue to exist. With the level of demand that continues to increase, it will encourage business people to try to take advantage of these opportunities. The more property businesses, the tougher the competition in the industry. So the company will be required to plan and implement strategies in order to maintain and improve the company's competitive position. In this study, the researchers tried to convey the Analysis of Competitive Strategy in the Property Business at PT. Rizki Mandiri Barokah. As a company that has been in the property business for a long time, researchers are trying to find out what strategies have been implemented by the company at this time, internal and external factors that affect the company in running its business, and what strategies the company can implement to maintain its competitive position. researchers will try to find out the external factors that influence the company in running its business using the company's internal. The type of research used is descriptive qualitative. Finally, the researcher tries to provide the right strategy so that the company can maintain its competitive position. By using SWOT analysis. can provide an overview of the possible strategies that can be carried out by the company. From the results of the study, the researchers found that the right competitive strategy to be applied by PT Makmur Bersama Properti is an intensive strategy for development by mobilizing various intensive efforts on the condition that the company can improve its competitive position with current products and develop the potential of these resources so that companies can be more advanced and compete with other companies.
Downloads
Download data is not yet available.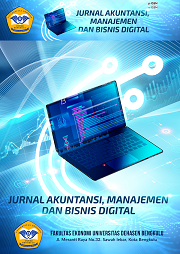 How to Cite
Padang, U., & Syarvina, W. (2022). Property Business Competitive Strategy Analysis at PT. Rizki Mandiri Barokah. Jurnal Akuntansi, Manajemen Dan Bisnis Digital, 1(2), 177–184. https://doi.org/10.37676/jambd.v1i2.2404
Copyright (c) 2022 Utami R.A Padang, Wahyu Syarvina
This work is licensed under a Creative Commons Attribution-ShareAlike 4.0 International License.