Calculation of Depreciation of Fixed Assets According to Tax Regulations at PT. Surya Utama Agrolestari
Ara Yustika Br. Ginting

Progam Studi Akuntansi Syariah, Fakultas Ekonomi Bisnis Islam, Universitas Islam Negeri Sumatera Utara

Arnida Wahyuni Lubis

Universitas Islam Negeri Sumatera Utara
Keywords:
Calculation of Depreciation, Fixed Assets, Tax Regulations
Abstract
Fixed assets are company assets that have a useful life of more than one year. There are several methods that can be used for the calculation of Fixed Assets. The first is the depreciation method in accordance with financial accounting standards (SAK) or with tax regulations. Depreciation method based on tax regulations for tax purposes. This research is also included in the type of descriptive qualitative research. In the accounting activity of asset depreciation at PT. Surya Utama Agrolestari is depreciated using the straight line method, this is in accordance with PSAP No 7. And the results of the study found that PT. Surya Utama Agrolestari has calculated depreciation in accordance with tax provisions and found no fiscal correction to the calculation of depreciation of fixed assets. The calculation of the company's depreciation is in accordance with the tax provisions.
Downloads
Download data is not yet available.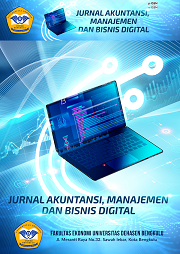 How to Cite
Ginting, A., & Lubis, A. (2022). Calculation of Depreciation of Fixed Assets According to Tax Regulations at PT. Surya Utama Agrolestari. Jurnal Akuntansi, Manajemen Dan Bisnis Digital, 1(2), 147–152. https://doi.org/10.37676/jambd.v1i2.2393