The Role of the East Medan KUA in Overcoming the Level of Domestic Violence (Case Study of Glugur Darat II, East Medan District, Medan City)
Yusrina Nasution

Fakultas Ushuluddin dan Studi Islam, Universitas Islam Negeri Sumatera Utara

Devrichan Syahputra Zalukhu

Universitas Islam Negeri Sumatera Utara

Yuliani Yuliani

Universitas Islam Negeri Sumatera Utara

Ahmad Akbar

Universitas Islam Negeri Sumatera Utara

Putri Amanda Islamay

Universitas Islam Negeri Sumatera Utara

Fatiya Ulfa

Universitas Islam Negeri Sumatera Utara

Ummayanti Ritonga

Universitas Islam Negeri Sumatera Utara

Wulandari Wulandari

Universitas Islam Negeri Sumatera Utara

Rinta Rismwarni Batubara

Universitas Islam Negeri Sumatera Utara

Riza Umaini

Universitas Islam Negeri Sumatera Utara

Siti Masaysah

Universitas Islam Negeri Sumatera Utara
Keywords:
Role, KUA, Domestic Violence
Abstract
The first 1974 law on marriage in force in Indonesia states that marriage is with a man as husband and wife, with the aim of creating a happy and eternal family based on the One Godhead. and external ties between women. Basically, a man can only marry one wife and a woman can only marry one husband. In a husband-wife relationship, each has its own responsibilities and obligations, cooperates according to the Prophet's Sunnah, and the husband as the head of the family is responsible for his family, just as the wife has religious values ​​dealing with the wife. respect him as a wife who raises children together. A wife also has family responsibilities such as respecting her husband, serving her husband, and taking care of him and his children. This would create the Sakina Mawada and Warama families
Downloads
Download data is not yet available.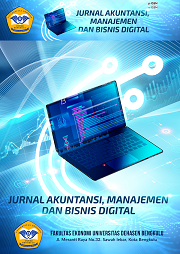 How to Cite
Nasution, Y., Zalukhu, D., Yuliani, Y., Akbar, A., Islamay, P., Ulfa, F., Ritonga, U., Wulandari, W., Batubara, R., Umaini, R., & Masaysah, S. (2022). The Role of the East Medan KUA in Overcoming the Level of Domestic Violence (Case Study of Glugur Darat II, East Medan District, Medan City). Jurnal Akuntansi, Manajemen Dan Bisnis Digital, 1(2), 137–140. https://doi.org/10.37676/jambd.v1i2.2311
Copyright (c) 2022 Yusrina Nasution, Devrichan Syahputra Zalukhu, Yuliani Yuliani, Ahmad Akbar, Putri Amanda Islamay, Fatiya Ulfa, Ummayanti Ritonga, Wulandari Wulandari, Rinta Rismwarni Batubara, Riza Umaini, Siti Masaysah
This work is licensed under a Creative Commons Attribution-ShareAlike 4.0 International License.