Analysis of the Contribution of Motor Vehicle Fuel Taxes to Regional Original Income at the Regional Tax and Retribution Management Agency of North Sumatra for the 2015 – 2020 Period
Murinanda Amalya Parinduri

Universitas islam Negeri Sumatera Utara

Rahmat Daim Harahap

Universitas Islam Negeri Sumatera Utara
Keywords:
Taxes, Contributions, Vehicle Fuel Tax
Abstract
When regional autonomy was implemented, local government had control over the region. Local government could work because of local revenue. Without the local revenue, local government could not operating their programs. The higher the local income, the more possibility the region will be prosperous. Local revenue divided by two, there are original from region local revenue and granted revenue. Local revenue is obtained from local taxes. One of the local taxes is vehicle fuel tax. The contributions of vehicle fuel tax could be influence the original from region local revenue.
Downloads
Download data is not yet available.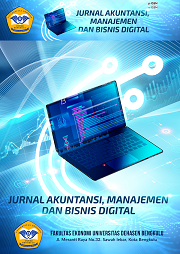 How to Cite
Parinduri, M., & Harahap, R. (2022). Analysis of the Contribution of Motor Vehicle Fuel Taxes to Regional Original Income at the Regional Tax and Retribution Management Agency of North Sumatra for the 2015 – 2020 Period. Jurnal Akuntansi, Manajemen Dan Bisnis Digital, 1(2), 113–116. https://doi.org/10.37676/jambd.v1i2.2290
Copyright (c) 2022 Murinanda Amalya Parinduri, Rahmat Daim Harahap
This work is licensed under a Creative Commons Attribution-ShareAlike 4.0 International License.