Procedures for Submission, Use, and Accountability for the Use of Regional Revenue and Expenditure Budget Funds at the Greater Indonesia Movement Faction (GERINDRA)
Muhammad Ilham

Universitas islam Negeri Sumatera Utara

Azhari Akmal Tarigan

Universitas Islam Negeri Sumatera Utara
Keywords:
Procedure, Usage, Accountability, Regional Revenue and Expenditure Budget
Abstract
In carrying out the operational activities of organizations, both private and government, it is inseparable from spending a certain amount of money for the costs incurred. Costs incurred as a form of support for the smooth implementation of activities. In companies, the activities carried out are oriented towards generating profit, in contrast to government institutions where the activities are carried out for the welfare of the people. To finance the activities carried out, it is necessary to make efforts to acquire financial sources in order to provide a willingness to fund to cover the costs incurred. This study aims to determine the procedure for submitting the use of APBD and how to apply the procedure for accountability for the use of APBD funds in the Gerindra faction. The analytical method used in this study is a descriptive method in which each data collected is analyzed and then conclusions are drawn and the type of research used is descriptive qualitative. The results obtained are that the procedures that have been carried out are running well according to the provisions of the Minister of Home Affairs No. 77 of 2020 concerning technical guidelines for regional financial management. However, the use of funds for activities still prioritizes personal and staff money.
Downloads
Download data is not yet available.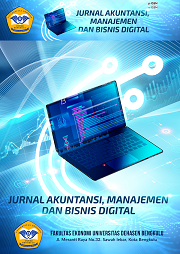 How to Cite
Ilham, M., & Tarigan, A. (2022). Procedures for Submission, Use, and Accountability for the Use of Regional Revenue and Expenditure Budget Funds at the Greater Indonesia Movement Faction (GERINDRA). Jurnal Akuntansi, Manajemen Dan Bisnis Digital, 1(2), 107–112. https://doi.org/10.37676/jambd.v1i2.2289
Copyright (c) 2022 Muhammad Ilham, Azhari Akmal Tarigan
This work is licensed under a Creative Commons Attribution-ShareAlike 4.0 International License.