Income Analysis of Laundry Services on Pondok Setrika Selatan Bengkulu
Wyke Gualiani P.N

Study Program of Accounting Faculty of Econimic, Universitas Dehasen Bengkulu

Wagini Wagini

Faculty of Economic, Universitas Dehasen Bengkulu

Rina Trisna Yanti

Faculty of Economic, Universitas Dehasen Bengkulu
Keywords:
Laundry Service Business, income
Abstract
The purpose of this study was to analyze income, average income, net income, and BEP Unit and BEP Rupiah laundry business in Bengkulu Selatan ironing lodge in 2016 - 2020. The type of research used in this study is descriptive research with a quantitative approach. Based on the results of the study showed that the net income in 2016 was Rp. 134,325,000, in 2017 Rp.117,528,000, in 2018 Rp. 143,785,000, in 2019 146,603,000, in 2020 Rp. 161,625,000 in the laundry service business of the ironing cottage in South Bengkulu, in 2012-2016 it has reached BEP, it can be seen from the average acceptance and use of laundry services. it can be seen from the BEP rupiah in 2016 Rp. 35,168,000, 2017 Rp. 42,778,000, in 2018Rp. 44,759,000, in 2019 Rp. 51,942,000, in 2020 Rp. 68,902,000 and BEP units in 2016 Rp. 6,476,018,000, in 2017 Rp. 7,367,110,000, in 2018 Rp. 8,612,829,000, Rp. 10,115,028..
Downloads
Download data is not yet available.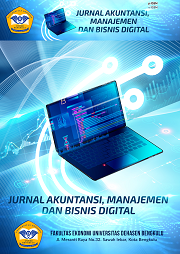 How to Cite
Gualiani P.N, W., Wagini, W., & Yanti, R. (2022). Income Analysis of Laundry Services on Pondok Setrika Selatan Bengkulu. Jurnal Akuntansi, Manajemen Dan Bisnis Digital, 1(1), 5-. Retrieved from https://jurnal.unived.ac.id/index.php/jambd/article/view/1875