Influence Of Motivation Work And Work Discipline On Performance Of Employees PT. Indofood Fortuna Makmur Bengkulu
Santoni Bayu Satria

Faculty of Economic, Universitas Dehasen Bengkulu

Ahmad Soleh

Faculty of Economic, Universitas Dehasen Bengkulu

Nurzam Nurzam

Faculty of Economic, Universitas Dehasen Bengkulu
Keywords:
Work Motivation, Work Discipline, Employee Performance
Abstract
The research aims to examine and analyze the influence of work motivation and work discipline toward the performance of employee in PT. INDOFOOD FORTUNA MAKMUR BENGKULU. Data collected through distribution of questionnaires and it is implemented to PT. INDOFOOD FORTUNA MAKMUR BENGKULU employees. He samples used were 58 respondents from the general population. The results based on the (F-Test) show that the independent variables consisting of the independent variables Discipline and Motivation have a positive and significant effect on the dependent variable, namely the performance of employees of PT. Indofood Fortuna Makmur Bengkulu. While the results (t-test) it is known that the dominant variable that affects employee performance is the discipline variable, this can be seen from the Unstandardized Coefficients value of the work discipline variable which is greater than the Unstandardized Coefficients of the work motivation variable. Based on the calculation of the determinant coefficient (R2) shows that 70.9% of the performance factors can be explained by discipline and motivation while the remaining 29.1% can be explained by other factors not examined by this research. The final conclusion of the analysis shows that work discipline has a positive effect on employee performance and work motivation has a positive effect on employee performance
Downloads
Download data is not yet available.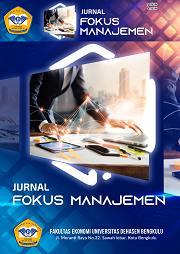 How to Cite
Satria, S. B., Soleh, A., & Nurzam, N. (2022). Influence Of Motivation Work And Work Discipline On Performance Of Employees PT. Indofood Fortuna Makmur Bengkulu. Jurnal Fokus Manajemen, 2(2), 127–134. https://doi.org/10.37676/jfm.v2i2.3327
Copyright (c) 2022 Santoni Bayu Satria, Ahmad Soleh, Nurzam Nurzam
This work is licensed under a Creative Commons Attribution-ShareAlike 4.0 International License.