Analysis of Factors Affecting Customer Eligibility in Accepting Funding for Arrum BPKB Products
Wika Lutfiah Sakinah

Ekonomi Dan Bisnis Islam, Universitas Islam Negeri Sumatera Utara

Muhammad Arif

Universitas Islam Negeri Sumatera Utara
Keywords:
Arrum BPBK, Sharia Pawnshops, MSMEs, Customer Eligibility
Abstract
Indonesian people are not so foreign when they hear the word sharia pawnshop, especially if that person cannot borrow at conventional banks. Sharia pawnshop is a non-bank institution in which there are two parts, namely pawn and non-pawn, in pawn there is rahn while non-pawn there are several products, one of which is Arrum BPKB, where in this BPKB Arrum product, sharia pawnshops provide financing to MSME actors to increase income. The purpose of this research is to find out what are the factors that affect the feasibility of customers in receiving this Arrum BPKB financing. The research uses a qualitative research method in which the authors collect data through interviews and field observations in order to find out the maximum results. In this study, the eligibility factors for customers are micro entrepreneurs or MSME actors, have a motorized vehicle, the results of Bank Indonesia checking from each customer are at worst D3, the character of the customer and the size of the business are also determining factors.
Downloads
Download data is not yet available.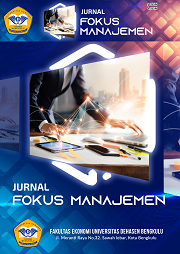 How to Cite
Sakinah, W., & Arif, M. (2022). Analysis of Factors Affecting Customer Eligibility in Accepting Funding for Arrum BPKB Products. Jurnal Fokus Manajemen, 2(1), 27 - 32. https://doi.org/10.37676/jfm.v2i1.2152
Copyright (c) 2022 Wika Lutfiah Sakinah, Muhammad Arif
This work is licensed under a Creative Commons Attribution-ShareAlike 4.0 International License.