Analysis of the Role of the Provincial Cooperatives and UKM Office in Improving Community Welfare
Yena Puspita

Jurusan Ekonomi Islam, Fakultas Ekonomi dan Bisni Islam. UIN Sumatera Utara

Marliyah Marliyah

UIN Sumatera Utara
Keywords:
The Role of Cooperative, Service and UKM, For Society Welfare
Abstract
The title of the research is analyzing the role of Cooperative Services and UKM of North Sumatera Provincies in improving society welfare. Training of the research is to know the strategies and programs had done by cooperative service and UKM of North Sumatera Province in improving society wilfare. One of the conclusion of UKM research is: firstly, giving training and briefing of capital procurement, secondly, giving an egression to get business capital, thirdly, giving training and briefing in improving goods production. Furthermore, the role of cooperative service and ukm in improring society welfare. The role has dime thy cooperative service and UKM of North Sumatera Province to safe the society by conducting seminars or counseling and training for the society to get beculinary able to create micro business or create the cooperatives to improve the economy both in terms of the family economy and the country's economy so that there are not many people who are poor and also unemployed. And also improve the society welfare by providing capital loans or for members of the cooperative by means saving first and then brrowing for members who have joined the cooperative. The research method is a qualitative mothod, the words are writen or spoken from the the people or subjecs are being observed. And this data is obtained from literature studies, interviews and observations to determine the analysis the role of the cooperative service and UKM for improving the society welfare..
Downloads
Download data is not yet available.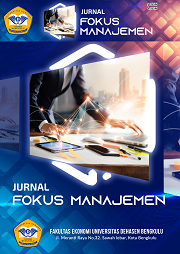 How to Cite
Puspita, Y., & Marliyah, M. (2022). Analysis of the Role of the Provincial Cooperatives and UKM Office in Improving Community Welfare. Jurnal Fokus Manajemen, 2(1), 5 -. https://doi.org/10.37676/jfm.v2i1.2139
Copyright (c) 2022 Yena Puspita, Marliyah Marliyah
This work is licensed under a Creative Commons Attribution-ShareAlike 4.0 International License.