Pengaruh Aplikasi Mikoriza Dari Sumber Yang Berbeda Terhadap Pertumbuhan Bibit Kakao Di Tanah Ultisol
Edi Susilo

Prodi Agroteknologi Universitas Ratu Samban
Abstract
Mikoriza yang berasal dari sumber yang berbeda dimungkinkan mempunyai potensi yang berbeda terhadap pertumbuhan bibit kakao khususnya di tanah Ultisol. Tujuan penelitian ini adalah untuk mendapatkan sumber mikoriza terbaik pada pertumbuhan bibit kakao di tanah Ultisol. Penelitian dilaksanakan di rumah plastik Fakultas Pertanian Universitas Ratu Samban Arga Makmur Kabupaten Bengkulu Utara pada bulan Nopember 2016 sampai Maret 2017. Bahan penelitian yang digunakan adalah benih kakao Hibrida F1, isolat mikoriza, dan tanah Ultisol. Penelitian dilaksanakan menggunakan Rancangan Acak Lengkap faktor tunggal. Perlakuan sumber mikoriza terdiri atas lima taraf yaitu tanpa isolat mikoriza, isolat mikoriza berasal dari Kepahyang, Rejang Lebong, Bengkulu Utara, dan Kaur. Hasil penelitian menunjukkan bahwa sumber isolat mikoriza berpengaruh nyata terhadap variabel tinggi tanaman, panjang daun dan luas daun. Sumber isolat mikoriza dari Kepahyang menghasilkan tinggi tanaman tertinggi sebesar 19,82 cm namun tidak berbeda nyata dengan Kaur, Rejang Lebong maupun Bengkulu Utara kecuali kontrol. Sumber isolat mikoriza yang berasal dari Kaur menghasilkan panjang daun dan luas daun tertinggi masing-masing 12,47 cm dan 38,31 cm2, namun tidak berbeda nyata dengan semua sumber mikoriza lainnya, kecuali kontrol.
Downloads
Download data is not yet available.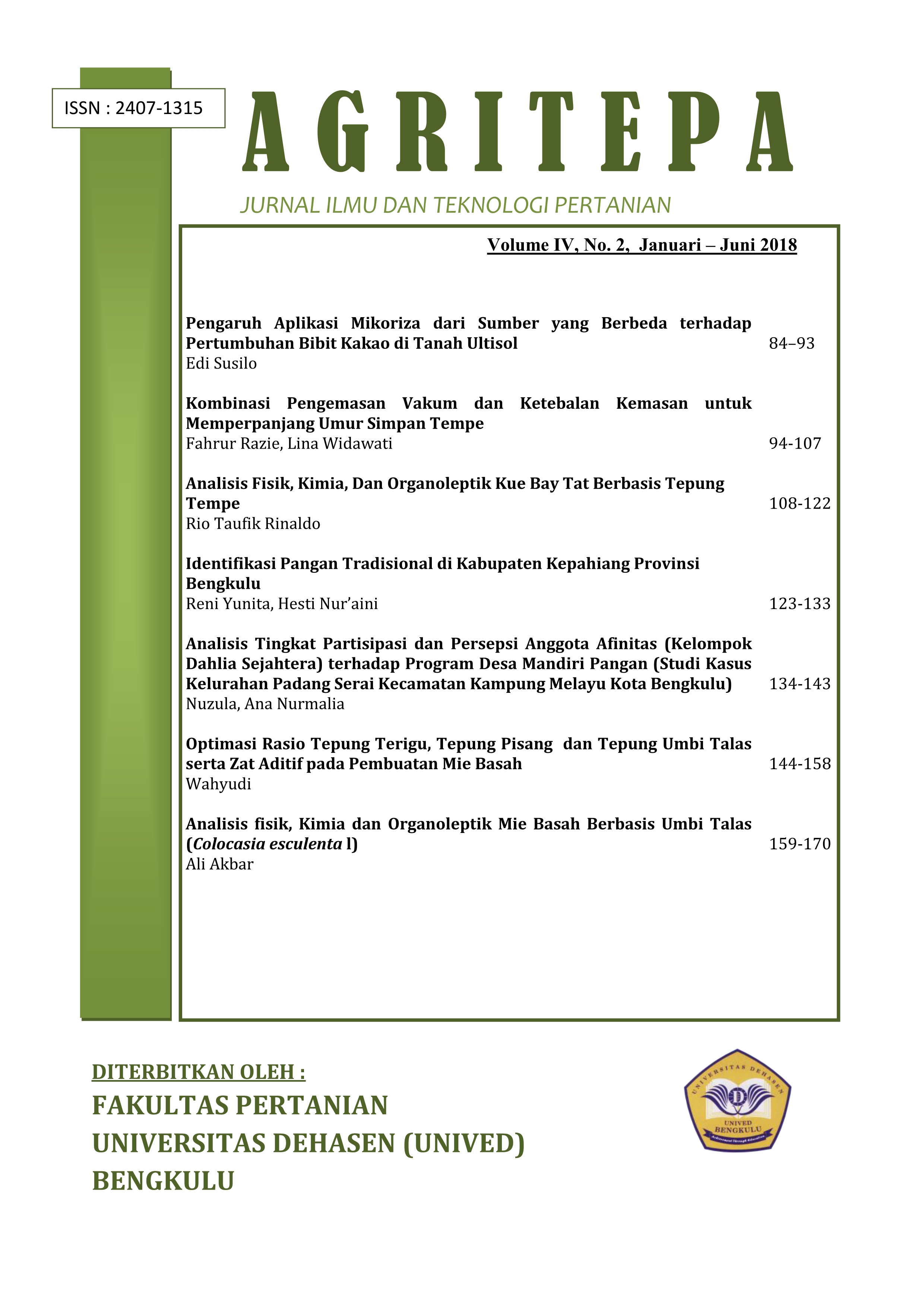 How to Cite
Susilo, E. (2019). Pengaruh Aplikasi Mikoriza Dari Sumber Yang Berbeda Terhadap Pertumbuhan Bibit Kakao Di Tanah Ultisol. AGRITEPA: Jurnal Ilmu Dan Teknologi Pertanian, 5(1), 84 - 93. https://doi.org/10.37676/agritepa.v5i1.720
An author who publishes in the Jurnal AGRITEPA agrees to the following terms:
Author retains the copyright and grants the journal the right of first publication of the work simultaneously licensed under the Creative Commons Attribution-ShareAlike 4.0 License that allows others to share the work with an acknowledgement of the work's authorship and initial publication in this journal
Submission of a manuscript implies that the submitted work has not been published before (except as part of a thesis or report, or abstract); that it is not under consideration for publication elsewhere; that its publication has been approved by all co-authors. If and when the manuscript is accepted for publication, the author(s) still hold the copyright and retain publishing rights without restrictions. For the new invention, authors are suggested to manage its patent before published. The license type is CC-BY-SA 4.0.
Jurnal AGRITEPA is licensed under a Creative Commons Attribution-ShareAlike 4.0 International License.