Penggunaan Ekstrak Daun Katuk (Sauropus Androgunus l. Merr) Sebagai Bahan Pengawet Alami Daging Ayam
Bagus Hardianto

Rahma Hidaiyanti
Abstract
Bahan pengawet adalah bahan tambahan pangan yang dapat mencegah atau menghambat proses pembusukan yang disebabkan oleh mikroorganisme. Daging ayam merupakan salah satu bahan pangan yang mudah mengalami proses pembusukan. Penelitian ini bertujuan untuk menganalisis pengaruh perendaman daging ayam dalam ekstrak daun katuk terhadap pH, kadar air, TPC dan uji organoleptik. Penelitian dilakukan pada bulan Januari 2017 di Laboratorium  Fakultas Pertanian Universitas Dehasen dan Laboratorium Kimia Universitas Bengkulu. Penelitian dilakukan dengan dua tahap yaitu perendaman daging ayam kedalam konsentrasi ekstrak daun katuk (10%, 20% dan 30 %) dan lama waktu perendaman 30 dan 60 menit, setelah itu ditiriskan dan daging ayam dibiarkan pada suhu ruang selama 12 jam, kemudian dilakukan pengujian pH, kadar air, TPC dan uji organoleptik (warna, aroma dan tekstur). Hasil penelitian menunjukkan bahwa perlakuan konsentrasi ekstrak daun katuk 30 % dan waktu 30 menit adalah perlakuan terbaik dengan nilai pH 5,4, kadar air 22, 35% dan TPC 6 x 102 cfu/g, namun tidak berpengaruh terhadap warna, aroma dan tekstur daging ayam.
Kata Kunci : Daun Katuk (Sauropus  adrogunus L. Merr), Daging Ayam,  Pengawetan.
Downloads
Download data is not yet available.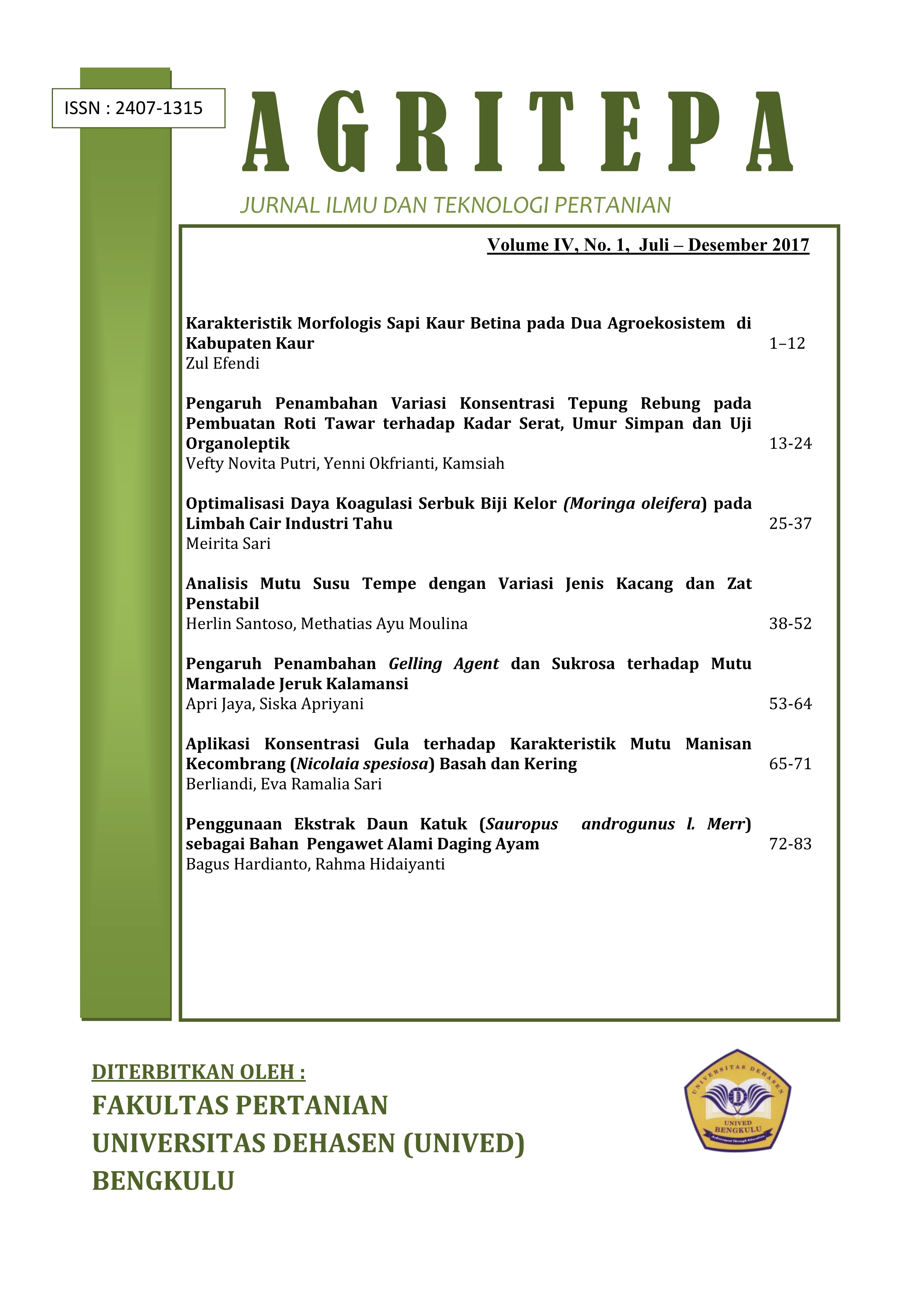 How to Cite
Hardianto, B., & Hidaiyanti, R. (2018). Penggunaan Ekstrak Daun Katuk (Sauropus Androgunus l. Merr) Sebagai Bahan Pengawet Alami Daging Ayam. AGRITEPA: Jurnal Ilmu Dan Teknologi Pertanian, 4(2), 72 - 83. https://doi.org/10.37676/agritepa.v4i2.678
An author who publishes in the Jurnal AGRITEPA agrees to the following terms:
Author retains the copyright and grants the journal the right of first publication of the work simultaneously licensed under the Creative Commons Attribution-ShareAlike 4.0 License that allows others to share the work with an acknowledgement of the work's authorship and initial publication in this journal
Submission of a manuscript implies that the submitted work has not been published before (except as part of a thesis or report, or abstract); that it is not under consideration for publication elsewhere; that its publication has been approved by all co-authors. If and when the manuscript is accepted for publication, the author(s) still hold the copyright and retain publishing rights without restrictions. For the new invention, authors are suggested to manage its patent before published. The license type is CC-BY-SA 4.0.
Jurnal AGRITEPA is licensed under a Creative Commons Attribution-ShareAlike 4.0 International License.