Role Of Integrated Crop Management Field Schools In Increasing Rice Production Results
Lina Asnamawati

Universitas Terbuka

Timbul Rasoki

Is Eka Herawati
Keywords:
Role, Integrated Crop Management Field School, Rice Production Results
Abstract
            Field School - Integrated Crop Management (SL-PTT) is a form of school where the entire teaching and learning process is carried out in the field, which is carried out on the land of PTT participating farmers in an effort to increase national rice production. This SL-PTT guide is the result of discussions with the Directorate General of Food Crops and the Agricultural HR Development Agency. So it is very interesting to examine (a) the role of integrated crop management field schools in increasing rice production. Respondents for this study were selected purposively, namely 1 extension worker and 4 heads of farmer groups. The research results show 1.          The influence of adult education methods (andragogy) on farmers in SLPTT activities, namely the learning process in SL-PTT starts with activities which then provide personal experiences, express these experiences, analyze problems that occur, and conclude the results of activities. Every learner is encouraged to be able to observe reality, express experiences and ideas, analyze facts, make decisions, and carry out activities together. The role of SLPTT is to increase knowledge and skills in recognizing potential, preparing farming plans, overcoming problems, making decisions, and applying technology that is appropriate to local resource conditions in a synergistic and environmentally sound manner, so that farming becomes efficient, highly productive and sustainable.ACT
Keywords: Role, Integrated Crop Management Field School, Rice Production Results
Downloads
Download data is not yet available.
References
Alfurqan, & Rahman, R. (2017). Pendidikan Orang Dewasa Yang Dikembangkan Rasullullah. Journal of Islamic Studies, 1(1), 15–29.
Amanah, S., & Seminar, A. U. (2022). Sekolah Lapang Petani sebagai Community of Practice Pengembangan Inovasi Kelompok di Era Digital. Jurnal Penyuluhan, 18(01), 164–176. https://doi.org/10.25015/18202240307
Arimbawa, P. D., & Widanta, A. . B. P. (2017). Pengaruh Luas Lahan, Teknologi dan Pelatihan Terhadap Pendapatan Petani Padi dengan Produktivitas sebagai Variabel Intervening di Kecamatan Mengwi. Arimbawa, Dika Putu, 6, 1601–1627.
Cárdenas López, A. C. (2012). No Title طرق تدريس اللغة العربية. Экономика Региона, 10(9), 32. https://dspace.ups.edu.ec/bitstream/123456789/5224/1/UPS-QT03885.pdf
Cooper, S. S. (1983). Principles of adult learning. Occupational Health Nursing, 31(6), 17–19. https://doi.org/10.1177/216507998303100604
Cox, T. D. (2015). Adult Education Philosophy: The Case of Self-Directed Learning Strategies in Graduate Teaching. Journal of Learning in Higher Education, 11(1), 17–22.
Hendayani, S. (2020). Dampak Pembelajaran Filsafat Bagi Pendidikan Dan Pembelajaran Di Indonesia. Paper Knowledge . Toward a Media History of Documents, 11, 12–26.
Hutapea, Y., Lapang, S., Tanaman, P., & Padi, T. (2012). ( Kasus di Desa Pagarsari Kecamatan Purwodadi. 6(3).
Kecamatan, D. I., & Bogor, C. (n.d.). Kata kunci:
Maiti, & Bidinger. (1981). Landasan Ontologis, Oksiologis, Epitesmolosis Aliran. Journal of Chemical Information and Modeling, 53(9), 1689–1699.
Majani, W. P. (2021). Understanding Adult Learning in Higher Education from African Philosophy of Education and Transformative Perspectives. Papers in Education and Development, 38(38), 139–152. http://196.44.162.39/index.php/ped/article/view/3788
Mezirow, J. (1990). Reproductions supplied by EDRS are the best that can be mad. 31st Annual Education and Research Conference (AREC), 114, 141–146.
Muchtar, K., Purnaningsih, N., & Susanto, D. (2014). Komunikasi Partisipatif pada Sekolah Lapangan Pengelolaan Tanaman Terpadu (SL-PTT). Jurnal Komunikasi Pembangunan, 12(2), 1–14.
Nurasa, T., & Supriyadi, H. (2016). Program Sekolah Lapang Pengelolaan Tanaman Terpadu (SL-PTT) Padi: Kinerja dan Antisipasi Kebijakan Mendukung Swasembada Pangan Berkelanjutan. Analisis Kebijakan Pertanian, 10(4), 313. https://doi.org/10.21082/akp.v10n4.2012.313-329
Nursyamsi, S., Soetoro, & Hardiyanto, T. (2007). Dampak Sekolah Lapang Pengelolaan Tanaman Terpadu (SLPTT) Terhadap Penerapan Teknologi PTT Pada Usaha Tani Padi Sawah. Agroinfo Galuh, 4(3), 366–375.
Richard, B., Qi, A., & Fitt, B. D. L. (2022). Control of crop diseases through Integrated Crop Management to deliver climate-smart farming systems for low- and high-input crop production. Plant Pathology, 71(1), 187–206. https://doi.org/10.1111/ppa.13493
Russell, S. S. (2006). An Overview of Adult-Learning Processes Adult-Learning Principles. Continuing Education, 26(5), 349–370.
Sajeev, M. V, Venkatasubramanian, V., & Singha, A. K. (2021). Identifying Training Needs of Farmers and Rural Youth of Nagaland. 57(2), 115–122.
Tanaman, P., Di, T. S., East, S. O. F., & Regency, L. (2015). PANEN PADI DAN JAGUNG PADA SEKOLAH LAPANG KABUPATEN LOMBOK TIMUR JURNAL Oleh Sopian Hadi.
Taylor, E. W., & Tisdell, E. J. (1996). Adult Education Philosophy Informs Practice. In Adult learning (pp. 6–10). http://robert-vroman.com/resources/Adult Education Philosophy.pdf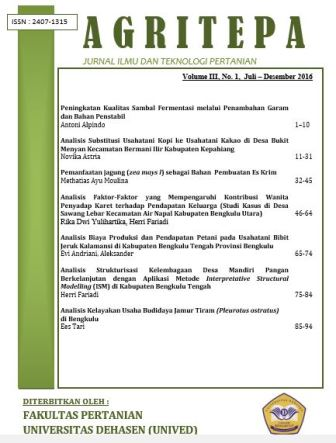 How to Cite
Asnamawati, L., Rasoki, T., & Herawati, I. (2023). Role Of Integrated Crop Management Field Schools In Increasing Rice Production Results. AGRITEPA: Jurnal Ilmu Dan Teknologi Pertanian, 10(1), 123-144. https://doi.org/10.37676/agritepa.v10i1.3587
Section
Article Reasearch
Copyright (c) 2023 Lina Asnamawati, Timbul Rasoki, Is Eka Herawati
This work is licensed under a Creative Commons Attribution-ShareAlike 4.0 International License.
Author retains the copyright and grants the journal the right of first publication of the work simultaneously licensed under the Creative Commons Attribution-ShareAlike 4.0 License that allows others to share the work with an acknowledgement of the work's authorship and initial publication in this journal