A Description Of Satisfaction In Grade 3 Patients Of Food Service At Rsu Private X Bengkulu
-
Rabiul Armala Sari Nande Putri

Program Studi Teknologi Hasil Pertanian, Fakultas Pertanian, Universitas Dehasen Bengkulu

Hesti Nur'Aini

Program Studi Teknologi Hasil Pertanian, Fakultas Pertanian, Universitas Dehasen Bengkulu

Andwini Prasetya

Program Studi Teknologi Hasil Pertanian, Fakultas Pertanian, Universitas Dehasen Bengkulu

Methatias Ayu Moulina

Universitas Dehasen Bengkulu
Keywords:
Patient Satisfaction, Nutritional Value, Calories
Abstract
RSU private X Bengkulu is one of general hospital in Bengkulu provides various health services, including outpatient, emergency units, and inpatient care. In the inpatient service unit there is a class 3 treatment room which is an option for patients with a fairly cheap and affordable cost, but the existing facilities are different from other rooms. This study aims to analyze the level of satisfaction and nutritional value of food menus for class 3 patients at RSU private X Bengkulu. The respondents involved were 75 patients who were treated at RSU private X Bengkulu with a descriptive analysis using a Likert scale. The results showed that the level of patient satisfaction with services at RSU private X Bengkulu was 4.08 with the assessment criteria being satisfied from the indicators of satisfaction, responsiveness (responses), confidence (belief), empathy, tangible, reliability, according to diet, food portions, suitability, and cleanliness of equipment. Nutritional Value of Food Grade 3 patients served have a Calorific Value between 1,800.63 Calories/day.
Downloads
Download data is not yet available.
References
lmatsier, S. (2006). Prinsip Dasar Ilmu Gizi. Jakarta: Gramedia Pustaka Utama. Andry Hartono. (2004). Terapi Gizi Dan Diet Rumah Sakit. Jakarta: Penerbit Buku Kedokteran EGC.
Arisman.( 2009).Gizi dalam Daur Kehidupan. EGC. Jakarta
Azizah, N. (2018). Perbedaan Sisa Makanan Berdasarkan Penggunaan Alat Saji Makan Pada Pasien Kanker Dengan Program Kemoterapi Di RSUP Dr Kariadi Semarang. Universitas Muhammadiyah Semarang.
Kemenkes RI. 2018. Riset Kesehatan Dasar; RISKESDAS. Jakarta: Balitbang Kemenkes RI
Khotimah, S. (2015). Uji Aktivitas Antibakteri Ekstrak Etanol Daun Kemangi (Ocimum sanctum L.) terhadap Bakteri Esherichia coli dan Staphylococcus aureus. Jurnal Protobiont, Vol 4(1):187
Nursalam (2015). Manajemen Keperawatan Aplikasi dalam Praktik Keperawatan Profesional,edisi 2. Jakarta: Salemba Medika
Pabidang, S. (2017). Pengaruh Kualitas Layanan Dokter Dalam Sistem Bpjs Kesehatan Terhadap Kepuasan Pasien Bpjs Kesehatan Di Rumah Sakit Umum Daerah Dr. H. Slamet Martodirdjo Pamekasan Dan Puskesmas Se-Kabupaten Pamekasan. Universitas 17 Agustus 1945.
Paruntu, O Like. (2013). Setatus Gizidan Penyelenggaran Makanan Diet Pasien Rawat Inap di Blu Prof.Dr.R.D Kandau Manado. Jurnal GIZIINDO, 5(2).
Permenkes, 2016. Peraturan Menteri Kesehatan Republik Indonesia Nomor72 Tahun 2016 Tentangstandar Pelayanan Kefarmasian Di Rumah Sakit.Jakarta: Kementrian Kesehatan Republik Indonesia
Puspita, S. D., & Gumelar, G. (2014.) Pengaruh Empati Terhadap Perilaku Prososial dalam Berbagi Ulang Informasi atau Retweet Kegiatan Sosial di Jejaring Sosial Twitter. Jurnal Penelitian dan Pengukuran Psikologi , 3
(1), 1-7.Sari, K. N. (2016). Tingkat Penerimaan Mahasiswa Bengkayang Dan Malinau Terhadap Cita Rasa Makanan Di Asrama Ii Poltekes Kemenkes Yogyakarta. Poltekkes Kemenkes Yogykarta.
Setianingrum, E. A. (2017). Hubungan Pelayanan Gizi Terhadap Kepuasan Pasien Dewasa Rawat Inap Dengan Diit Lunak Di Rumah Sakit Umum Tidar Magelang. Skripsi. Universitas Gadjah Mada. Yogyakarta.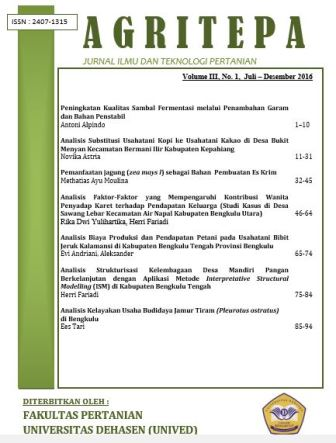 How to Cite
Putri, R., Nur'Aini, H., Prasetya, A., & Moulina, M. (2023). A Description Of Satisfaction In Grade 3 Patients Of Food Service At Rsu Private X Bengkulu. AGRITEPA: Jurnal Ilmu Dan Teknologi Pertanian, 10(1), 185-200. https://doi.org/10.37676/agritepa.v10i1.3449
Section
Article Reasearch
Copyright (c) 2023 Rabiul Armala Sari Nande Putri, Hesti Nur'Aini, Adwini Prasetya, Methatias Ayu Moulina
This work is licensed under a Creative Commons Attribution-ShareAlike 4.0 International License.
Author retains the copyright and grants the journal the right of first publication of the work simultaneously licensed under the Creative Commons Attribution-ShareAlike 4.0 License that allows others to share the work with an acknowledgement of the work's authorship and initial publication in this journal