Feasibility Analysis Of Cut Flower Trading Business In Bogor City
Muhammad Ravy Mulyadi

Universitas Singaperbangsa Karawang

Yusuf Muhyiddin

I Putu Eka Wijaya
Keywords:
feasibility analysis, cut flower, trader
Abstract
Cut flower traders in Bogor City have now begun to decline, therefore it is necessary to conduct a feasibility study to find out whether the cut flower trading business in Bogor City provides decent profits or not to be cultivated. The objectives of this study are; to analyze how much income is obtained from the cut flower business in Bogor City, Analyze the feasibility level of the cut flower business in Bogor City. The sampling technique in this study was to use the purposive sampling method, the samples needed in this study were 26 cut flower traders in Bogor City by combining 13 traders in the fostered zone and 13 cut flower traders in the non-assisted zone of the Bogor City Government. The data analysis used in this study is revenue analysis and R/C Ratio (Revenue Cost Ratio). The results of this study show that the income received in one month by cut flower traders in non-fostered zones and traders in fostered zones can be said to be profitable. The feasibility rate (R/C Ratio) of cut interest efforts in non-fostered zones and fostered zones is equally feasible to strive for.
Downloads
Download data is not yet available.
References
Astuti, E. 2019. Analisis pendapatan usaha bunga potong di papa mama florist Kelurahan Aur Kecamatan Medan Maimun Kota Medan. Skripsi. Universitas Muhammadiyah Sumatera Utara. Medan
Badan Pusat Statistik Kota Bogor. 2021. Produksi tanaman hias menurut kecamatan dan jenis tanaman di Kota Bogor, 2018-2020. BPS, Bogor.
DePoy, E., dan Laura N. G. 2011. Introduction to research: understanding and applying multiple strategies 4th edition. Mosby. United Stated of America.
Hernanto, Fadholi. 1995. Ilmu usahatani. Penebar Swadaya. Jakarta.
Puspitasari, P., Yulianti, K., dan Moh, A. 2022. Analisis penentuan komoditas basis dan non basis pada komoditas buah-buahan di Kabupaten Sigi. Jurnal Pembangunan Agribisnis. 1 (1): 37-42.
Putra, Donny. A. O. 2018. Analisis usahatani tanaman anggrek (dendrobium) di Kecamatan Gunung Sindur Kabupaten Bogor. Skripsi. Institut Pertanian Bogor. Bogor
Soekartawi. 1995. Analisis usahatani. UI Press. Jakarta.
_________. 2002. Analisis usaha tani. UI Press. Jakarta.
Susilowati, I, A., dan Rosento. 2022. Pengembangan bisnis parawisata kebun raya Bogor pada masa pandemik covid 19 berdasarakan daya dukung wisata dan chse. Jurnal Akuntansi dan Menejemen Bisnis. 6 (1): 88-98.
Suratiyah. 2015. Ilmu usaha tani. Penebar Swadaya. Jakarta.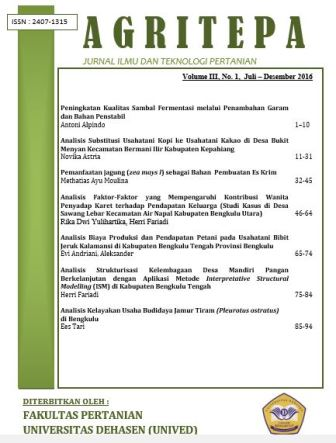 How to Cite
Mulyadi, M., Muhyiddin, Y., & Wijaya, I. (2023). Feasibility Analysis Of Cut Flower Trading Business In Bogor City. AGRITEPA: Jurnal Ilmu Dan Teknologi Pertanian, 10(1), 173-184. https://doi.org/10.37676/agritepa.v10i1.3400
Section
Article Reasearch
Copyright (c) 2023 Muhammad Ravy Mulyadi, Yusuf Muhyiddin, I Putu Eka Wijaya
This work is licensed under a Creative Commons Attribution-ShareAlike 4.0 International License.
Author retains the copyright and grants the journal the right of first publication of the work simultaneously licensed under the Creative Commons Attribution-ShareAlike 4.0 License that allows others to share the work with an acknowledgement of the work's authorship and initial publication in this journal