ANALISIS SENYAWA 6-GINGEROL TERHADAP RIMPANG JAHE YANG DIEKSTRAKSI DENGAN METODE LIQUID CHROMATOGRAPHY MASSA SPECTROMETRY (LC-MS)
ANALYSIS OF 6-GINGEROL COMPOUNDS GINGER EXTRACTED BY LIQUID CHROMATOGRAPHY MASS SPECTROMETRY (LC-MS) METHOD
Mega Trishuta Pathiassana

Universitas Teknologi Sumbawa

Dina Mariani

Fakultas Teknologi Pertanian, Universitas Teknologi Sumbawa

Nurlaila Nurlaila

Balai Bioteknologi, Badan Pengkajian dan Penerapan Teknologi (BPPT)
Keywords:
jahe; 6-gingerol; etanol; shogaol; LC-MS
Abstract
Data BPS 2017, menunjukan bahwa jahe adalah tanaman biofarmaka kelompok rimpang yang mempunyai luas panen paling tinggi, yaitu sebesar 30 ton per tahun dengan kondisi produksi yang relatif stabil. Ekstraksi pada rimpang jahe adalah penyarian zat-zat aktif dari bagian tanaman obat yang bertujuan untuk menarik komponen kimia yang terdapat dalam simplisia yang didasarkan pada perpindahan massa komponen zat padat ke dalam pelarut. Tujuan dari penelitian ini adalah menganalisis pengaruh proses pengeringan terhadap aktivitas senyawa 6-gingerol pada ekstrak jahe dengan metode ekstraksi maserasi menggunakan pelarut etanol berkonsentrasi 30%, 70%, dan 96%. Hasil dari analisa kadar 6-gingerol dengan menggunakan LC-MS didapatkan bahwa kandungan tertinggi terdapat pada sampel yang diekstraksi dengan etanol 96%, yaitu 2,01%. Sedangkan, kadar terendah terdapat pada etanol 30%, yaitu 0,64%. Di lain sisi, sampel jahe yang diekstraksi dengan etanol 70% memiliki kandungan 6-gingerol sebesar 1,21%. Hal ini disebabkan oleh semakin pekatnya konsentrasi suatu pelarut, maka akan mengakibatkan semakin tingginya konstanta dielektriknya.
Downloads
Download data is not yet available.
References
BPS. 2017. Statistik Pertanian. www.bps.go.id. Diakses: 8 September 2019.
Fatiha, M.F. 2012. Kajian Karakteristik Oleoresin Jahe Berdasarkan Ukuran dan Lama Perendaman Serbuk Jahe dalam Etanol. Skripsi Jurusan Teknologi Hasil Pertanian. Surakarta.
Hafsoh. 2008. Kajian Tingkat Kerusakan Minyak Pada Jenang Kudus dengan Penambahan Ekstrak Jahe Selama Penyimpanan. Skripsi Jurusan Teknologi Hasil Pertanian. Surakarta.
Lee, S., Khoo, C., Halstead, C.W., Huynh, T., and Bensoussan, A. 2007. Liquid Chromatographic Determination of 6-, 8-, 10-gingerol, and 6-shogaol in Ginger (Zingiber officinale) as the Herb and Dried Aqueous Ekstract. Journal of AOAC International. Vol. 90, No. 5.
Merdhikawati, D. 2006. Perbandingan Teknik Ekstraksi dalam Analisis Gingerol pada Jahe Merah (Zingiber officinale, Roscoe). [Skripsi]. Universitas Nusa Bangsa, Bogor.
Munir. 2012. Analisis Kandungan Fenol Total Jahe (Zingiber officinale Roscoe). Fakultas Kedokteran. Universitas Indonesia. Depok.
Qoyyimah., P. 2012. Budidaya Tanaman Jahe. BPPP. Balai Penelitian Tanaman Obat dan Aromatika.
Setiawan. 2005. Antioksidan Ekstrak Jahe Merah ((Zingiber officinale, Roscoe) dengan Metode Diena Terkonjugasi pada Minyak Kedelai. [Skripsi]. Universitas Nusa Bangsa. Bogor.
Setiawan. 2005. Pemilihan Metode Pemisahan untuk Penentuan Konsentrasi Gingerol dan Pola Respon Fourier Transform Infrared pada Rimpang Jahe Emprit (Zingiber officinale, Roscoe). [Tesis]. Institut Pertanian Bogor.
Sudarma. 2003. Pengaruh Ukuran Bahan dan Lama Ekstraksi Terhadap Rendemen dan Mutu Oleoresin Lada Enteng. Skripsi S-1. Fateta IPB. Bogor.
Sudarmadji. 2003. Kajian Pengaruh Jumlah Pelarut dan Lama Ekstraksi Rimpang Kencur Terhadap Rendemen dan Mutu Oleoresin Kencur. Skripsi S-1. Fateta IPB. Bogor.
Sya'ban, M.F. 2013. Jahe, Kandungan dan Manfaatnya. Makalah Kimia. Universitas Negeri Yogyakarta. Yogyakarta.
Washikah. 2016. Tumbuhan Zingeberaceae sebagai Obatan-obatan. Jurnal Serambi Saintia, Vol. IV, No. 1, pp 35-43, ISSN: 2337-9952.
Winarti, C., Nurdjanah, N. 2005. Peluang Tanaman Rempah dan Obat sebagai Sumber Pangan Fungsional. Jurnal Litbang Pertanian, 24 (2). Balai Penelitian dan Pengembangan Pascapanen Pertanian.
Wohlmuth, H., Leach, D.N., Smith, M.K., Myers, S.P. 2005. Gingerol Content of Diploid and Terpenoid Clones of Ginger (Zingiber officinale Roscoe). J. Agric. Food Chem. 53: 5772-5778.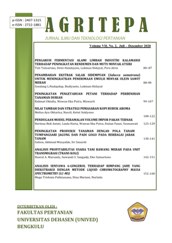 How to Cite
Pathiassana, M., Mariani, D., & Nurlaila, N. (2020). ANALISIS SENYAWA 6-GINGEROL TERHADAP RIMPANG JAHE YANG DIEKSTRAKSI DENGAN METODE LIQUID CHROMATOGRAPHY MASSA SPECTROMETRY (LC-MS). AGRITEPA: Jurnal Ilmu Dan Teknologi Pertanian, 7(2), 152-160. https://doi.org/10.37676/agritepa.v7i2.1208
Section
Article Reasearch
Copyright (c) 2020 Mega Trishuta Pathiassana, Dina Mariani, Nurlaila Nurlaila
This work is licensed under a Creative Commons Attribution-ShareAlike 4.0 International License.
An author who publishes in the Jurnal AGRITEPA agrees to the following terms:
Author retains the copyright and grants the journal the right of first publication of the work simultaneously licensed under the Creative Commons Attribution-ShareAlike 4.0 License that allows others to share the work with an acknowledgement of the work's authorship and initial publication in this journal
Submission of a manuscript implies that the submitted work has not been published before (except as part of a thesis or report, or abstract); that it is not under consideration for publication elsewhere; that its publication has been approved by all co-authors. If and when the manuscript is accepted for publication, the author(s) still hold the copyright and retain publishing rights without restrictions. For the new invention, authors are suggested to manage its patent before published. The license type is CC-BY-SA 4.0.
Jurnal AGRITEPA is licensed under a Creative Commons Attribution-ShareAlike 4.0 International License.