VARIASI PERBANDINGAN TEPUNG TERIGU DAN MOCAF (MODIFIED CASSAVA FLOUR) DALAM PEMBUATAN MIE MOCAF
Agusri Ramadhan

Eva Ramalia Sari
Abstract
Indonesia has people who love to eat noodles, noodle making in general using the basic ingredients of flour. But Indonesia is a tropical country so that the cultivation of wheat a little into obstacles that must be imported from abroad. Because it created a lot of noodle products made from flour mixture companion and one of them is the noodle of Mocaf (Modified cassava flour).
This study uses a completely randomized design using mocaf flour is fermented with starter Bimo-CF for 12 hours to five ratio variation flour and mocaf namely (750gr: 250gr), (600gr: 400gr), (500gr: 500gr), (400gr: 600gr), (750gr: 250gr) in the manufacture of noodles mocaf. The analysis in this study include testing the elasticity and noodles mocaf organoleptic parameters based on color, aroma, flavor and firmness.
The results showed that the elasticity analysis of diversity and variability analysis of the variables showed that the organoleptic mocaf noodle flour and mocaf with 750gr flour ratio: 250gr flour mocaf in terms of elasticity is most elastic with a time of 51.33 seconds and a drop of color parameters, flavor, aroma and firmness are the most preferred panelists.
Keywords: Mocaf Noodle, wheat flour, flour mocaf
Downloads
Download data is not yet available.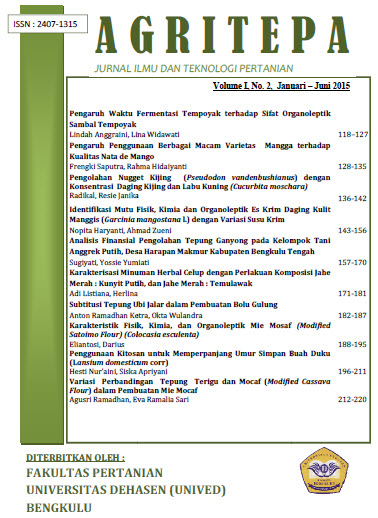 How to Cite
Ramadhan, A., & Sari, E. (2015). VARIASI PERBANDINGAN TEPUNG TERIGU DAN MOCAF (MODIFIED CASSAVA FLOUR) DALAM PEMBUATAN MIE MOCAF. JURNAL AGRITEPA, 2(1). Retrieved from https://jurnal.unived.ac.id/index.php/agritepa/article/view/109
Section
Jurnal Penelitian