PENGOLAHAN NUGGET KIJING (Pseudodon vandenbushianus) DENGAN KONSENTRASI DAGING KIJING DAN LABU KUNING (Cucurbita moschara)
Abstract
Nugget is a processed meat products made from minced meat that is printed in the form of rectangular pieces and coated with seasoned flour. Gravestone processing into nuggets will increase the economic value gravestone. With the addition of meat gravestone and pumpkins as a filler material will affect whether or not the quality of the resulting nuggets. A research on the processing nuggets gravestone (Pseudodon vandenbushianus) with concentration gravestone meat and pumpkin (Curcurbita moschara).The treatment in this study, namely the concentration of gravestones and pumpkin meat (225 g: 50 gr, 200 gr: 75 g, and 175 g: 100 gr). The analysis in this study include organoleptic parameters (color, flavor, aroma and texture).The results of organoleptic test for color, aroma and texture nuggets gravestone gravestones by treatment with meat and pumpkin on a significant level of 5% showed no bedanyata, while based on the parameters of taste showed significant differences in which panelists preferred the treatment with concentrations gravestone meat and pumpkin 225 gr : 50 ounces with a value of 3.95 (like).
Keywords: Nugget, Kijing, Yellow Pumpkin
Downloads
Download data is not yet available.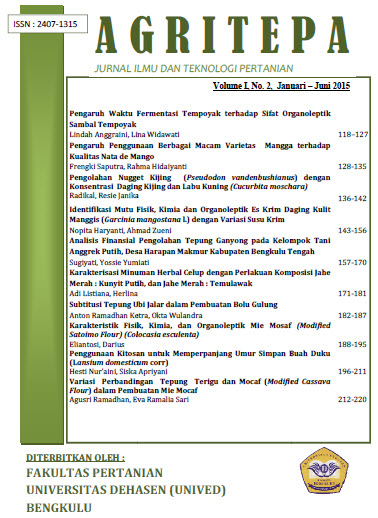 How to Cite
-, R., & Janika, R. (2015). PENGOLAHAN NUGGET KIJING (Pseudodon vandenbushianus) DENGAN KONSENTRASI DAGING KIJING DAN LABU KUNING (Cucurbita moschara). JURNAL AGRITEPA, 2(1). Retrieved from https://jurnal.unived.ac.id/index.php/agritepa/article/view/102
Section
Jurnal Penelitian