PENGARUH JUS JAMBU BIJI MERAH (PSIDIUM GUAJAVA) TERHADAP KENAIKAN KADAR HEMOGLOBIN (HB) IBU HAMIL DI KOTA BENGKULU
ATHIYA DWI TSABITHA

D3 KEBIDANAN, FAKULTAS ILMU PENGETAHUAN ALAM, UNIVERSITAS BENGKULU

NOVIANTI NOVIANTI

D3 KEBIDANAN, FAKULTAS ILMU PENGETAHUAN ALAM, UNIVERSITAS BENGKULU

SURIYATI SURIYATI

D3 KEBIDANAN, FAKULTAS ILMU PENGETAHUAN ALAM, UNIVERSITAS BENGKULU

YETTI PURNAMA

D3 KEBIDANAN, FAKULTAS ILMU PENGETAHUAN ALAM, UNIVERSITAS BENGKULU

ASMARIYAH ASMARIYAH

D3 KEBIDANAN, FAKULTAS ILMU PENGETAHUAN ALAM, UNIVERSITAS BENGKULU
Keywords:
Ibu hamil, Jambu biji merah, Kadar hemoglobin
Abstract
Angka kejadian anemia pada ibu hamil di Kota Benkulu masih cukup tinggi dengan prevalensi 16,8%. Kekurangan kadar hemoglobin dapat menyebabkan terjadinya anemia dalam kehamilan yang menyebabkan keadaan jumlah sel darah merah atau kadar Hb<10,5-11gr/dl pada ibu hamil trimester I dan III. Tujuan penelitian untuk mengetahui pengaruh jus jambu biji merah terhadap kenaikan kadar Hb ibu hamil dengan anemia ringan di Kota Bengkulu. Penelitian menggunakan sampel sebanyak 17 responden. rancangan penelitian metode eksperimen one group pretest-postest dengan teknik pengambilan sampel menggunakan accidental sampling, analisa data menggunakan uji univariat distribusi frekuensi dan uji Wilcoxon untuk uji perbedaan. Rata-rata kadar Hb sebelum pemberian jus jambu biji merah 9,2gr/dl dan rata-rata kadar Hb setelah pemberian jus jambu biji merah sebanyak 250ml dikonsumsi sehari sekali di pagi hari selama 7 hari berturut turut sebesar 11,2gr/dl. Sedangkan berdasarkan analisa data diperoleh p = 0,003 Ha diterima, artinya terdapat perbedaan kadar Hb ibu hamil sebelum dan setelah pemberian perlakuan jus jambu biji merah. Hasil dari penelitian ini terdapat adanya pengaruh konsumsi jus jambu biji merah (Psidium Guajava) terhadap kenaikan kadar Hb ibu hamil di Kota Bengkulu.
Downloads
Download data is not yet available.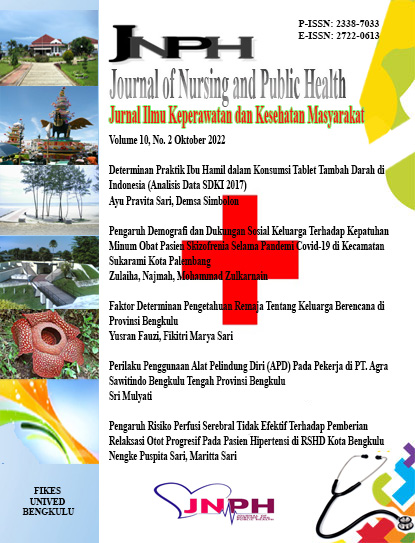 How to Cite
TSABITHA, A., NOVIANTI, N., SURIYATI, S., PURNAMA, Y., & ASMARIYAH, A. (2022). PENGARUH JUS JAMBU BIJI MERAH (PSIDIUM GUAJAVA) TERHADAP KENAIKAN KADAR HEMOGLOBIN (HB) IBU HAMIL DI KOTA BENGKULU. Journal of Nursing and Public Health, 10(2), 101-107. https://doi.org/10.37676/jnph.v10i2.3140
An author who publishes in the Journal of Nursing and Public Health agrees to the following terms:
Author retains the copyright and grants the journal the right of first publication of the work simultaneously licensed under the Creative Commons Attribution-ShareAlike 4.0 License that allows others to share the work with an acknowledgement of the work's authorship and initial publication in this journal
Submission of a manuscript implies that the submitted work has not been published before (except as part of a thesis or report, or abstract); that it is not under consideration for publication elsewhere; that its publication has been approved by all co-authors. If and when the manuscript is accepted for publication, the author(s) still hold the copyright and retain publishing rights without restrictions. For the new invention, authors are suggested to manage its patent before published. The license type is CC-BY-SA 4.0.
Journal of Nursing and Public Health is licensed under a Creative Commons Attribution-ShareAlike 4.0 International License.
You are free to:
Share — copy and redistribute the material in any medium or format
Adapt — remix, transform, and build upon the material
for any purpose, even commercially.
The licensor cannot revoke these freedoms as long as you follow the license terms.