EFEK EKSTRAK ETANOL DAUN MENGKUDU (MORINDA CITRIFOLIA) TERHADAP SPLENOMEGALI PADA MENCIT BALB/C YANG DIINFEKSI PLASMODIUM BERGHEI
JON FARIZAL

JURUSAN ANALIS KESEHATAN, POLTEKKES KEMENKES BENGKULU

RAHMAD ABDILLAH

FAKULTAS FARMASI, UNIVERSITAS ANDALAS

LENI MARLINA
Keywords:
Splenomegali, Morinda citrifolia, Plasmodium berghei
Abstract
Pendahuluan: Demam malaria merupakan penyakit yang masih menjadi masalah di negara berkembang. Plasmodium berghei adalah Parasit intraseluler fakultatif, maka sistem imunitas yang berperan yaitu sistem seluler. Morinda citrifolia merupakan tanaman obat tradisional yang mengandung banyak senyawa aktif yang dapat menurunkan indek splenomegali. Membuktikan efek ekstrak etanol morinda citrifolia terhadap splenomegali pada mencit Balb/c yang diinfeksi Plasmodium berghei. Metode: Jenis penelitian ini adalah eksperimental dengan rangcangan the post test only control group design pada hewan coba mencit balb/c yang terdiri dari 24 ekor mencit jantan, dibagi menjadi 4 kelompok. (K) merupakan kelompok kontrol di beri Aquadest, dan kelompok perlakuan (P1,P2,P3) yang diberi ekstrak morinda citrifolia dengan dosis bertingkat (0,64 mg/kgBb/hari, 1,28 mg/kgBb/hari, 2,56 mg/kgBb/hari). Proses perlakuan diberikan selama 14 hari dan pada hari ke-6 diinfeksi dengan Plasmodium berghei sebanyak 0,1 ml x 106 secara intraperitoneal. Hari ke-14 dilakukan pembedahan isolasi limpa dilanjutkan pemeriksaan indek limpa. Data diperoleh dari penghitungan indek limpa. Uji beda untuk indek splenomegali menggunakan One Way ANOVA yang diteruskan dengan Post Hoct Test. Hasil dan Pembahasan: Ekstrak etanol Morinda citrifolia dapat menurunkan indek limpa, antara kontrol dengan perlakuan P1,P2 dan P3 mempunyai perbedaan yang signifikan, akan tetapi antar perlakuan tidak ada perbedaan yang signifikan. Kesimpulan: Ekstrak etanol Morinda citrifolia berbagai dosis dapat menurunkan indek splenomegali pada mencit Babl/c yang diinfeksi Plasmodium berghei.
Downloads
Download data is not yet available.
References
Cancer Chemoprevention Research Center. Mengkudu (Morinda citrifolia L.). 2016;1–4.
Darlina ., Kisnanto T, Fauzan A. Respons Hematopoitik Mencit Yang Diinfeksi Dengan Plasmodium berghei Stadium Eritrositik Iradiasi Gamma. J Sains dan Teknol Nukl Indones. 2013;13(2):85–94.
De Oliveira Paula S, De Sousa JA, De Brito ES, Gallão MI. The morphological characterization of the dry seeds and reserve mobilization during germination in Morinda citrifolia L.1. Rev Cienc Agron. 2016;47(3):556–63.
Gordon P, Okai B, Hoare JI, Erwig LP, Wilson HM. SOCS3 is a modulator of human macrophage phagocytosis. J Leukoc Biol. 2016;100(4):771–80. Available from: http://www.jleukbio.org/cgi/doi/10.1189/jlb.3A1215-554RR
Harmita, Radji M. Buku Ajar Analisis Hayati. 3rd ed. Manurung J, editor. Jakarta: Buku Kedokteran EGC; 2010. 63-68 p.
Innocent O, Oke O, Anthony O. Plasmodium berghei Malarial Infection Reduces Blood And Brain Glucose Levels In Experimental Mice . 2013;1(1):1–7.
Jambou R, El-Assaad F, Combes V, Grau GE. In vitro culture of Plasmodium berghei-ANKA maintains infectivity of mouse erythrocytes inducing cerebral malaria. Malar J. 2011;10:2–6.
Janse CJ, Waters AP. Plasmodium berghei: The application of cultivation and purification techniques to molecular studies of malaria parasites. Parasitol Today. 1995;11(4):138–Available from: http://www.sciencedirect.com
Jubrail J, Kurian N, Niedergang F. Macrophage phagocytosis cracking the defect code in COPD. Biomed J. 2017;40(6):305–Available from: https://doi.org/10.1016/j.bj.2017.09.004
Kemenkes RI. profil Kesehatan Indonesia. Vol. 70, Kesehatan. 2016. 1780-1790 p.Available
Kaur K, Chang HH, Topchyan P, Cook JM, Barkhordarian A, Eibl G, et al. Deficiencies in natural killer cell numbers, expansion, and function at the pre-neoplastic stage of pancreatic cancer by KRAS mutation in the pancreas of obese mice. Front Immunol. 2018;9 (Jun):1–12.
Puti I, Sabirin R, Maskoen AM, Hernowo BS. Peran Ekstrak Etanol Topikal Daun Mengkudu ( Morinda citrifolia L .) pada Penyembuhan Luka Ditinjau dari Imunoekspresi CD34 dan Kolagen pada Tikus Galur Wistar Role of Noni (Morinda citrifolia L .) Leaf Ethanolic Extract Topical Application on Wound Heal. 2011;45(4):226–33. from: http://www.depkes.go.id
Prevention C for DC and. Anopheles Mosquitoes. 2015;24(7):1–14.
R. F. The incidence of environment related illnesses in North Bengkulu, Indonesia. J Environ Health [Internet]. 1994;57(1):16–8. Available from: http://ovidsp.ovid.com
Ramamoorthy L, Tizard IANR. Induction of Apoptosis in a Macrophage Cell Line RAW 264.7 By Acemannan , ( 1 , 4 ) -Acetylated Mannan. 1998;421:415–21.
Rethinam P, Pratap UP. Pharmacological properties and clinical applications of Morinda citrifolia L . 2015;10:1–18.
Soe UTM, Mya D, Chaw N, Naw D, Myint H. Larvicidal efficacy of Morinda citrifolia L. leaf extract against three important mosquitoes. 2015;(5).
Sundrarajan M, Bama K, Bhavani M, Jegatheeswaran S, Ambika S, Sangili A, et al. Obtaining titanium dioxide nanoparticles with spherical shape and antimicrobial properties using M. citrifolia leaves extract by hydrothermal method. J Photochem Photobiol B Biol. 2017;171(May):117–24.
Weekly LS. Patents ; Patent Application Titled " Method and Composition for Administering Bioactive Compounds Derived from Morinda Citrifolia ". 2013;1–3.
World Health Organization. World Malaria Report 2015. Avenue Appia; 2015.
Yildiz K, Ince AT, Gangarapu V, Bugdaci MS, Baysal B, Kayar Y, et al. Evaluation of concentrations of pro/anti-inflammatory cytokines after complication-free ECRP in cholangiocarcinoma.Turkish J Gastroenterol. 2015; 25 1):133-7.
ZipcodeZoo. Morinda citrifolia. ZipcodeZoo. 2016.
Zhang L TI. Activation of a mouse macrophage cell line by acemannan : the major carbohydrate fraction from Aloe vera gel. Immunopharmacol. 1996;35 (2) : 119–28.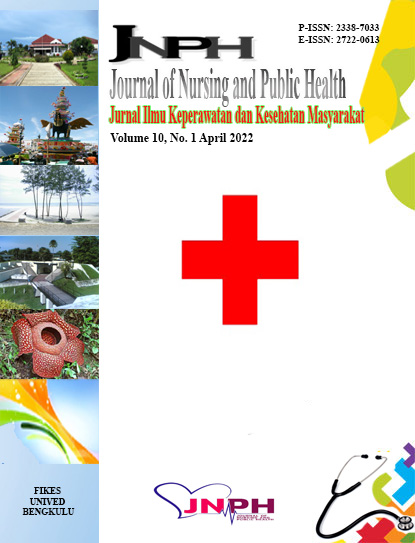 How to Cite
FARIZAL, J., ABDILLAH, R., & MARLINA, L. (2022). EFEK EKSTRAK ETANOL DAUN MENGKUDU (MORINDA CITRIFOLIA) TERHADAP SPLENOMEGALI PADA MENCIT BALB/C YANG DIINFEKSI PLASMODIUM BERGHEI. Journal of Nursing and Public Health, 10(1), 79-85. https://doi.org/10.37676/jnph.v10i1.2370
An author who publishes in the Journal of Nursing and Public Health agrees to the following terms:
Author retains the copyright and grants the journal the right of first publication of the work simultaneously licensed under the Creative Commons Attribution-ShareAlike 4.0 License that allows others to share the work with an acknowledgement of the work's authorship and initial publication in this journal
Submission of a manuscript implies that the submitted work has not been published before (except as part of a thesis or report, or abstract); that it is not under consideration for publication elsewhere; that its publication has been approved by all co-authors. If and when the manuscript is accepted for publication, the author(s) still hold the copyright and retain publishing rights without restrictions. For the new invention, authors are suggested to manage its patent before published. The license type is CC-BY-SA 4.0.
Journal of Nursing and Public Health is licensed under a Creative Commons Attribution-ShareAlike 4.0 International License.
You are free to:
Share — copy and redistribute the material in any medium or format
Adapt — remix, transform, and build upon the material
for any purpose, even commercially.
The licensor cannot revoke these freedoms as long as you follow the license terms.