The Effectiveness of the General Elections Supervisory Body in Handling Violations in the 2019 General Elections According to Law Number 7 of 2017 concerning General Elections (Bawaslu Case Study of Bengkulu Province)
M. Arafat Hermana

Universitas Dehasen Bengkulu

Muslim Chaniago

Fakultas Hukum, Universitas Dehasen Bengkulu

Dewi Lestari

Universitas Dehasen Bengkulu
Abstract
In Bengkulu City there are still many violations in every general election such as administrative violations, criminal violations and violations of the code of ethics, there are two problems studied in this thesis, namely How Effectiveness of the General Elections Supervisory Agency in handling violations in general elections, How are the sanctions given by the Election Supervisory Agency General in resolving the handling of violations that occurred in the general election. This type of research method uses normative-empirical legal research methods, namely legal research regarding the enactment or implementation of normative legal provisions in action on every particular legal event that occurs in the community. The theory used in this research is supervisory theory, effectiveness theory, authority theory and rule of law theory. The General Elections Supervisory Body is still less effective in resolving the handling of violations in the general election because there are still many violations that still occur during the general election and the sanctions given have no clear firmness and have not created a deterrent effect for those who commit violations.
Downloads
Download data is not yet available.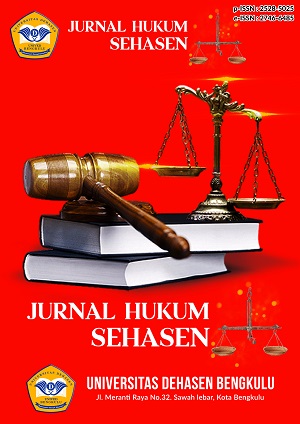 How to Cite
Hermana, M. A., Chaniago, M., & Lestari, D. (2022). The Effectiveness of the General Elections Supervisory Body in Handling Violations in the 2019 General Elections According to Law Number 7 of 2017 concerning General Elections (Bawaslu Case Study of Bengkulu Province). JURNAL HUKUM SEHASEN, 7(2), 47–56. https://doi.org/10.37676/jhs.v7i2.2229
Copyright (c) 2021 M. Arafat Hermana, Muslim Chaniago, Dewi Lestari
This work is licensed under a Creative Commons Attribution-ShareAlike 4.0 International License.