Juridical Study on the Settlement of Child Cases as Victims of Sexual Violence in the Perspective of Law Number 35 of 2014 concerning Child Protection in Muko-muko Regency
M. Arafat Hermana

Universitas Dehasen Bengkulu

Ferawati Royani

Fakultas Hukum Universitas Dehasen Bengkulu

Desy Maryani

Universitas Dehasen Bengkulu

Aprizal Gunawan

Universitas Dehasen Bengkulu
Abstract
Child is someone who is not yet 18 (eighteen) years old, including children who are still in the womb. Children's understanding and perception of the world that is still minimal causes them to be vulnerable to the development of situations around which are sometimes so complex. The type of research used in this study is a type of empirical juridical research. This type of research is not conceptualized as an independent (autonomous) normative phenomenon, but as a social institution that is linked in real terms with other social variables. The long-term impact of sexual violence against children is that children who are victims of sexual violence in childhood have the potential to become perpetrators of sexual violence in the future. The helplessness of victims when faced with acts of sexual violence in childhood, is unconsciously generalized in their perception that sexual acts or behavior can be done to weak or helpless figures. Children who are sexually abused take one to three years to open up to others
Downloads
Download data is not yet available.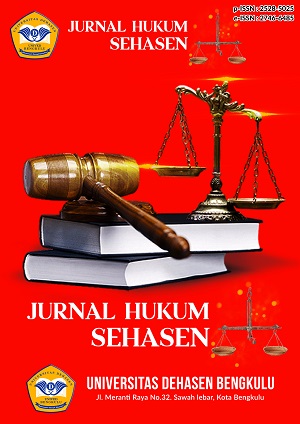 How to Cite
Hermana, M. A., Royani, F., Maryani, D., & Gunawan, A. (2022). Juridical Study on the Settlement of Child Cases as Victims of Sexual Violence in the Perspective of Law Number 35 of 2014 concerning Child Protection in Muko-muko Regency. JURNAL HUKUM SEHASEN, 7(2), 63-. https://doi.org/10.37676/jhs.v7i2.2230
Copyright (c) 2021 M. Arafat Hermana, Ferawati Royani, Desy Maryani, Aprizal Gunawan
This work is licensed under a Creative Commons Attribution-ShareAlike 4.0 International License.