Juridical Study on the Settlement of Child Cases as Victims of Sexual Violence Perspective of Law 35 of 2014 concerning Child Protection in Bengkulu City
Muslim Chaniago

Fakultas Hukum, Universitas Dehasen Bengkulu

Widya Timur

Universitas Dehasen Bengkulu

Ana Tasia Pase

Universitas Dehasen Bengkulu

Renaldi Renaldi

Universitas Dehasen Bengkulu
Abstract
The recent rise of sexual violence against children has caused new problems both socially and legally, in other words, incest is a deviant act that is not allowed by religion and violates the law which often occurs in areas in Bengkulu Province. Whereas based on Law No. 35 of 2014 concerning Child Protection, those who are obliged and responsible for the implementation of child protection are the State, Government, Community, Family and parents. The purpose of this study is to find out whether the regulation of incest crimes has been effective in reducing incest crimes, especially parents as perpetrators of sexual violence against biological children and to provide changes to the rules in order to make changes to criminal law related to crime as a sentencing goal which starts from two targets, namely: community protection and protection/development of individual perpetrators of criminal acts. The approach method applied in this research is empirical juridical which consists of three, namely a. a legal case study approach that is without conflict so that there will be no interference with the court, b. a legal case study approach due to a conflict so that it will involve court intervention to be able to provide a resolution decision, c. an approach to a legal event that is still in progress or has not ended. In this study, the current legal protection arrangements have been effective in reducing parents as perpetrators of sexual violence against biological children (incest crime) and parents who commit sexual violence (incest crime) in the future. addition of articles (criminal law reform).
Downloads
Download data is not yet available.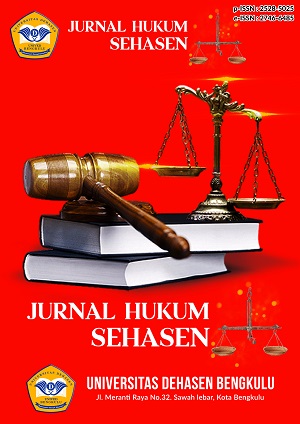 How to Cite
Chaniago, M., Timur, W., Pase, A. T., & Renaldi, R. (2022). Juridical Study on the Settlement of Child Cases as Victims of Sexual Violence Perspective of Law 35 of 2014 concerning Child Protection in Bengkulu City. JURNAL HUKUM SEHASEN, 7(2), 57 -. https://doi.org/10.37676/jhs.v7i2.2228
Copyright (c) 2021 Muslim Chaniago, Widya Timur, Ana Tasia Pase, Renaldi Renaldi
This work is licensed under a Creative Commons Attribution-ShareAlike 4.0 International License.