Pendampingan Penyusunan Jurnal Khusus Penerimaan Kas dan Pengeluaran Kas berdasarkan SAK EMKM & Koperasi Pada Warung JOH Jl. Raden Fatah Kota Bengkulu
Neri Susanti

Yun Fitriano

Ekonomi Akuntansi UNIVED

Ina Sintia Wati

Universitas Dehasen

Penti Safitri

Universitas Dehasen

Ida Nur Safitri

Universitas Dehasen
Keywords:
SAK EMKM, Jurnal Penerimaan Kas, Jurnal Pengeluaran Kas
Abstract
The Micro, Small and Medium Enterprises that we visited were the Warung Joh grocery business, which is located on Jl. Raden Fatah RT20/RW04 Air Sebakul, Bengkulu City. This business started as a home-based business, so it has not been systematically recorded so it has difficulty in financial management because it does not have standardized financial reports. This Warung Joh UMKM community service activity includes aspects of training in preparing simple financial reports that focus on cash in and cash out. The problems faced include aspects of the preparation of financial reports. The implementation of this activity is based on SAK EMKM and KOPERASI regarding how to compile simple financial reports for the Warung Joh micro MSME business. The type of training used is a type of qualitative research. Based on the characteristics of the problems raised by the companion, this community service is classified as a descriptive qualitative training. The data used in this study are primary data obtained directly from the UMKM, such as data from interviews with the UMKM as well as data in the form of information from daily cash-in and cash-out records. As for the secondary data obtained from books, journals, the internet that supports this research. From the results of data analysis, the results of the study show that the financial reports of UMKM Warung Joh only present the recording of daily transactions, namely cash receipts and disbursements. The results of the community service program are that business owners are provided with assistance in preparing simple financial reports such as making a special journal of cash receipts and disbursements as well as a cash ledger. It is hoped that this training can help MSMEs business owners in much better financial management
Downloads
Download data is not yet available.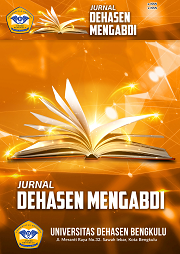 How to Cite
Susanti, N., Fitriano, Y., Wati, I., Safitri, P., & Safitri, I. (2023). Pendampingan Penyusunan Jurnal Khusus Penerimaan Kas dan Pengeluaran Kas berdasarkan SAK EMKM & Koperasi Pada Warung JOH Jl. Raden Fatah Kota Bengkulu. Jurnal Dehasen Mengabdi, 2(1), 41-. https://doi.org/10.37676/jdm.v2i1.3788
Copyright (c) 2023 Yun Fitriano, Neri Susanti, Ina Sintia Wati, Penti Safitri, Ida Nur Safitri
This work is licensed under a Creative Commons Attribution-ShareAlike 4.0 International License.