Pelatihan Penyusunan Laporan Keuangan Pada Usaha UMKM Pabrik Tempe A-Zaki Bengkulu
Yun Fitriano

Universitas Dehasen Bengkulu

Rinto Noviantoro

Universitas Dehasen Bengkulu

Mia Margareta

Universitas Dehasen Bengkulu

Dike Maryani

Universitas Dehasen Bengkulu
Keywords:
financial reports, MSME, income statements
Abstract
The preparation of financial statements is one of the important things for a business, especially MSMEs. But currently there are still a lot of MSME businesses that have not been able to make financial reports properly and correctly. There are several factors that cause this MSME business not to make financial reports properly and correctly, one of which is their ignorance of accounting science and they don't know where to start to make good and correct financial reports. The A-Zaki Tempe Factory is one of the MSME businesses with the largest production of tempeh in the city of Bengkulu, but has not made financial reports properly and correctly. Therefore, our Lecturer Service Team and Unived accounting students provide training in making simple financial reports, especially for recording income and expenses which will produce a profit and loss statement for the A-Zaki tempe factory. The method used is a lecture in the form of counseling, discussion, practice of recording accounting journaling and assistance in preparing financial reports. The results of this service are very helpful for the owner of the A-Zaki tempe factory in recording cash in and cash out in the form of a journal and then making a general ledger to making simple financial reports, be it income statements, changes in capital and balance sheets
Downloads
Download data is not yet available.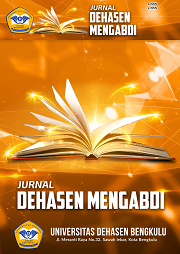 How to Cite
Fitriano, Y., Noviantoro, R., Margareta, M., & Maryani, D. (2022). Pelatihan Penyusunan Laporan Keuangan Pada Usaha UMKM Pabrik Tempe A-Zaki Bengkulu. Jurnal Dehasen Mengabdi, 1(1), 1 - 6. Retrieved from https://jurnal.unived.ac.id/index.php/jdm/article/view/2075
Copyright (c) 2022 Yun Fitriano, Rinto Noviantoro, Mia Margareta, Dike Maryani
This work is licensed under a Creative Commons Attribution-ShareAlike 4.0 International License.