PENDAPATAN DAN STRATEGI PEMASARAN PETANI MELON DI KABUPATEN SELUMA
REVENUE AND MARKETING STRATEGY FOR MELON FARMERS IN SELUMA
Wahyudi Wahyudi

Program Studi Agribisnis Fakultas Pertanian, Universitas Dehasen Bengkulu

Evi Andriani

Program Studi Agribisnis Fakultas Pertanian, Universitas Dehasen Bengkulu

Ana Nurmelia

Program Studi Agribisnis Fakultas Pertanian, Universitas Dehasen Bengkulu

Mujiono Mujiono

Program Studi Agribisnis Fakultas Pertanian, Universitas Dehasen Bengkulu
Keywords:
Melon, Revenue, Marketing strategy
Abstract
This study aims to determine the income and marketing strategies of melon farmers in Seluma Regency. The study was conducted in July 2019. The population in this study amounted to 20 melon farmers. The type of data used in this study are primary data and secondary data. Data analysis methods used in this study are quantitative analysis and qualitative analysis. Quantitative analysis is used to calculate the level of income of melon cultivation with the calculation of farm income analysis. Meanwhile, qualitative analysis is used to determine the development strategy of melon cultivation using SWOT analysis.
From this research, the average income of melon farmers in Seluma District was Rp 9,835,112,500 with an income of Rp 13,527,800,000 and expenditure costs of Rp 3,692,687,500. The strategy used in improving the marketing of melons is to sell melons with various processed variants of melons, marketing melons can be done with a partnership system, creating special transportation facilities in the process of melon distribution and increasing sales by adding product innovation
Keywords : Melon, Revenue, Marketing strategy
Downloads
Download data is not yet available.
References
Arikunto, 2002. Analisis Pendapatan dan Strategi pengembangan Budidaya Rumput Laut di Pulau Pahawang Kec. Penduh Pindada Kab. Pesawaran. JIIA : 2 (1) : 56-65
Ashari, 2006. Teknik Budidaya Melon (Cucumus Melon L.) Secara Tabulanpot,
Ditaman Buah Mekar Sari Cileugsi, Jawa Barat.
Cahyono, 1996. Bertanam Melon. Penebar Swadaya. Jakarta.
M. Santoso, B. Dipokusumo, Srimaryati. 2012. Analisis Keuntungan Usaha tani melon di Kecamatan Pujut Kabupaten Lombok Tengah. http : http://eprints.unram.ac.id/4167/1/JURNAL%20medal%20S.pdf
R. Andrianto, I. A. Wicaksono, D.P. Utami. 2018. Analisis usahatani melon di Desa Wononasi Kecamataan Ngombol Kabupaten Purworejo. Jurnal Surya Agritama. 7(2) : 94-106
R. Y. Sugiarto, S.W. Ani, N. Setyowati. 2015. Strategi pemasaran di Kabupaten Sragen. Jurnal Agrista 3(3) : 1-8
Rukmana, R. (2000). Usaha Tani Melon. Kanisius.
Soedarya, 2010. Agribisnis Melon. CV Pustaka Grafika. Bandung.
Suwardi, Zuraini, Murdani. 2016. Prospek oengembangan usahatani melon Kecamatan Muara batu dan Dewantara Kabbupaten Aceh Utara. Jurnal AGrivo 1 (1) : 63 -72
Tjahjadi, N. 2000. Bertanam Melon. Kanisius. Jogjakarta.
Yona, Prima. 2010. Strategi Pengembangan Agribisnis Melon (Cucumis melo L) di Kecamatan Lengayang Kab, Pesisir Selatan. Di Terbitkan Andalas: Fakultas Pertanian Universitas Andalas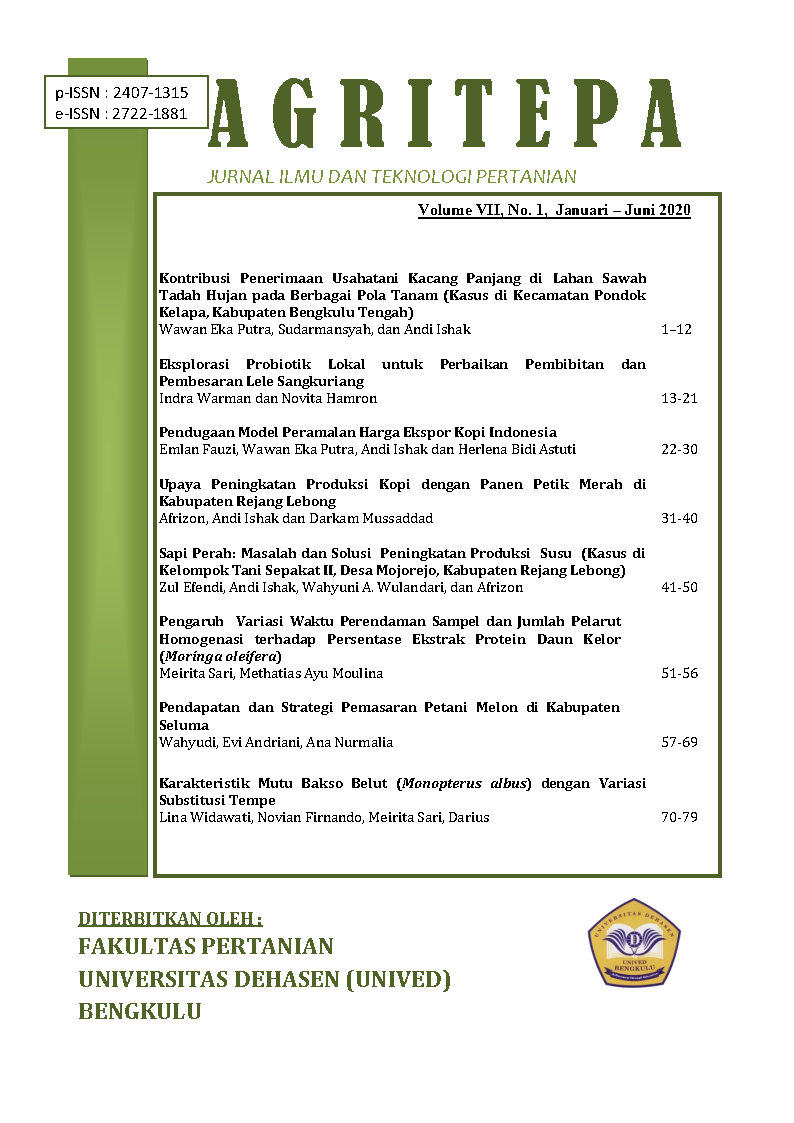 How to Cite
Wahyudi, W., Andriani, E., Nurmelia, A., & Mujiono, M. (2020). PENDAPATAN DAN STRATEGI PEMASARAN PETANI MELON DI KABUPATEN SELUMA. AGRITEPA: Jurnal Ilmu Dan Teknologi Pertanian, 7(1), 57-69. https://doi.org/10.37676/agritepa.v7i1.999
Section
Article Reasearch
Author retains the copyright and grants the journal the right of first publication of the work simultaneously licensed under the Creative Commons Attribution-ShareAlike 4.0 License that allows others to share the work with an acknowledgement of the work's authorship and initial publication in this journal