Faktor-faktor Yang Mempengaruhi Konsumsi Kopi Bubuk 1001 Di Kota Bengkulu
Herri Fariadi

Program Studi Agribisnis, UNIVED

Beni Saputra

Program Studi Agribisnis, UNIVED
Abstract
Saat ini, Indonesia merupakan produsen dan juga sekaligus konsumen penting komoditas kopi. Provinsi Bengkulu merupakan provinsi ke 4 di Sumatera dengan jumlah produksi kopi terbanyak, dengan luas lahan 75.922 Ha dengan total produksi 56.556 ton. Dari jumlah tersebut ada yang menjadi berbagai olahan kopi bubuk, adapun salah satu olahan kopi bubuk yang cukup terkenal di Kota Bengkulu adalah kopi bubuk 1001. Tujuan dari penelitian ini adalah: menganalisis konsumsi kopi bubuk 1001 di Kota Bengkulu dan mengetahui faktor-faktor yang mempengaruhi konsumsi kopi bubuk 1001 di Kota Bengkulu.
Metode penelitian yang digunakan untuk menganalisis konsumsi kopi bubuk 1001 di Kota Bengkulu adalah analisis deskriptif. Untuk mengetahui faktor-faktor yang mempengaruhinya konsumsi kopi bubuk 1001 dengan dianalisis dengan alat analisis regresi linear berganda. sampel yang digunakan dalam penelitan ini adalah sebanyak 78 responden, dilakukan dengan metode accidental sampling.
Hasil penelitian menunjukkan konsumsi kopi bubuk 1001 di Kota Bengkulu masih kategori rendah, hal ini ditunjukkan dengan nilai rata-rata konsumsi 260 gr/bln. Hasil uji secara simultan besarnya pengaruh 7 variabel X terhadap konsumsi kopi bubuk 1001 secara bersama-sama berpengaruh signifikan. Sedangkan untuk uji parsial faktor yang berpengaruh nyata terhadap konsumsi kopi bubuk 1001 di Kota Bengkulu adalah selera (X1), harga kopi bubuk 1001 (X2), jumlah tanggungan keluarga (X6) dan jenis kelamin (X7).
Kata kunci : konsumsi, kopi bubuk 1001
Downloads
Download data is not yet available.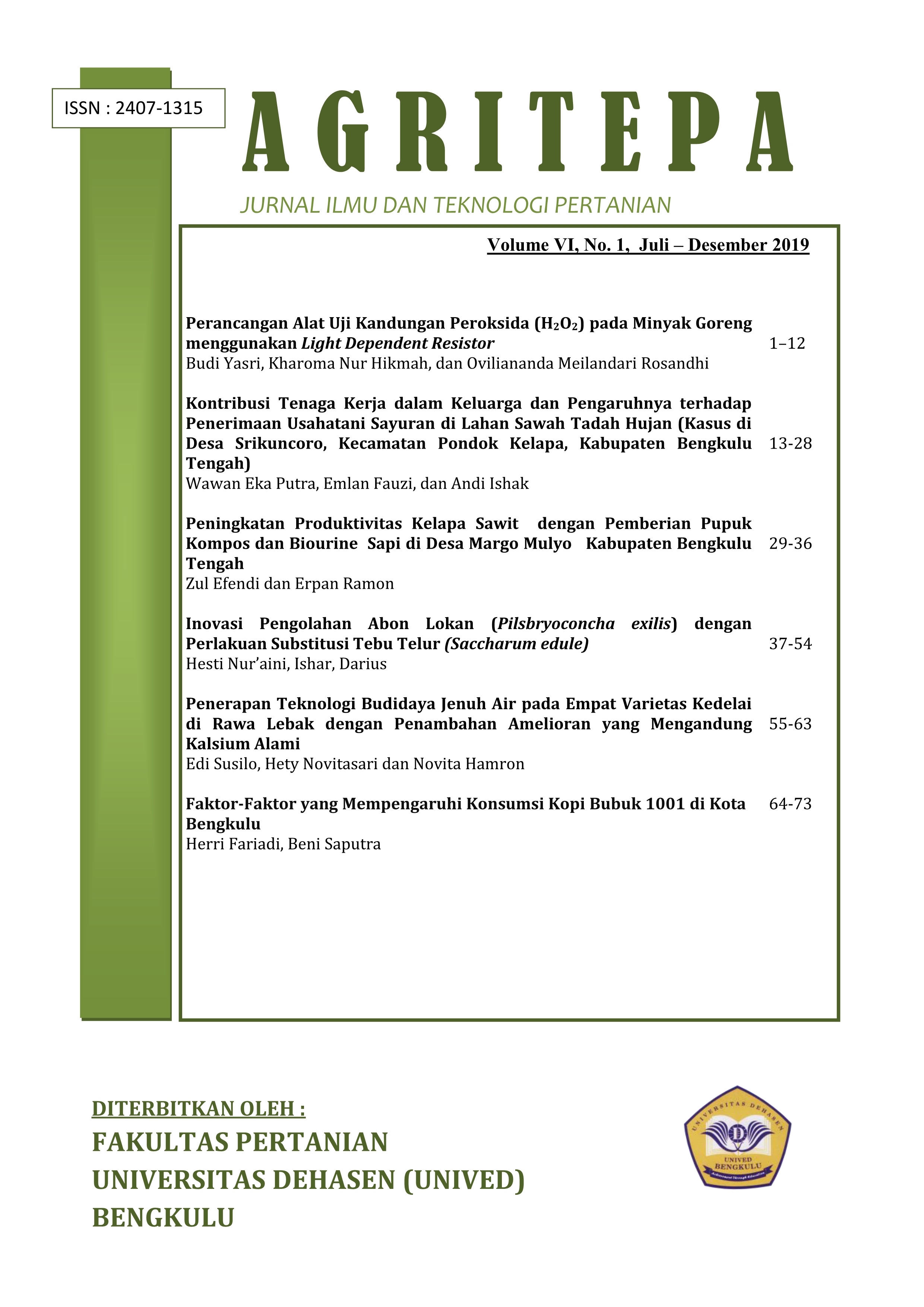 How to Cite
Fariadi, H., & Saputra, B. (2019). Faktor-faktor Yang Mempengaruhi Konsumsi Kopi Bubuk 1001 Di Kota Bengkulu. AGRITEPA: Jurnal Ilmu Dan Teknologi Pertanian, 6(2), 64 - 73. https://doi.org/10.37676/agritepa.v6i2.882
An author who publishes in the Jurnal AGRITEPA agrees to the following terms:
Author retains the copyright and grants the journal the right of first publication of the work simultaneously licensed under the Creative Commons Attribution-ShareAlike 4.0 License that allows others to share the work with an acknowledgement of the work's authorship and initial publication in this journal
Submission of a manuscript implies that the submitted work has not been published before (except as part of a thesis or report, or abstract); that it is not under consideration for publication elsewhere; that its publication has been approved by all co-authors. If and when the manuscript is accepted for publication, the author(s) still hold the copyright and retain publishing rights without restrictions. For the new invention, authors are suggested to manage its patent before published. The license type is CC-BY-SA 4.0.
Jurnal AGRITEPA is licensed under a Creative Commons Attribution-ShareAlike 4.0 International License.