Inovasi Pengolahan Abon Lokan (Pilsbryoconcha exilis) Dengan Perlakuan Substitusi Tebu Telur (Saccharum edule)
Hesti Nur'aini

Program Studi Teknologi Hasil Pertanian, UNIVED

Ishar Ishar

Program Studi Teknologi Hasil Pertanian, UNIVED

Darius Darius

Program Studi Teknologi Hasil Pertanian, UNIVED
Abstract
Abon lokan merupakan salah satu produk pangan yang terbuat dari daging yang disuwir-suwir dan ditambahkan bumbu kemudian dilakukan penggorengan dan pengepresan. Melihat harga lokan yang mahal, maka perlu dilakukan substitusi menggunakan bahan berprotein tinggi yang memiliki harga lebih ekonomis. Telah dilakukan penelitian dengan tujuan untuk mengevaluasi pengaruh substitusi tebu telur dalam pengolahan abon lokan, terhadap sifat kimia dan organoleptik abon lokan, serta menentukan komposisi bahan baku yang tepat dalam pengolahan abon lokan substitusi tebu telur.
Penelitian ini menggunakan faktor tunggal, dengan faktor perlakuan komposisi tebu telur : lokan ((0 : 400), (50 : 350), (100 : 300), (150 : 250), (200 : 200), dan (250 : 150)) gram. Analisis yang dilakukan meliputi analisis protein, analisis serat kasar, analisis usaha, dan uji sensoris untuk mengetahui tingkat penerimaan panelis terhadap abon lokan, menggunakan 20 orang panelis agak terlatih.
Hasil penelitian menunjukkan bahwa substitusi tebu telur pada pembuatan abon lokan berpengaruh terhadap kandungan protein, serat kasar dan tingkat kesukukaan panelis pada parameter warna, rasa dan tekstur abon lokan. Konsentrasi tebu telur yang tepat untuk menghasilkan abon terbaik adalah pada perlakuan 150 g tebu telur dan 250 g daging lokan, dengan nilai  protein sebesar  19,107%, serat kasar 0,967%, tingkat kesukaan terhadap warna sebesar 3,80 (suka), rasa sebesar 4,80 (sangat suka), dan tekstur sebesar 4,70 (sangat suka). Hasil analisis usaha abon lokan substitusi tebu telur dengan komposisi 150 gr : 250 gr diperoleh keuntungan sebesar Rp 38.353/kg.
Kata Kunci: substitusi, tebu telur, abon lokan
Downloads
Download data is not yet available.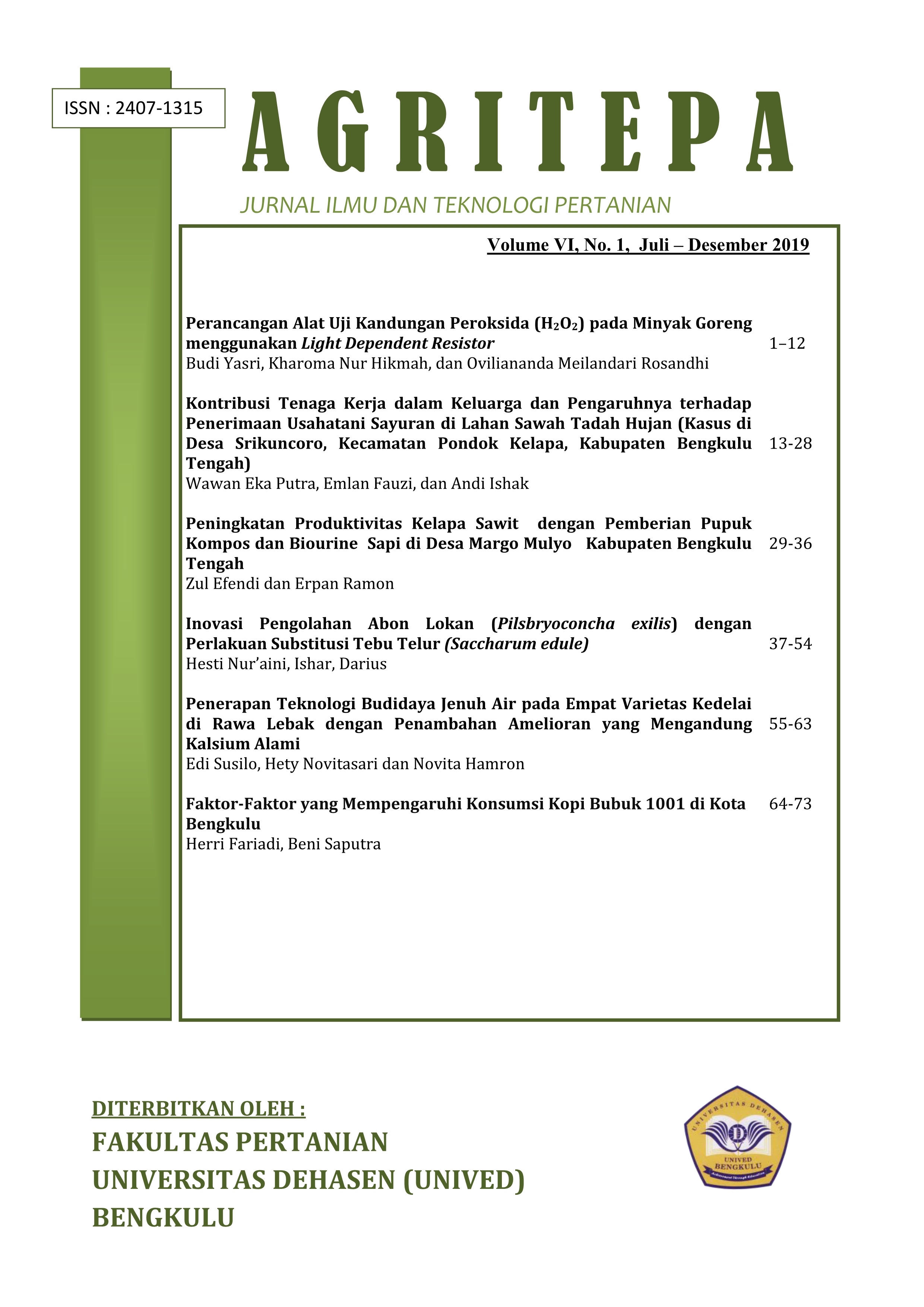 How to Cite
Nur'aini, H., Ishar, I., & Darius, D. (2019). Inovasi Pengolahan Abon Lokan (Pilsbryoconcha exilis) Dengan Perlakuan Substitusi Tebu Telur (Saccharum edule). AGRITEPA: Jurnal Ilmu Dan Teknologi Pertanian, 6(2), 37 - 54. https://doi.org/10.37676/agritepa.v6i2.880
An author who publishes in the Jurnal AGRITEPA agrees to the following terms:
Author retains the copyright and grants the journal the right of first publication of the work simultaneously licensed under the Creative Commons Attribution-ShareAlike 4.0 License that allows others to share the work with an acknowledgement of the work's authorship and initial publication in this journal
Submission of a manuscript implies that the submitted work has not been published before (except as part of a thesis or report, or abstract); that it is not under consideration for publication elsewhere; that its publication has been approved by all co-authors. If and when the manuscript is accepted for publication, the author(s) still hold the copyright and retain publishing rights without restrictions. For the new invention, authors are suggested to manage its patent before published. The license type is CC-BY-SA 4.0.
Jurnal AGRITEPA is licensed under a Creative Commons Attribution-ShareAlike 4.0 International License.