Kontribusi Tenaga Kerja Dalam Keluarga Dan Pengaruhnya Terhadap Penerimaan Usahatani Sayuran Di Lahan Sawah Tadah Hujan
Kasus di Desa Srikuncoro, Kecamatan Pondok Kelapa, Kabupaten Bengkulu Tengah
Wawan Eka Putra

Balai Pengkajian Teknologi Pertanian (BPTP) Bengkulu

Emlan Fauzi

Balai Pengkajian Teknologi Pertanian (BPTP) Bengkulu

Andi Ishak

Balai Pengkajian Teknologi Pertanian (BPTP) Bengkulu
Abstract
Tenaga kerja memiliki kontribusi penting di dalam struktur biaya usahatani. Tenaga kerja tersebut dapat berasal dari dalam dan luar keluarga petani. Penelitian ini bertujuan untuk mengetahui kontribusi tenaga kerja dari dalam keluarga pada usahatani sayuran dengan empat pola tanam yang berbeda di lahan sawah tadah hujan dan pengaruhnya terhadap keuntungan usahatani. Penelitian dilakukan di Desa Srikuncoro, Kecamatan Pondok Kelapa, Kabupaten Bengkulu Tengah pada bulan April sampai bulai Mei 2019. Terdapat empat pola tanam sayuran di desa ini yaitu (1) mentimun – gambas – kacang panjang, (2) mentimun – paria – kacang panjang, (3) mentimun – kacang panjang – kacang panjang, dan (4) kacang panjang – kacang panjang – kangkung cabut – kangkung cabut. Data dikumpulkan melalui sensus terhadap delapan orang petani sayuran terkait dengan input dan output usahatani sayuran yang selanjutnya dianalisis secara deskriptif menggunakan struktur ongkos usahatani dan R/C ratio. Hasil penelitian menunjukkan bahwa kontribusi biaya tenaga kerja dari dalam keluarga pada empat pola tanam tersebut antara 14,89 – 61,69% dengan nilai R/C ratio antara 1,55 – 1,80. Kontribusi tenaga kerja tertinggi diperoleh pada pola tanam 4 yaitu sebesar 61,69% dengan nilai R/C ratio terendah yaitu 1,55. Namun apabila biaya tenaga kerja keluarga diasumsikan tidak diperhitungkan ke dalam biaya input usahatani, maka nilai R/C ratio pada pola tanam 4 menjadi yang tertinggi yaitu sebesar 4,05.
Kata Kunci : sayuran, pola tanam, tenaga kerja, keuntungan usahatani.
Downloads
Download data is not yet available.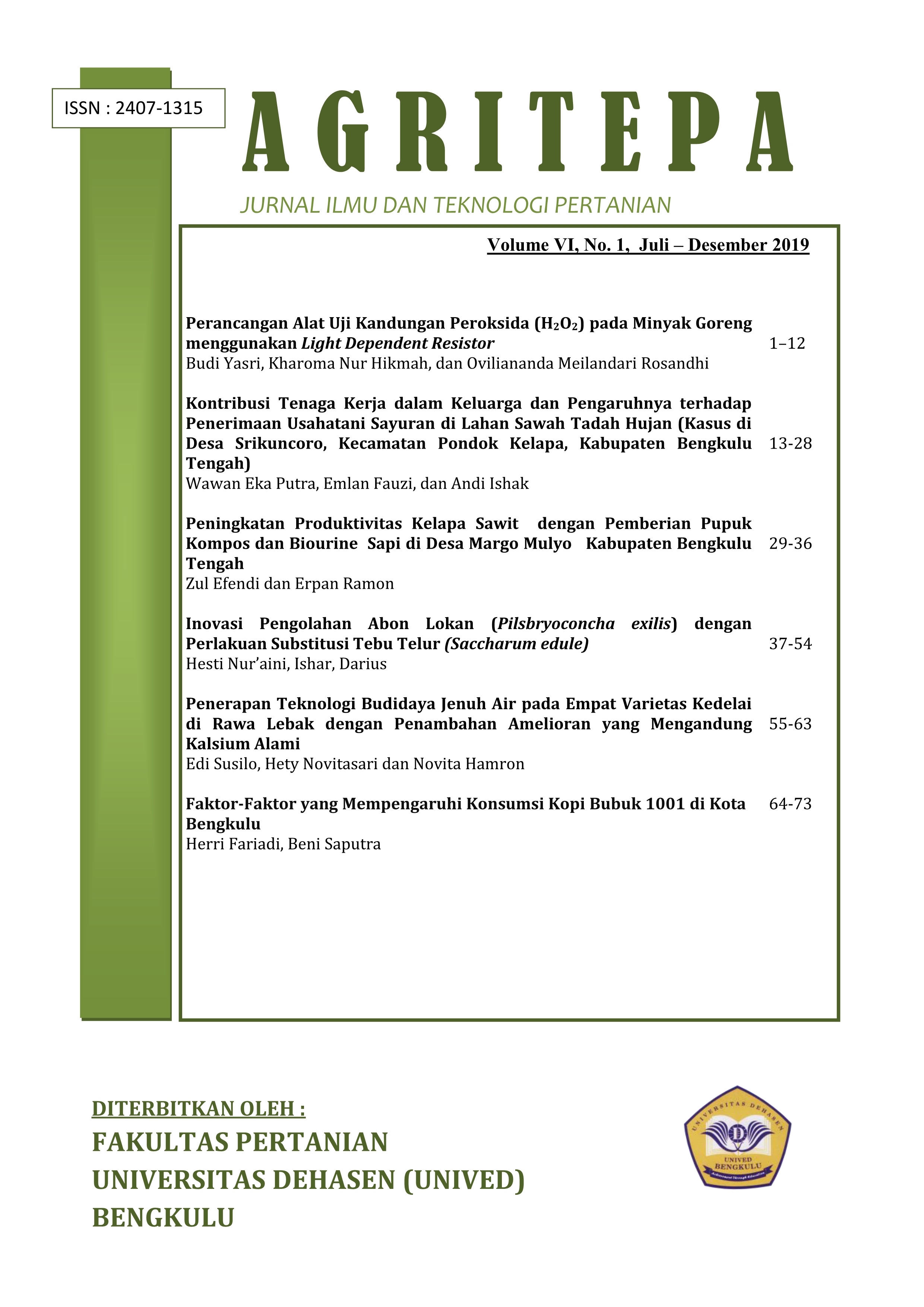 How to Cite
Putra, W., Fauzi, E., & Ishak, A. (2019). Kontribusi Tenaga Kerja Dalam Keluarga Dan Pengaruhnya Terhadap Penerimaan Usahatani Sayuran Di Lahan Sawah Tadah Hujan. AGRITEPA: Jurnal Ilmu Dan Teknologi Pertanian, 6(2), 13 - 28. https://doi.org/10.37676/agritepa.v6i2.878
An author who publishes in the Jurnal AGRITEPA agrees to the following terms:
Author retains the copyright and grants the journal the right of first publication of the work simultaneously licensed under the Creative Commons Attribution-ShareAlike 4.0 License that allows others to share the work with an acknowledgement of the work's authorship and initial publication in this journal
Submission of a manuscript implies that the submitted work has not been published before (except as part of a thesis or report, or abstract); that it is not under consideration for publication elsewhere; that its publication has been approved by all co-authors. If and when the manuscript is accepted for publication, the author(s) still hold the copyright and retain publishing rights without restrictions. For the new invention, authors are suggested to manage its patent before published. The license type is CC-BY-SA 4.0.
Jurnal AGRITEPA is licensed under a Creative Commons Attribution-ShareAlike 4.0 International License.