Karakteristik Mutu Sabun Kopi dengan Variasi Waktu Pencampuran dan Waktu Framming
Latifah Rabani

PP3MD Kabupaten Kepahiang, Bengkulu
Abstract
Bubuk kopi mengandung kafein  antara 1-1,5%. Kafein merupakan senyawa kimia alkoloid yang bermanfaat untuk kesehatan kulit seperti memperbaiki kulit yang rusak, dapat menetralkan kulit yang teriritasi dan memberi nutrisi pada kulit, serta menghilangkan bau badan. Sehingga bubuk kopi dapat dijadikan bahan baku pengulahan sabun. Sabun merupakan bahan logam alkali (basa) dengan rantai asam monocarboxylic yang panjang. Tujuan penelitian ini adalah untuk menganalisis kadar lemak, kadar pH, kandungan air, serta keretakan pada sabun kopi.
Metode dalam penelitian ini meliputi proses pembuatan sabun kopi dengan variasi waktu framming (3,5 dan 7 hari) dan lama pencampuran (15 dan 25 Menit). Proses pembuatan sabun kopi meliputi pencampuran 1 (minyak zaitun, minyak kelapa, minyak sawit, bubuk kopi), pencampuran 2 (ditambahkan larutan NaOH) dan pencampuran ke 3 (ditambahkan pewangi), selanjutnya dicetak. Setelah proses framming (3,5,7 hari), sabun kopi disimpan selama 4 minggu. Kemudian sabun kopi dianalisis kandungan air, kadar pH, dan lemak.
Dari hasil analisa kadar air pada sabun kopi berkisar 20,70 hingga 35,52%. Kandungan pH berkisar 10,29 hingga 11,40, kandungan lemak pada sabun kopi berkisar 0,41 hingga 0,57. Nilai keretakan pada sabun kopi adalah 1 hingga 2 (tidak ada keretakan dan sedikit keretakan). Sedangkan hasil uji organoleptik untuk warna berkisar 2,90 (agak menarik) hingga 4,30 (menarik). Hasil uji organoleptik tekstur sabun kopi berkisar 2,55 (lunak) hingga 4,20 (keras). Hasil uji organoleptik daya berbusa sabun kopi berkisar 2,85 (agak berbusa) hingga 4,10 (berbusa)
Kata Kunci : sabun kopi, framming,  mutu, waktu pencampuran
Downloads
Download data is not yet available.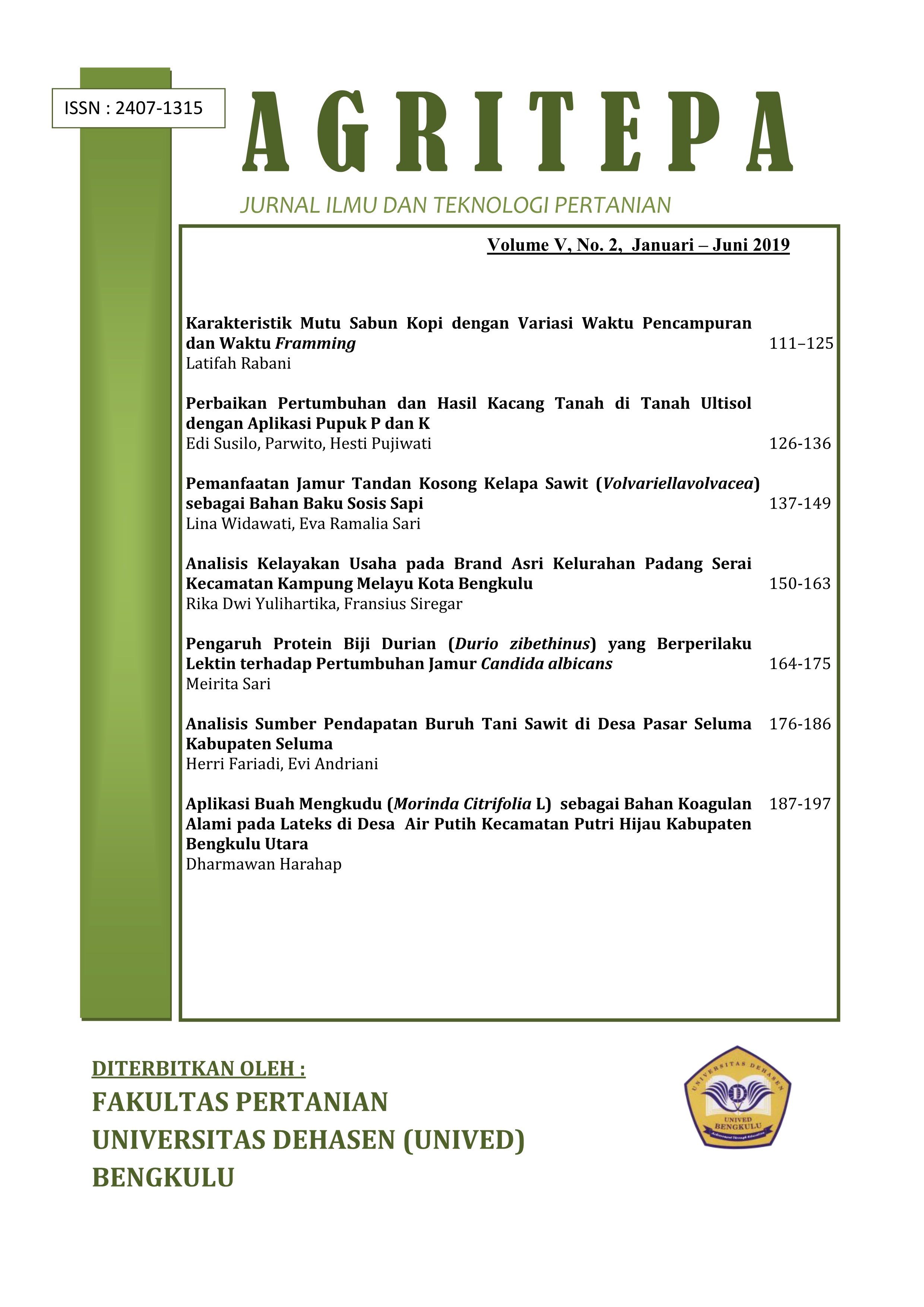 How to Cite
Rabani, L. (2019). Karakteristik Mutu Sabun Kopi dengan Variasi Waktu Pencampuran dan Waktu Framming. AGRITEPA: Jurnal Ilmu Dan Teknologi Pertanian, 6(1), 111 - 125. https://doi.org/10.37676/agritepa.v6i1.810
An author who publishes in the Jurnal AGRITEPA agrees to the following terms:
Author retains the copyright and grants the journal the right of first publication of the work simultaneously licensed under the Creative Commons Attribution-ShareAlike 4.0 License that allows others to share the work with an acknowledgement of the work's authorship and initial publication in this journal
Submission of a manuscript implies that the submitted work has not been published before (except as part of a thesis or report, or abstract); that it is not under consideration for publication elsewhere; that its publication has been approved by all co-authors. If and when the manuscript is accepted for publication, the author(s) still hold the copyright and retain publishing rights without restrictions. For the new invention, authors are suggested to manage its patent before published. The license type is CC-BY-SA 4.0.
Jurnal AGRITEPA is licensed under a Creative Commons Attribution-ShareAlike 4.0 International License.