Pengaruh Protein Biji Durian (Durio Zibethinus) Yang Berperilaku Lektin Terhadap Pertumbuhan Jamur Candida Albicans
Meirita Sari

Program Studi Teknologi Pertanian, UNIVED
Abstract
Penelitian ini merupakan salah satu bentuk pemanfaatan tumbuhan pangan, yaitu Durio Zibethinus. Senyawa lektin yang terkandung pada biji D. Zibethinus akan digunakan sebagai bahan antijamur. Penelitian ini meliputi isolasi lektin daun D. Zibethinus dengan menggunakan metode salting in dan salting out; penentuan konsentrasi lektin menggunakan metode biuret; dan pengujian aktivitas antijamur menggunakan metode difusi sumuran. Penelitian ini berguna bagi peneliti, masyarakat, bidang kesehatan, serta perkembangan ilmu pengetahuan maupun dunia pendidikan. Tujuan penelitian ini ialah untuk memperluas wawasan tentang pemanfaatan daun D. Zibethinus sebagai antijamur berbahan alam yang dapat menghambat pertumbuhan jamur. Oleh karena itu, penggunaan antijamur yang bersumber dari bahan alam dapat lebih dikembangkan di masa mendatang. Hasil penelitian menunjukkan adanya perbedaan yang signifikan pengaruh tiap variasi konsentrasi lektin terhadap luasnya Diameter Daya Hambat (DDH). Konsentrasi yang paling efektif untuk jamur C. albicans sebesar 100% dengan kategori kekuatan antijamur tergolong kuat.Selain  itu, informasi tentang lektin D. Zibethinus yang berfungsi sebagai antijamur dapat dijadikan bahan sumber belajar berupa modul dalam pembelajaran perkuliahan. Modul tersebut diharapkan dapat meningkatkan efisiensi dan efektivitas pembelajaran mahasiswa baik dari segi waktu, fasilitas maupun tenaga guna mencapai tujuan secara operasional.
Kata Kunci: Durio Zibethinus, Lektin, Antijamur, C. albicans
Downloads
Download data is not yet available.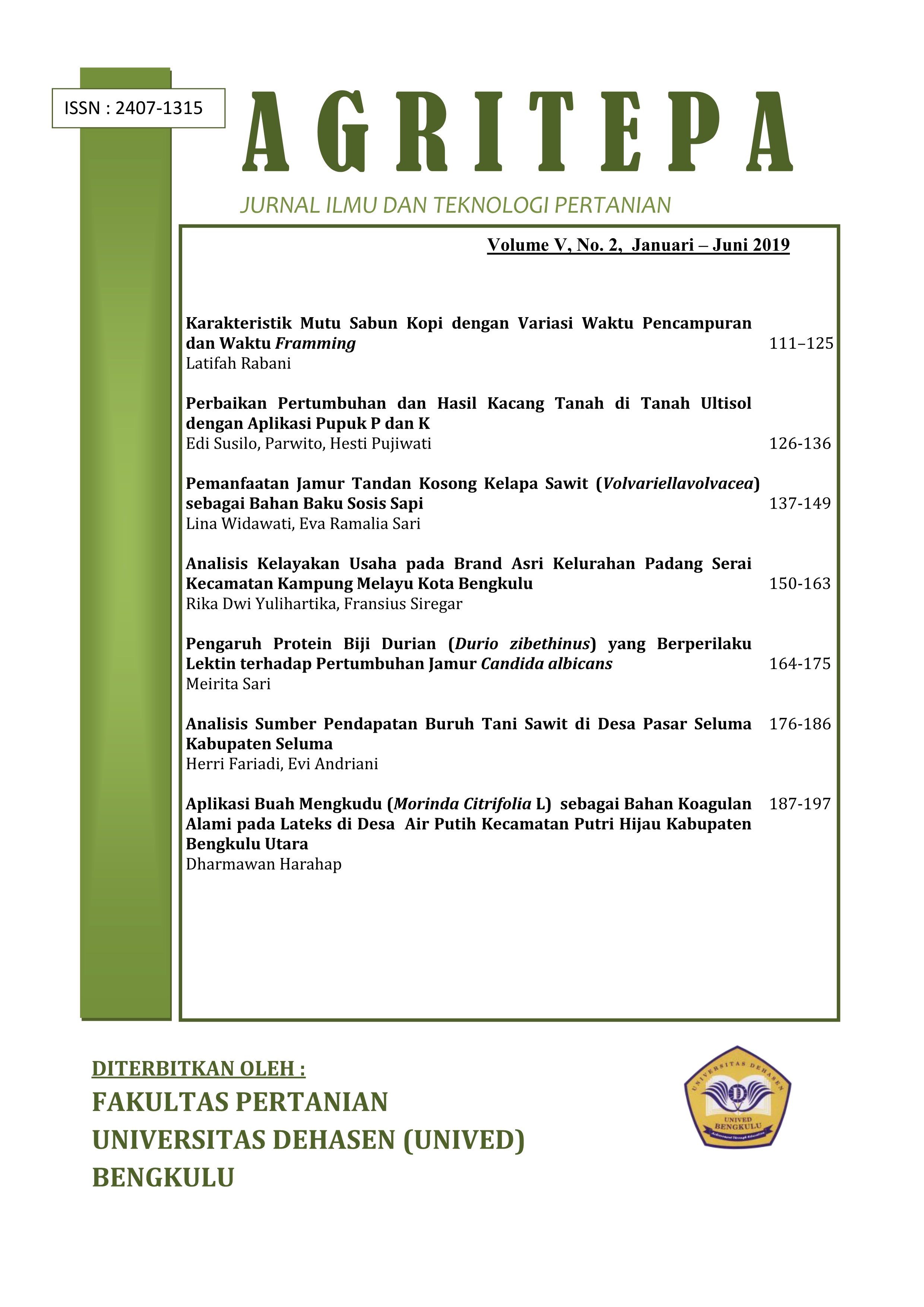 How to Cite
Sari, M. (2019). Pengaruh Protein Biji Durian (Durio Zibethinus) Yang Berperilaku Lektin Terhadap Pertumbuhan Jamur Candida Albicans. AGRITEPA: Jurnal Ilmu Dan Teknologi Pertanian, 6(1), 164 - 175. https://doi.org/10.37676/agritepa.v6i1.807
An author who publishes in the Jurnal AGRITEPA agrees to the following terms:
Author retains the copyright and grants the journal the right of first publication of the work simultaneously licensed under the Creative Commons Attribution-ShareAlike 4.0 License that allows others to share the work with an acknowledgement of the work's authorship and initial publication in this journal
Submission of a manuscript implies that the submitted work has not been published before (except as part of a thesis or report, or abstract); that it is not under consideration for publication elsewhere; that its publication has been approved by all co-authors. If and when the manuscript is accepted for publication, the author(s) still hold the copyright and retain publishing rights without restrictions. For the new invention, authors are suggested to manage its patent before published. The license type is CC-BY-SA 4.0.
Jurnal AGRITEPA is licensed under a Creative Commons Attribution-ShareAlike 4.0 International License.