Effect of The Proportion Of Wheat Flour: Fermented Jali Flour And Additional NahCo3 on Physical, Chemical and Organoleptic Characteristics of Crackers
Intan Tri Oktarini

UPN

Rosida Rosida

Prodi Teknologi Pangan, Fakultas Teknik, Universitas Pembangunan Nasional "Veteran"

Luqman Agung W

Prodi Teknologi Pangan, Fakultas Teknik, Universitas Pembangunan Nasional "Veteran"
Keywords:
Wheat flour, fermented jali flour, NaHCO3, crackers
Abstract
Jali flour can be used as a substitute for flour in crackers to reduce the use of wheat in Indonesia. The purpose of this study was to determine the effect of the proportions of wheat flour: fermented jali flour and the addition of NaHCO3 on the properties of crackers and to obtain the best treatment based on physical, chemical and organoleptic properties. The design of this study was a completely randomized design (CRD) with two factors, namely the proportion of wheat flour: fermented jali flour (70:30; 60:40; 50:50) and the addition of NaHCO3 (0.25; 0.5; 0.75) %. The best treatment with the proportion ratio of wheat flour: fermented jali flour 70:30 with the addition of 0.75% NaHCO3, 4.71% moisture content, 1.94% ash content, 7.45% protein content, 6.84% fat content, carbohydrates 79.06%, amylose content 6.35%, expansion 69.98%, crispness 254.33%, taste score 3.8 (like), texture 3.6 (like), taste 3.6 (like) and color 3.7 (like).
Downloads
Download data is not yet available.
References
Amri, E., & Putri, P. 2014. Pembuatan mocaf (modified cassafa flour) dengan proses fermentasi menggunakan beberapa jenis ragi. Jurnal Pelangi: Vol. 6 No.2.
AOAC. 2005. Official Method of Analysis of the Association of Official Analysis. Chemist. 18th ed. AOAC International. William Harwitz (ed). Maryland. United States of America.
Apriyantono, A., Dedi F., Sedarnawati, Slamet, B., Ni Luh P. 1986. Penuntun Praktikum Analisis Pangan. Jurusan Teknologi Pangan. Fakultas Teknologi Pertanian. Institut Pertanian Bogor. Bogor. Hal 99.
Badan Standarisasi Nasional. 2006. SNI 2973:2011. Tentang biskuit. Jakarta.
Driyani, Y. 2007. Biskuit Crackers Subtitusi Tepung Tempe Kedelai Sebagai Alternatif Makanan Kecil Bergizi Tinggi. Skripsi Konsentrasi Tata Boga, Jurusan Teknologi Jasa dan Produksi, Fakultas Teknik. Universitas Negeri Semarang. Semarang
Edam, M. 2017. Aplikasi Bakteri Asam Laktat Untuk Memodifikasi Tepung Singkong Secara Fermentasi. Jurnal Penelitian Teknologi Industri 9 (1): 1-8.
Erni, N., Kadirman., Ratnawaty Fadilah. 2018. Pengaruh Suhu dan Lama Pengeringan Terhadap Sifat Kimia dan Organoleptik Tepung Umbi Talas (Colocasia Esculenta). Jurnal Pendidikan Teknologi Pertanian, Vol. 4 (2018): 95-105.
Juwita, A. T dan Joni, K. 2015. Pembuatan Biskuit Beras Proboiled (Kajian Proporsi Tepung Beras Parboiled dengan Tepung Tapioka dan Penambahan Kuning Telur). Jurnal Pangan dan Agroindustri Vol.3 No 4 p.1711-1721.
Kurniasih, R. 2016. Formulasi, Daya Terima, Kandungan Gizi Dan Kapasitas Antioksidan Pasta Jali (Coix Lachryma-jobi L.) Dengan Penambahan Ekstrak Torbangun (Coleus amboinicus Lour). Departemen Gizi Masyarakat Fakultas Ekologi Manusia Institut Pertanian Bogor. Bogor.
Kusnandar, F. 2019. Kimia pangan komponen makro. Jakarta Timur. Sinar Grafika Offset.
Paramita, A. H., dan Widya D.R.P. 2015. Pengaruh Penambahan Tepung Bengkuang dan Lama Pengukusan Terhadap Karakteristik Fisik, Kimia, dan Organoleptik Flakes Talas. Jurnal Pangan dan Agroindustri. 3 (3): 1071- 1082.
Pratama, A., Dirga, M., dan Andari, M. 2014. Jurnal Akuantika V(1) : 30-39
Purnamasari, I. W., dan Putri, W. D. R. 2015. Pengaruh Penambahan Tepung Labu Kuning dan Natrium Bikarbonat Terhadap Karakteristik Flakes Talas. Jurnal Pangan dan Agroindustri. 3 (4): 1375-1385.
Rosiani, N., Basito., & Widowati, E. 2015. Kajian karakteristik sensoris fisik dan kimia kerupuk fortifikasi daging lidah buaya (aloe vera) dengan metode pemanggangan menggunakan microwave. Jurnal Teknologi Hasil Pertanian: Vol III, No. 2.
Sabir, N.C., Lahming., & Sukainah, A. 2020. Analisis karakteristik crackers hasil substitusi tepung terigu dengan tepung ampas tahu. Jurnal Pendidikan Teknologi Pertanian: Vol 6, No 1.
Saraswati, Ini, P. 2019. Pengaruh Perbandingan Tepung Hanjeli (Coix Lacryma-Jobi, L.) Dengan Buah Salak Kering (Salacca Edulis Reinw.) Terhadap Karakteristik Snack Bar. Jurnal Ilmu dan Teknologi Pangan ISSN: 2527-8010. Vol. 8, No.1; 57-65.
Subagio, A. 2006. Ubi Kayu Substitusi Berbagai Tepung-Tepungan. Food Review 1(3):18:21.
Susanti, I., E. W. Lubis., dan S. Meilidayani. 2017. Flakes Sarapan Pagi Berbasis Mocaf dan Tepung Jagung. Jurnal Agroindustri 34 (1): 44-52
Syahputri, D.A., & Wardani, A.K. 2015. Pengaruh fermentasi jali (coix lacryma jobi-l) pada proses pembuatan tepung terhadap karakteristik fisik dan kimia cookies dan roti tawar. Jurnal Pangan dan Agroindustri: Vol. 3, No 3.
Utami, I. 2017. Manajemen Pengolahan Biskuit. Yogyakarta: Graha Ilmu
Walawska, B., Szymanek, A., Padjak, A., Nowak, M., and Hala, B. 2012. Sorption properties of sodium bicarbonate. XIII Conference Environmental. Chemik 66 (11): 1169-1176.
Winarno, F.G. 2002. Kimia Pangan. PT. Gramedia Pustaka Utama. Jakarta
Yuwono, L.P. 1998. Proses Pembuatan Biskuit PT. Jadi Abadi Corak Biskuit (JACOB). LKN FTI UPN. Surabaya.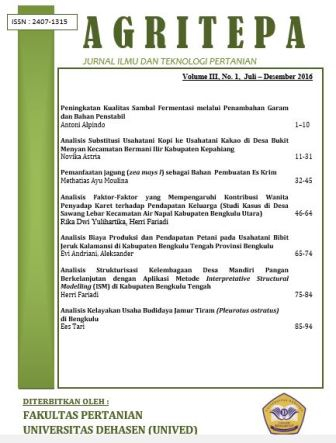 How to Cite
Oktarini, I., Rosida, R., & Agung W, L. (2022). Effect of The Proportion Of Wheat Flour: Fermented Jali Flour And Additional NahCo3 on Physical, Chemical and Organoleptic Characteristics of Crackers. AGRITEPA: Jurnal Ilmu Dan Teknologi Pertanian, 9(2), 411-424. https://doi.org/10.37676/agritepa.v9i2.3235
Section
Article Reasearch
Copyright (c) 2022 Intan Tri Oktarini
This work is licensed under a Creative Commons Attribution-ShareAlike 4.0 International License.
Author retains the copyright and grants the journal the right of first publication of the work simultaneously licensed under the Creative Commons Attribution-ShareAlike 4.0 License that allows others to share the work with an acknowledgement of the work's authorship and initial publication in this journal