Laying Hens Analysis In Taba Lagan Bengkulu Tengah Regency
Rita Feni

Program Studi Agribisnis Fakultas Pertanian dan Peternakan Universitas Muhammadiyah Bengkulu

Nurul Pratiwi

Universitas Muhammadiyah Bengkulu

Jafrizal Jafrizal

Program Studi Agribisnis Fakultas Pertanian dan Peternakan Universitas Muhammadiyah Bengkulu

Edi Efrita

Program Studi Agribisnis Fakultas Pertanian dan Peternakan Universitas Muhammadiyah Bengkulu
Keywords:
B/C Ratio, BEP, Farm, Laying Hens, R/C Ratio
Abstract
Central Bengkulu is one of regency in Bengkulu province that has potency in laying hens farm. This study aims to know the profit, efficiency (B/C Ratio) and Break Event Point (BEP) of laying hens farm in Desa Taba Lagan Central Bengkulu regency of Bengkulu Province. This study done  in Desa Taba Lagan Central Bengkulu regency between June and August of 2022. The study concluded that laying hens farm profit as Rp 196.599.000 per production season (18 months) with 12.000 hens. R/C ratio value as 1,039, B/C ratio value 0,039 and BEP production at 117.725 crate, and BEP sales at Rp 5.062.175.000
Downloads
Download data is not yet available.
References
Ardika, P. 2019. Analisis Usaha Peternakan Ayam Ras Petelur Di Desa Silam Kecamatan Kuok Kabupaten Kampar. Universitas Islam Riau.
Basri, H., Herlin, F., & Rosita, R. 2022. Analisis Faktor yang Mempengaruhi Pendapatan Usaha Ayam Ras Petelur di Desa Kasang Pudak , Kecamatan Kumpeh Ulu , Kabupaten Muaro Jambi. 6(September), 817–821. https://doi.org/10.33087/ekonomis.v6i2.690
Basuki, S. 2016. Metode Penelitian. Jakarta. Wedatama Widya Sastra.
Creswell. 2014. Penelitian Kualitatif Dan Desain Riset. Yogyakarta. pustaka belajar.
Dirktorat Jenderal Peternakan dan Kesehatan Hewan Kementerian Pertanian. 2021. Statistik Peternakan dan Kesehatan Hewan 2021/ Livestock and Animal Health Statistics 2021.
Enediktus Kenor, Faisol Humaidi, & Adi Budiwan. 2022. Analisis Strategi Pengembangan Usaha Peternakan Ayam Petelur Ditinjau Dari Aspek Modal Di Kecamatan Gempol Kabupaten Pasuruan Jawa Timur. 1–13.
Feni, R., & Pangestu, B. 2021. Pendapatan Usaha Peternakan Ayam Broiler di PT. Unggas Jaya Kecamatan Selebar Kota Bengkulu. Seminar Nasional Lahan Suboptimal, 545–554. http://www.conference.unsri.ac.id/index.php/lahansuboptimal/article/view/2273
Hanafiah, M. C. 2022. Analisis Finansial Dan Studi Kelayakan Usaha Ternak Ayam Petelur (Studi Kasus: Dusun IV Desa Denai Sarang Burung Kec. Pantai Labu Kab. Deli Serdang). Jurnal Ilmiah Mahasiswa Pertanian, 2(1), 1–10. http://jurnalmahasiswa.umsu.ac.id/index.php/jimtani/article/view/1051
Jahja. 2014. Ayam Sehat Ayam Produktif Petunjuk-Petunjuk Beternak Ayam,. Bandung. M.
Lumenta, I. D. R., Osak, R. E. M. F., Rambulangi, V., & Pangemanan, S. P. 2022. Analisis Pendapatan Usaha Peternakan Ayam Petelur "Golden Paniki Ps." Jambura Journal of Animal Science, 4(2), 117–125. https://doi.org/10.35900/jjas.v4i2.14008
Mahlida. 2020. Analisis Usaha Ternak Ayam Petelur Di Desa Bengkulu Kecamatan Tambang Ulang Kabupaten Tanah Laut (Studi Kasus) Peternakan Milik Bapkah Mahyum. Universitas Islam Kalimantan Muhammad Arsyad Al Binajari Banjarmasin.
Malik. 2014. Manajemen Ternak Unggas. Universita(Malang).
Maliki. 2018. Analisis Profitabilitas Usaha Peternakan Ayam Petelur Di Suyatno Farm Desa Kalisidi Kecamatan Ungaran Barat Kabupaten Semarang. Mediagro,(1).
Maulana, F. H., Prasetyo, E., & Sarenggat, W. 2017. Analisis pendapatan usaha peternakan ayam petelur sumur banger farm Kecamatan Tersono Kabupaten Batang. Journal of Chemical Information and Modeling, 13(2), 1–12.
Mulyani, A., & Satriani, R. 2013. Feasibility Study of Layer Poultry Farming KWTT " Wanita Karya " at Banyumas District. Jurnal Pembangunan Pedesaan, 13(2), 89–96. http://jurnal.lppm.unsoed.ac.id/ojs/index.php/Pembangunan/article/view/880
Mutu Produk Naget Substitusi Hati Ayam Kampung Unggul Balitbangtan, A., Ayu Harsita, P., Bambang Setyawan, H., Studi Peternakan, P., Pertanian, F., Jember Jl Kalimantan, U., & Jawa Timur, P. 2022. Bulletin of Applied Animal Research. Baar, 4(1), 35–40. https://www.ejournal.unper.ac.id/index.php/
Rakhmadevi, A. G., & Wardhana, D. I. 2020. Analisis Usaha Ayam Ras Petelur di Desa Klurahan Kecamatan Ngronggot Kabupaten Nganjuk. Jurnal Agrinika : Jurnal Agroteknologi Dan Agribisnis, 4(1), 79. https://doi.org/10.30737/agrinika.v4i1.1127
Rasyaf. 2017. Panduan Beternak Ayam Petelur. Jakarta. P.
Romli. (2014). Analisis Usaha Ternak Burung Puyuh (Coturnix japonica) Di Kelurahan Semarang Kecamatan Sungai Serut Kota Bengkulu.
Sudaryani. 2016. Pembibitan Ayam Ras. Jakarta. P.
Sumaryanto, N., Rusastra, I. W., & Djatiharti, A. 2016. Analisis usaha ayam petelur peternak plasma di Jawa Barat dan Lampung. Forum Penelitian Agro Ekonomi, 7(2), 20. https://doi.org/10.21082/fae.v7n2.1989.20-31
Suparno, & Maharani, D. 2017. Analisis Kelayakan Usaha Peternakan Ayam Ras Petelur di Kecamatan Ambunten, Kabupaten Sumenep. Maduranch, 2(1), 31–36.
Suprijatna, K. dan. 2012. Manajemen Ternak Unggas. Penebar Sw.
Warsani. 2013. Kajian Pemanfataan Lahan Sawah di Kecamatan Kuantan Tengah Kabupaten Kuatan Singingi (Doctoral Dissertation Universitas Pendidikan Indonesia).
Yupi. 2016. Analisis usahatani ayam ras petelur. 40–45.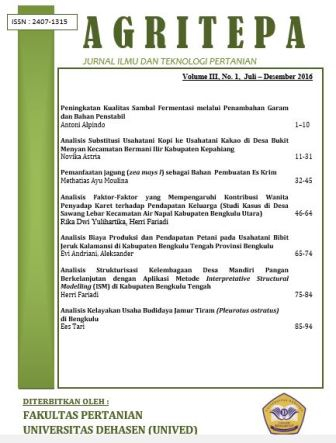 How to Cite
Feni, R., Pratiwi, N., Jafrizal, J., & Efrita, E. (2022). Laying Hens Analysis In Taba Lagan Bengkulu Tengah Regency. AGRITEPA: Jurnal Ilmu Dan Teknologi Pertanian, 9(2), 443-458. https://doi.org/10.37676/agritepa.v9i2.2940
Section
Article Reasearch
Copyright (c) 2022 Rita Feni, Nurul Pratiwi, Jafrizal Jafrizal, Edi Efrita
This work is licensed under a Creative Commons Attribution-ShareAlike 4.0 International License.
Author retains the copyright and grants the journal the right of first publication of the work simultaneously licensed under the Creative Commons Attribution-ShareAlike 4.0 License that allows others to share the work with an acknowledgement of the work's authorship and initial publication in this journal