Analysis Of Total Plate Count, Contamination Of Salmonella, Staphylococcus Aureus, And Escherichia Coli Bacteria In Fish Shredded
Lutfi Maulana

Institut Teknologi Sumatera

Syahrizal Nasution

Retno Koostati
Keywords:
Catfish shredded, Analysis of microbial contamination, Standard quality
Abstract
Catfish shredded has become one of the famous foods for many people due to it has a delicious taste and long-life storage of approximately 6-12 months in good storage condition. However, catfish shredded can still be contaminated with pathogenic bacteria that can be causing a healthy problem. Several bacteria that commonly appear in the shredded product are Salmonella, Staphylococcus aureus, and Escherichia coli thus its product need for assessing microbial contamination to ensure product safeties that will be supplied in the community. The microbial contamination assessment method in this research using Indonesian national standardization 2332.1:2015 for Escherichia coli assessment, 2332.2: 2006 for Salmonella assessment, 2332.3:2015 for total plate count assessment, and 2332.9:2015 for Staphylococcus aureus assessment. The catfish shredded sample that is used in this research was obtained from the Regional Technical Implementation Unit Application of Fishery Product Quality, Lampung. The result of the total plate count assessment on this research reported that all of the samples have a total amount of microbes lower than the maximum limit for the fish shredded product. Furthermore, the result also shows that all of the samples are negative from Salmonella, S. aureus, and Escherichia coli. According to Indonesian National Standardization number 7690.1:2013 about the standard of shredded products, all of the samples are appropriate and categorized as a safety product to consume based-on microbial contamination aspect.
Downloads
Download data is not yet available.
References
Aidah nur, siti. (2020). Mengenal Lebih Dalam Budidaya Ikan Lele: Buku ini mempelajari: Filosofi ... - Siti Nur Aidah dan Tim Penerbit KBM Indonesia - Google Buku. Tim Penerbit KBM Indonesia.
Cerveny, J., Meyer, J. D., & Hall, P. A. (2009). Microbiological Spoilage of Meat and Poultry Products. Compendium of the Microbiological Spoilage of Foods and Beverages, 69–86. https://doi.org/10.1007/978-1-4419-0826-1_3
Davidson, P. M., & Critzer, F. M. (2012). Interventions to Inhibit or Inactivate Bacterial Pathogens in Foods. 189–202. https://doi.org/10.1007/978-1-4614-1177-2_13
Di Renzo, L., Colica, C., Carraro, A., Cenci Goga, B., Marsella, L. T., Botta, R., Colombo, M. L., Gratteri, S., Chang, T. F. M., Droli, M., Sarlo, F., & de Lorenzo, A. (2015). Food safety and nutritional quality for the prevention of non-communicable diseases: The Nutrient, hazard Analysis and Critical Control Point process (NACCP). Journal of Translational Medicine, 13(1), 1–13. https://doi.org/10.1186/S12967-015-0484-2/TABLES/4
EFSA, & ECDC. (2019). The European Union One Health 2018 Zoonoses Report. EFSA Journal, 17(12). https://doi.org/10.2903/J.EFSA.2019.5926
Harianti, R. (2018). Pemberdayaan wanita tani melalui produksi abon ikan lele. 5(2), 167–180. https://doi.org/10.21831/jppm.v5i2.21071
Kurnyawaty, N., Rahayu, I. E., & Aulia, N. (2021). Examining the quality of toman fish shredded product of Tahura Lati Petangis area to increase value in commercial market. Community Empowerment, 6(11), 2081–2086. https://doi.org/10.31603/ce.6301
Miao, J., Lin, S., Soteyome, T., Peters, B. M., Li, Y., Chen, H., Su, J., Li, L., Li, B., Xu, Z., Shirtliff, M. E., & harro, J. M. (2019). Biofilm Formation of Staphylococcus aureus under Food Heat Processing Conditions: First Report on CML Production within Biofilm. Scientific Reports, 9(1). https://doi.org/10.1038/s41598-018-35558-2
Petruzzi, L., Corbo, M. R., Sinigaglia, M., & Bevilacqua, A. (2017). Microbial Spoilage of Foods: Fundamentals. The Microbiological Quality of Food: Foodborne Spoilers, 1–21. https://doi.org/10.1016/B978-0-08-100502-6.00002-9
Phoba, M. F., Barbé, B., Ley, B., van Puyvelde, S., Post, A., Mattheus, W., Deborggraeve, S., Lunguya, O., & Jacobs, J. (2020). High genetic similarity between non-typhoidal salmonella isolated from paired blood and stool samples of children in the Democratic Republic of the Congo. PLoS Neglected Tropical Diseases, 14(7), 1–15. https://doi.org/10.1371/journal.pntd.0008377
Rebezov, M., Chughtai, M. F. J., Mehmood, T., Khaliq, A., Tanweer, S., Semenova, A., Khayrullin, M., Dydykin, A., Burlankov, S., Thiruvengadam, M., Shariati, M. A., & Lorenzo, J. M. (2022). Novel techniques for microbiological safety in meat and fish industries. Applied Sciences (Switzerland), 12(1). https://doi.org/10.3390/APP12010319
SNI 2332.1. (2015). Penentuan Coliform dan Escherichia coli pada Produk Perikanan.
SNI 2332.2. (2006). Penentuan Salmonella pada Produk Perikanan.
SNI 2332.3. (2015). Penentuan Angka Lempeng Total pada Produk Perikanan.
SNI 2332.9. (2015). Penentuan Staphylococcus aureus pada Produk Perikanan.
SNI 7690.1. (2013). Standar Olahan Abon Ikan.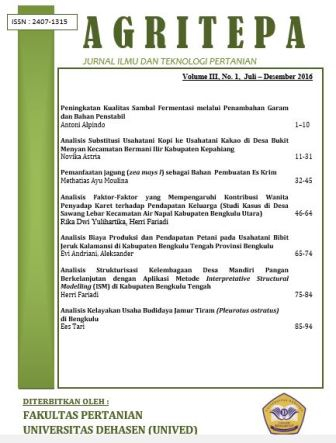 How to Cite
Maulana, L., Nasution, S., & Koostati, R. (2022). Analysis Of Total Plate Count, Contamination Of Salmonella, Staphylococcus Aureus, And Escherichia Coli Bacteria In Fish Shredded. AGRITEPA: Jurnal Ilmu Dan Teknologi Pertanian, 9(2), 321 -. https://doi.org/10.37676/agritepa.v9i2.2924
Section
Article Reasearch
Copyright (c) 2022 Lutfi Maulana, Syahrizal Nasution, Retno Koostati
This work is licensed under a Creative Commons Attribution-ShareAlike 4.0 International License.
Author retains the copyright and grants the journal the right of first publication of the work simultaneously licensed under the Creative Commons Attribution-ShareAlike 4.0 License that allows others to share the work with an acknowledgement of the work's authorship and initial publication in this journal