Increasing Productivity And Profit Of Irriged Rice Farming With Legowo Row Planting System
Alfayanti Alfayanti

BPTP Bengkulu

Djhon Firison

Pusat Riset Peternakan BRIN Cibinong Science Center

Ratini Ratini

Dinas Pertanian Kabupaten Bengkulu Selatan

Andi Ishak

Pusat Riset Kesejahteraan Sosial, Desa, dan Konektivitas BRIN

Harwi Kusnadi

Pusat Riset Peternakan BRIN Cibinong Science Center

Emlan Fauzi

Pusat Riset Ekonomi Perilaku dan Sirkuler BRIN
Keywords:
cropping system, legowo row planting system, productivity, rice, tegel
Abstract
This study aims to analyze the differences in productivity and income of lowland rice farming between the jajar legowo 2:1 cropping system and the tiled planting system. The research was conducted from April to July 2021 in the Women Farmers Group Payau Indah, Manggul Village, Manna District, South Bengkulu Regency. Data was collected by means of observation and interviews with farmers implementing demonstration plots for rice cultivation with an area of ​​0.024 ha which was divided into two experimental plots with an area of ​​0.012 ha each. The first plot uses a 2:1 row legowo planting system and the second plot uses a tile planting system. The data collected is data on productivity and farm income from the two experimental plots. Data analysis was done descriptively. The results showed that the jajar legowo planting system resulted in higher productivity and farm income than the tile planting system
Downloads
Download data is not yet available.
References
Abidin Z, Bananiek S, Raharjo D. 2013. Analisis Ekonomi Sistem Tanam Padi Sawah Di Kabupaten Konawe Sulawesi Tenggara. Jurnal Pengkajian dan Pengembangan Teknologi Pertanian. 16 (1): 56–64
Adnyana, INS. 2020. Efektifitas Sistem Tanam Jajar Legowo 2:1 Dengan Sistem Tegel Terhadap Produktivitas Padi Sawah Di Subak Babakan Cangi, Desa Batuan Kaler, Kecamatan Sukawati, Kabupaten Gianyar. DwijenAGRO. 10 (2):127–133
Asaad M, Sugiman SB, Warda, Abidin Z. 2018. Analisis Persepsi Petani Terhadap Penerapan Tanam Jajar Legowo Padi Sawah Di Sulawesi Tenggara. Jurnal Pengkajian dan Pengembangan Teknologi Pertanian. 20 (3):197-208
Fachrista IA, Sarwendah M. 2014. Persepsi dan Tingkat Adopsi Petani Terhadap Inovasi Teknologi Pengeolaan Tanaman Terpadu Padi sawah. Agriekonomika. 3(1): 1–10
Farid A, Romadi U, Witono D. 2018. Faktor-Faktor yang Mempengaruhi Adopsi Petani dalam Penerapan Sistem Tanam Jajar Legowo di Desa Sukosari Kecamatan Kasembon Kabupaten Malang Provinsi Jawa Timur. Jurnal Penyuluhan. 14(1): 27–32
Ikhwani, Pratiwi GR, Paturrohman E, Makarim AK. (2013). Peningkatan Produktivitas Padi Melalui Penerapan Jarak Tanam Jajar Legowo. Iptek Tanaman Pangan. 8(2): 72–79
Lalla H, Ali MSS, Saadah. 2012. The Adoption of Rice-Field Farmers on Jajarlegowo 2 : 1 Plant System Atpolongbangkeng Utara Sub-District, Takalar Regency. J. Sain & Teknologi. 12 (3): 255–264
Misran. 2014. Studi Sistem Tanam Jajar Legowo terhadap Peningkatan Produktivitas Padi Sawah. Jurnal Penelitian Pertanian Terapan. 14(2): 106-110
Mohaddesi A, Abbasian A, Bakhsipour S, Aminpanah H. 2011. Effect of Different Levels of Nitrogen and Plant Spacing on Yield, Yield Components and Physiological Indices in High-Yield Rice. American-Eurasian J.Agric.& Environ. 10 (5): 893–900
Ngastini EHY, Mursidah. 2017. Efesiensi alokatif penggunaan tenaga kerja pada usahatani padi (Oryza sativa L.) sistem tanam jajar legowo di Desa Sumber Sari. Journal Ekonomi Pertanian & Pembangunan. 14 (2): 51–63
Permata AL, Sudarma W, Soelaiman A. 2017. Comperative Analysis of 'Jajar Legowo' Rice Farming Planting System and 'Tegel' System in Seputih Mataram Sub-Distric of Central Lampung Regency. Jurnal Jiia. 5 (1): 76–83
Saleh A. 2015. Pengertian, Batasan, dan Bentuk Kelompok. http://repository.ut.ac.id/4463/1/LUHT4329-M1.pdf. Diakses tanggal 25 Juni 2022
Sirajuddin Z. 2021. Adopsi Inovasi Jajar Legowo oleh Petani di Desa Balahu Kabupaten Gorontalo. Jurnal Agriekonomika. 10 (1): 101–112
Sunandar B , Hapsari H, Sulistyowati L. 2020. Tingkat Adopsi Tanam Jajar Legowo 2:1 Pada Petani Padi Di Kabupaten Purwakarta. Mimbar Agribisnis: Jurnal Pemikiran Masyarakat Ilmiah Berwawasan Agribisnis. 6 (2): 500-518
Susilastuti D, Aditiameri A, Buchori U. 2018. The Effect of Jajar Legowo Planting System on Ciherang Paddy Varieties. AGRITROPICA : Journal of Agricultural Sciences. 1(1): 1-8
Swastika DKS. 2004. Beberapa Teknik Analisis dalam Penelitin dan Pengkajian Teknologi Pertanian. Jurnal Pengkajian dan Pengembangan Teknologi Pertanian. 7(1): 90–103
Twyman J, Muriel J, García MA. 2015. Identifying women farmers : Informal gender norms as institutional barriers to recognizing women ' s contributions to agriculture. Journal of Gender Agriculture and Food Security (Agri-Gender). 1(2): 1–17
Unu A, Sendow MM, Wangke WM. 2018. Curahan Waktu Kerja Wanita dalam Kegiatan Usahatani Padi Sawah di Desa Rasi Satu Kecamatan Ratahan Kabupaten Minahasa Tenggara. Jurnal Agri-SosioEkonomi Unsrat. 14 (3): 105–110
Wang K, Hongying Z, Bangju W, Zaiping J, Fei W, Jianliang H, Lixiao N, Kehui C, Shaobing P. 2013. Quantification of border effect on grain yield measurement of hybrid riceo Title. Field Crop Research. 141:47–54
Witjaksono J. 2018. Kajian Sistem Tanam Jajar Legowo untuk Peningkatan Produktivitas Tanaman Padi di Sulawesi Tenggara. Jurnal Pangan. 27(1): 1–8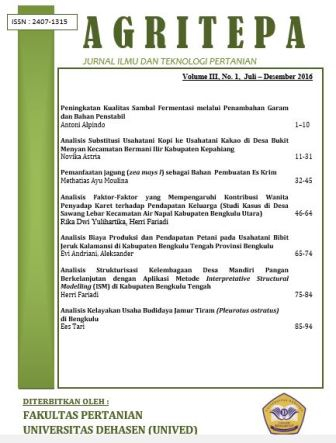 How to Cite
Alfayanti, A., Firison, D., Ratini, R., Ishak, A., Kusnadi, H., & Fauzi, E. (2022). Increasing Productivity And Profit Of Irriged Rice Farming With Legowo Row Planting System. AGRITEPA: Jurnal Ilmu Dan Teknologi Pertanian, 9(2), 311 -. https://doi.org/10.37676/agritepa.v9i2.2412
Section
Article Reasearch
Copyright (c) 2022 Alfayanti Alfayanti, Djhon Firison, Ratini Ratini, Andi Ishak, Harwi Kusnadi, Emlan Fauzi
This work is licensed under a Creative Commons Attribution-ShareAlike 4.0 International License.
Author retains the copyright and grants the journal the right of first publication of the work simultaneously licensed under the Creative Commons Attribution-ShareAlike 4.0 License that allows others to share the work with an acknowledgement of the work's authorship and initial publication in this journal