Analysis Of The Potential And Economic Feasibility Of Seaweed Cultivation In Sajoanging District, Wajo Regency
Rumput Laut
Keywords:
Cultivatio, Revenue, Income, Ratio, Seaweed
Abstract
One of the factors that can improve the community's economy is utilization in the fisheries and marine sector. Indonesia, which is a maritime country, certainly has the opportunity to maximize the marine sector, one of which is by cultivating seaweed. Seaweed or algae is a type of commodity that has a very high economic value because it is useful in industries such as pharmaceuticals, cosmetics and foodstuffs. One of the areas in South Sulawesi that does seaweed cultivation is Sajoanging District. The purpose of this study is to analyze the potential and economic feasibility of seaweed cultivation in Sajoanging District, Wajo Regency. The method is carried out using purpose sampling, sampling is by means of Simple Random Sampling, data collection is carried out by means of observation, documentation and interviews. The results showed that the income of the people who cultivate seaweed was 97,438,400.00 every year, while the R/C ratio was 2.6. This shows that seaweed cultivation has economic potential because it can improve the community's economy. This cultivation is also very feasible to continue because the value of R/C> 1 is 2.6.
Downloads
Download data is not yet available.
References
Albert, J. S. M., K, G., & Sornaraj, R. (2015). Assessment And Screening Of Phyto-Chemical Components Of The Sea Grasses Cymodocea Rotundata And Syringodium Isoetifolium And Its Antibiotic Potential. International Journal of Institutional Pharmacy and Life Sciences, 5(5), 83–91.
Antowijoyo, T., Yuliyanto, Prihatiningrum, Y., & Swandari, F. (2017). Kelayakan Usaha Budidaya Rumput Laut Eucheuma cottonii dengan Metode Longline. Jurnal Wawasan Manajemen, 5(1), 73–88.
Arianton, K., Meitriana, M. A., & Haris, I. A. (2019). Studi Kelayakan Usaha Budidaya Rumput Laut Pada Kelompok Bina Karya Di Desa Patas, Kecamatan Gerokgak, Kabupaten Buleleng. Jurnal Pendidikan Ekonomi , 11(2), 573–582.
Dewsbury, B. M., Bhat, M., & Fourqurean, J. W. (2016). A review of seagrass economic valuations: Gaps and progress in valuation approaches. Ecosystem Services, 18, 68–77. https://doi.org/10.1016/J.ECOSER.2016.02.010
Dinda, H. S. A., Danakusumah, E., & Rahmani, U. (2016). Analisis Usaha Budidaya Rumput Laut (Eucheuma cottonii) di Pulau Pari, Kepulauan Seribu. Jurnal Ilmiah Satya Minabahari, 1(2), 22–31.
https://doi.org/10.53676/jism.v1i2.11
Duakajui, N. N., Juita, F., & Anshori, I. E. (2022). AAnalisis Ekonomi Pendapatan Usaha Perkebunan Kelapa Sawit (Elais gueneensis J) Desa Sukomulyo Kecamatan Sepaku Kabupaten Penajam Paser Utara. Paradigma Agribisnis, 4(2), 84–93. https://doi.org/10.33603/jpa.v4i2.6790
Hardani, H. A., Ustiawaty, J., Istiqomah, R. R., Fardani, R. A., Sykmana, D. J., & Auliya, N. H. (2020). Metode Penelitian Kualitatif & Kuantitatif. CV. Pustaka Ilmu Group.
Ilham. (2013). Analisis Pendapatan Dan Karakteristik Usaha Bawang Goreng Pada UMKM Amalia Di Desa Bolupountu Jaya Kecamatan Sigi Biromaru Kabupaten Sigi. Ejournal Agrotekbis, 1(3), 301–306.
Irmayani, Yusuf, S., & Nispar, M. (2014). Analisis Kelayakan Usaha Budidaya Rumput Laut Di Desa Mallasoro Kecamatan Bangkala Kabupaten Jeneponto. Jurnal Bisnis Perikanan, 1(1), 17–28.
Kemala, N., Wulandari, S. A., & Julizendri, R. (2017). Anaisis Ekonomi Usahatani Nilam Didesa Muara Madras Kecamatan Jangkat Kabupaten Merangin Provinsi Jambi. Mea.Unbari.Ac.Id, 2(1), 34–44.
Khasanah, U., Samawi, M. F., & Amri, K. (2016). Analisis Kesesuaian Perairan untuk Lokasi Budidaya Rumput Laut Eucheuma cottonii di Perairan Kecamatan Sajoanging Kabupaten Wajo. Jurnal Rumput Laut Indonesia, 1(2), 123–131.
Lukman, H., Patang, P., & Lahming, L. (2019). Studi Kelayakan Usaha Budidaya Rumput Laut (Gracillaria SP.) di Desa Paria Kecamatan Duampanua Kabupaten Pinrang. Jurnal Pendidikan Teknologi Pertanian, 5(2), 43 – 54.
Ngamel, A. K., Finansial, A., Budidaya, U., Laut, R., Tambah, N., Karaginan, T., Kecamatan, D., Kecil, K., Tenggara, K. M., Kartika, A., Program, N., Perikanan, S. A., Perikanan, P., & Tual, N. (2012). Analisis Finansial Usaha Budidaya Rumput Laut dan Nilai Tambah Tepung Karaginan di Kecamatan Kei Kecil, Kabupaten Maluku Tenggara. Jurnal Sains Terapan : Wahana Informasi Dan Alih Teknologi Pertanian, 2(1), 39–47.
https://doi.org/10.29244/JSTSV.2.1.39-47
Sarmin, S., Dangnga, M. S., & Malik, A. A. (2021). Strategi Pengembangan Usaha Budi Daya Rumput Laut (Eucheuma cottonii) di Daerah Perbatasan - Pulau Sebatik. Buletin Ilmiah Marina Sosial Ekonomi Kelautan Dan Perikanan, 7(2), 147. https://doi.org/10.15578/marina.v7i2.9980
Suliyanto. (2017). Metode penelitian kuantitatif.
Supendy, R. (2016). Analisis Ekonomi dan Manajemen Perbaikan Sistem Usahatani Nilam di Desa Kabupaten Bombana Sulawesi Tenggara (Kasus di Desa Babamolingku). Jurnal.Untad.Ac.Id, 23(2), 164 – 173. http://jurnal.untad.ac.id/jurnal/index.php/AGROLAND/article/view/8373
Syahyunan. (2014). Studi Kelayakan Bisnis. Penerbit USU Press.
Syamsuri, S., & Alang, H. (2021). Kelayakan Ekonomi Budidaya Nilam (Pogostemon cablin) di Desa Puundoho Kecamatan Pakue Utara Kabupaten Kolaka Utara. JIA (Jurnal Ilmiah Agribisnis), 6(5), 158–163. https://doi.org/http://dx.doi.org/10.37149/jia.v6i5.20417
Taha, A., & Alam, M. (2016). Analisis Pendapatan dan Kelayakan USAha Industri Minyak Nilam di Desa Lumbutarombo Kecamatan Banawa Selatan Kabupaten Donggala. Tadulako University.
Unsworth, R. K. F., Nordlund, L. M., & Cullen-Unsworth, L. C. (2019). Seagrass meadows support global fisheries production. Conservation Letters, 12(1), e12566. https://doi.org/10.1111/CONL.12566
Wahyuni, A. P., Fattah, N., & Anita. (2021). Analisis Kelayakan Usaha Budidaya Rumput Laut (Eucheuma spinosum). Tarjih : Fisheries and Aquatic Studies, 1(1), 1–13.
Wijayanto, T., Hendri, M., & Aryawati, R. (2011). Studi Pertumbuhan Rumput Laut Eucheuma Cottonii Dengan Berbagai Metode Penanaman Yang Berbeda Di Perairan Kalianda, Lampung Selatan. Maspari Journal : Marine Science Research, 3(2), 51–57.
Wiryana, I. W. S. A., Edi, D. G. S., & Kawana, I. M. (2018). Potensi Pengembangan Budidaya Rumput Laut Eucheuma Cottonii Di Kawasan Perairan Kelurahan Serangan Kota Denpasar Berbasis Sistem Informasi Geografis. Gema Agro, 23(1), 92. https://doi.org/10.22225/ga.23.1.663.92-103
Wulandari, G. A., Bahari, B., & Sadimantara, F. N. (2019). Analisis Ekonomi Usahatani Lada di Desa Kondoano Kecamatan Mowila Kabupaten Konawe Selatan. Jurnal Ilmiah Membangun Desa Dan Pertanian, 4(4), 102–105. http://ojs.uho.ac.id/index.php/JIMDP/article/view/8104
Yuvaraj, N., Kanmani, P., Satishkumar, R., Paari, A., Pattukumar, V., & Arul, V. (2012). Seagrass as a potential source of natural antioxidant and anti-inflammatory agents. Pharmaceutical Biology, 50(4), 458–467. https://doi.org/10.3109/13880209.2011.611948
Zidorn, C. (2016). Secondary metabolites of seagrasses (Alismatales and Potamogetonales; Alismatidae): Chemical diversity, bioactivity, and ecological function. Phytochemistry, 124, 5–28. https://doi.org/10.1016/J.PHYTOCHEM.2016.02.004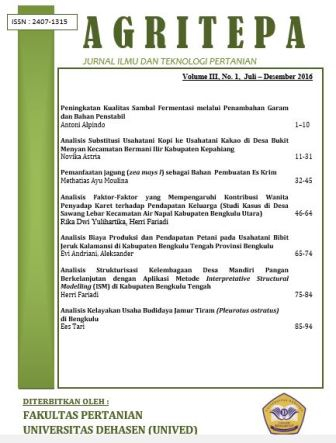 How to Cite
Syamsuri, S., & Alang, H. (2022). Analysis Of The Potential And Economic Feasibility Of Seaweed Cultivation In Sajoanging District, Wajo Regency. AGRITEPA: Jurnal Ilmu Dan Teknologi Pertanian, 9(2), 299 -. https://doi.org/10.37676/agritepa.v9i2.2411
Section
Article Reasearch
Copyright (c) 2022 Syamsuri Syamsuri, Hasria Alang
This work is licensed under a Creative Commons Attribution-ShareAlike 4.0 International License.
Author retains the copyright and grants the journal the right of first publication of the work simultaneously licensed under the Creative Commons Attribution-ShareAlike 4.0 License that allows others to share the work with an acknowledgement of the work's authorship and initial publication in this journal