Morphological Agronomy Character Of Gene Mutation Of Various Varieties Of Soybean (Glycine Max L) On Drought Stress
Aminah Aminah

Universitas Muslim Indionesia

Marliana S Paad

Universitas Muslim Indionesia
Keywords:
M1 Anjasmoro, M1 ArgoMulyo, Drought Stress, M1 Dena-1
Abstract
The research objective is to identify the responsiveness of mutated soybean varieties to the growth and production, which are tolerant to drought stress. The research was held in the experimental garden of the Agricultural Technology Development Center, Maros Regency, using a randomized block design method consist of three treatments: M1 Anjasmoro, M1 Argomulyo and M1 Dena-1. The selection method carried out by leaving the treatment of plants resulting from gamma ray irradiation mutant-1, also the plants were not given water until entered the first generative phase (R1) and showed symptoms of severe wilting. having shown the symptoms, then the plants were given water again to see their recovery. The results showed the best morphological character against drought stress was M1 Dena-1. However, for the growth and production parameters, M1 Anjasmoro was the best. M1 Anjasmoro plant height 86.00 cm, the number of leaves 21,22 strands, plant dry weight 177.54 grams, the fastest flowering age 35.50 days. M1 Anjasmoro gave the best results for the parameters of 100 seeds weight (21.50 grams), seed weight per plant (18.52 grams), seed weight per plot (1.39 kg) production per hectare (2.38 tons), and the fastest harvesting age was obtained in M1 Anjasmoro (83,33 days).
Downloads
Download data is not yet available.
References
Aminah, A., Abdullah, A., Nuraeni, N., Palad, M. S., & Rosada, I. (2020). Effectiveness of water management towards soil moisture preservation on soybeans. International Journal of Agronomy, 2020, 8653472. https://doi. org/10.1155/2020/8653472
Ao J, Fu J, Tian J, Yan X, Liao H. Genetic variability for root morph-architecture traits and root growth dynamics as related to phosphorus efficiency in soybean. Funct Plant Biol. 2010; 37: 304–312.
Arwin, Mulyana H, Tarmizi, Masrizal, Faozi K, Adie MMA. 2012. Galur mutan harapan kedelai super genjah Q-298 dan 4-Psj. Jurnal Ilmiah Aplikasi Isotop dan Radiasi. 8(2): 107-116
Atman dan N. Hosen. 2008. Dukungan Teknologi dan Kebijakan Dalam Pengembangan Kedelai di Sumbar. Peneliti Balai Pengkajian Teknologi Pertanian (BPTP) Sumatera Barat. Jurnal Ilmiah Tambua, Vol. VII.
Bengough AG, McKenzie BM, Hallet PD, Valentine TA. 2011. Root elongation, water stress, and mechanical impedance: a review of limiting stresses and beneficial root tip traits. J Exp Bot. 2011; 62: 59–68. https://doi.org/10.1093/jxb/erq350 PMID: 21118824
Badan Pusat Statistik (BPS), 2021. Produksi Tanaman Pangan di Indonesia. Diakses Mei 2021.
Fajriyah, N., Karno, K., & Kusmiyati, F. (2019). Induksi mutasi kedelai (Glycine max (L.) Merrill) dengan sodium azida pada tanah salin. Journal of Agro Complex, 3(1), 1. https://doi.org/10.14710/joac.3.1.1-8
Hanafiah S, Trikoesoemaningtyas, Sudirman Y, and Desta W. 2011. Induced mutationby gamma ray irradiation to Argomulyo soybean (Glycine max) variety. Bioscience Journal 2(3): 121-125.
Hutagaol, R. L. 2010. Uji Keragaman karakter Vegetatif dan Generatif Beberapa Varietas Kedelai (Glycine max L.) dengan Sistem Baris. Skripsi (Tidak Dipublikasikan). Departemen Budidaya Pertanian, Fakultas Pertanian, Universitas Sumatera Utara. Medan
Liang Q, Cheng X, Mei M, Yan X, Liao H. QTL analysis of root traits as related to phosphorus efficiency in soybean. Ann Bot. 2010; 106: 223–34. https://doi.org/10.1093/aob/mcq097 PMID: 20472699
Lisa Mawarni, 2011. Kajian Awal Varietas Kedelai Tahan Naungan untuk Tanaman Sela Pada Perkebunan Kelapa Sawit, Jurnal Ilmu Pertanian Kultivar. Vol. 5 No.2. 2011.
Martínez-Fernández J, González-Zamora A, Sánchez N, Gumuzzio A, Herrero-Jiménez CM (2016). Satellite soil moisture for agricultural drought monitoring: Assessment of the SMOS derived soil water deficit index. Remote. Sens. Environ. 177: 277–286.
Marwoto, Tufik dan Suyamto, Potensi Pengem- bangan Tanaman Kedelai Di Perkebunan Kelapa Sawit, Jurnal Penelitian dan Pengembangan Pertanian Badan Litbang Pertanian Kementrian Pertanian Republik Indonesia, Vol. 31. No.4. 2012.
Orang Hidayat dan Anni Mulyani, 2002. Lahan Kering untuk Pertanian. Dalam Teknologi Pengelolaan Lahan Kering, Menuju Pertanian Produktif dan Ramah Lingkungan. Hal 1-34. Pusat Penelitian
Riniarsi D. 2016. Outlook Komoditas Pertanian Tanaman Pangan Kedelai. Jakarta: Pusat Data dan Sistem Informasi Pertanian Kementerian Pertanian.
Sakin, M.A. 2002.The Use of Induced Micro-Mutation for Quantitative Characters after EMS and Gamma Ray Treatments in Durum Wheat Breeding. Pakistan Journal of Applied Sciences 2(12): 1102-1107.
Salisbury, F. B., dan C.W. Ross. 1992. Plant Physiology. Wadsworth Publishig Co. New York.
Sitompul, S.M. 1996. Rekayasa Paket Teknologi Kacang – Kacangan pada Lahan Kering : Daya Toleransi Jenis Kacang – Kacangan pada Kondisi Kekurangan Air. Jurnal Agrivita vol. 19, No.13 90 – 95 p. Fakultas Pertanian Universitas Brawijaya, Malang.
Yunita, R. 2009. Pemanfaatn veriasi somaklonal dan seleksi in vitro dalam perakitan tanaman toleran cekaman abiotik. J. Litbang Pertanian 28(4): 142148.
Zhu JK 2016. Abiotic Stress Signaling and Responses in Plants. Cell. 167(2): 313–324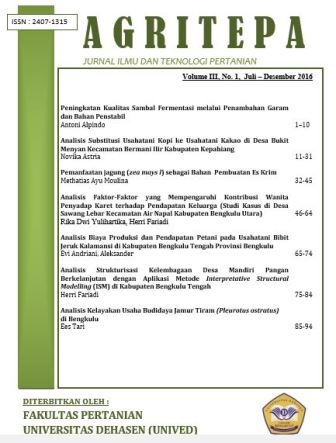 How to Cite
Aminah, A., & Paad, M. (2022). Morphological Agronomy Character Of Gene Mutation Of Various Varieties Of Soybean (Glycine Max L) On Drought Stress. AGRITEPA: Jurnal Ilmu Dan Teknologi Pertanian, 9(1), 211-220. https://doi.org/10.37676/agritepa.v9i1.2351
Section
Article Reasearch
Copyright (c) 2022 Aminah Aminah, Marliana S Paad
This work is licensed under a Creative Commons Attribution-ShareAlike 4.0 International License.
Author retains the copyright and grants the journal the right of first publication of the work simultaneously licensed under the Creative Commons Attribution-ShareAlike 4.0 License that allows others to share the work with an acknowledgement of the work's authorship and initial publication in this journal