Marketing Analysis Of Watermelon (Citrullus Vulgaris) In Pesisir Barat District Of Lampung Province
Enni Asista

Prodi Agribisnis, Fakultas Pertanian, Universitas Bengkulu

Gita Mulyasari

Program Studi Agribisnis, Universitas Bengkulu

Bambang Sumantri

Prodi Agribisnis, Fakultas Pertanian, Universitas Bengkulu
Keywords:
Marketing channel, Marketing margins, Watermelon
Abstract
Marketing is a social managerial process by which individuals and groups obtain what they need and want through creating, offering and exchanging products of value with others. This study aims to analyze marketing channels, margins, . and factors that influence the marketing margin of watermelon in Pesisir Barat Regency, Lampung Province. This study uses descriptive analysis and multiple linear regression models involving 56 farmers and 30 watermelon traders. The results of the study show, There are three marketing channels for watermelon in Pesisir Barat Regency, including Channel I (Farmers – Collectors – wholesalers – consumer retailers), channel II (Farmers – Wholesalers – Retailers – Consumers), and channel III (Farmers – Collectors – Retailers – Consumers). The marketing margin on channel I is the highest compared to channels II and III. The price at the producer level is the factor that influences the marketing margin of watermelon (Citrullus Vulgaris) in Pesisir Barat Regency. In contrast, sales volume and marketing costs do not affect watermelon's marketing margin.
Downloads
Download data is not yet available.
References
Alfarisi, S., Parera, W.B., dan Lawalata, M., 2021. Strategi Pemasaran Usahatani Sayuran Organik di Kota Ambon. Agrilan: Jurnal Agribisnis Kepulauan, 9(2), 190-207.
Amnimarlianda, B.I., Sharif, I. dan Supriono, A. 2018. Analisis Pemasaran Dan Pendapatan Usahatani Semangka Kelompok Tani Ridho Lestari Di Desa Tembokrejo Kecamatan Muncar Kabupaten Banyuwangi. J. SEP, 11(2), 48-53.
Anindita Ratya. 2004. Pemasaran hasil pertanian. Papyrus. Surabaya.
Badan pusat statistik. 2020. Kabupaten dalam Angka 2020. Badan Pusat Statistik Provinsi Lampung.
Chaerani, D.S. 2021. Analisis marjin pemasaran Jeruk Siam (Citrus nobilis Lour) di Kecamatan Pasaman Kabupaten Pasaman Barat. Jurnal Embrio 13 (1), 21 – 32.
Direktorat Jenderal Hortikultura, 2012. Produksi sayuran di Indonesia. Diakses dari https://hortikultura.pertanian.go.id (20 Desember 2020).
Emhar, A., Murti, J., Aji, M., & Agustina, T. 2014. Sosial Ekonomi Pertanian Analisis Rantai Pasokan (Supply Chain) Daging Sapi di Kabupaten Jember. Berkala Ilmiah Pertanian, 1(3), 53–61.
Indra, S.B., dan Abdullah. Pengaruh Biaya Pemasaran terhadap Pendapatan Pedagang Pengumpul Kelapa Butir (Cocos nucifera, L) di Kecamatan Peureulak Barat Kabupaten Aceh Timur. AGRISAMUDRA, Jurnal Penelitian , 2(1), 61-70.
Jayasman. 2013. Pengaruh Intrinsik Reward dan Pendidikan terhadap Motivasi Kerja Pegawai Pada Badan Kepegawaian Daerah (BKD) Kota Pariaman. Jurnal Ilmu Ekonomi, Volume 1, No.2 ,96-102.
Kai, Y., M. Baruwadi dan Wawan K. Tolinggi. 2016. Analisis distribusi dan margin pemasaran Usahatani kacang tanah di kecamatan pulubala Kabupaten gorontalo. Jurnal: Fakultas Pertanian, Universitas Negeri Gorontalo. 3(1), 62-73.
Khoirul Hapi, 2015. Analisis pemasaran semangka di Kecamatan Temon Kabupaten Kulonprogo. Universitas Janabadra Yogyakarta. Yogyakarta.
Mubyarto, 2000. Pengantar ekonomi pertanian. LP3S. Yogyakarta.
Mulyasari, G., Irham, L.R. Waluyati, A. Suryantini. Perceptions and local adaptation strategies to climate change of marine capture fishermen in Bengkulu Province, Indonesia. IOP Conference Series: Earth and Environmental Science, 200. doi :10.1088/1755-1315/200/1/012037.
Mulyasari, G. 2020. Kemiskinan, kerentanan penghidupan, dan adaptasi nelayan terhadap perubahan iklim di wilayah pesisir Jawa Tengah dan Bengkulu. Disertasi. Universitas Gadjah Mada (Tidak dipublikasikan).
Pitri, T. 2020. Pengaruh pengetahuan dan pengalaman kerja terhadap kinerja karyawan pada CV. Ria Busana. Jurnal Ekonomedia 09, 37 – 56.
Pebriani. (2011). Kajian pendapatan dan pemasaran kako ( theobroma cacao L) di Desa Muara Jauh Kecamatan Muara Payang Kabupaten Lahat Sumatra Selatan. Jurnal Agrisep 4 (1), 34-50.
Pujiati, S., N. Kusrini, D. Kurniati. 2013. Analisis factor-faktor yang mempengaruhi margin pemasaran karet rakyat di Desa Tapang Pulau Kecamatan Belitang Hilir Kabupaten Sekadau. Jurnal Hasil Riset.
Rahardjo, B. 2007. Keuangan dan Akuntansi Untuk Manajer Non Keuangan. Edisi Pertama. Yogyakarta; Graha Ilmu.
Ratnasari, M., Hartadi, R., dan Ridjal, J.A. 2016. Analisis Pemasaran dan Strategi Pengembangan Usahatani Kubis di Desa Sumberjo Kecamatan Ambulu Kabupaten Jember. Agritop Jurnal-jurnal Ilmu Pertanian, 14(1), 66-79.
Rohman, A. 2017. Analisis pemasaran tandan buah segar kelapa sawit di kecamatan putri hijau kabupaten Bengkulu utara. Jurnal Agrisep 11 (1), 87-90.
Santosa, P. B., dan Ashari. 2005. Analisis Statistik dengan Microsoft Excel dan SPSS. Penerbit ANDI OFFSET. Yogyakarta
Soekartawi, 1993. manajemen pemasaran dalam bisnis pemasaran. Pustaka Sinar Harapan. Jakarta.
Sudiyono, 2002. Pemasaran Pertanian Dan Kelembagaan Sektor Pertanian., UMM Press, Malang. Jurnal Agroland. 15 (4), 361-322.
Suek, F.S., dan Randu, M.D.S. 2018. Faktor-faktor yang Mempengaruhi Margin Pemasaran Ternak Sapi Potong di Kabupaten Kupang. Partner, 23 (1), 575-583.
Sutarno. 2014. Analisis Efisiensi Pemasaran Kedelai di Kabupaten Wonogiri. e-Journal Agrineca. 14 (1): 1-10.
Tuti, S. 2014. Analisis Pendapatan dan Pemasaran Usahatani Pepaya Mini (Carica papaya L.) Di Kelurahan Teritip Kecamatan Balikpapan Timur Kota Balikpapan. J. Agrifor. 13(1); 113-124.
Yusnia, Muis, A., dan Sulaeman. 2017. Analisis Pemasaran Semangka di Desa Maranata Kecamatan Sigi Biromaru Kabupaten Sigi. e-J. Agrotekbis 5 (2) : 269 – 277.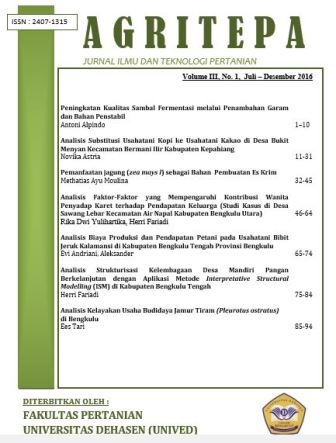 How to Cite
Asista, E., Mulyasari, G., & Sumantri, B. (2022). Marketing Analysis Of Watermelon (Citrullus Vulgaris) In Pesisir Barat District Of Lampung Province. AGRITEPA: Jurnal Ilmu Dan Teknologi Pertanian, 9(1), 69-84. https://doi.org/10.37676/agritepa.v9i1.2237
Section
Article Reasearch
Copyright (c) 2022 Enni Asista, Gita Mulyasari, Bambang Sumantri
This work is licensed under a Creative Commons Attribution-ShareAlike 4.0 International License.
Author retains the copyright and grants the journal the right of first publication of the work simultaneously licensed under the Creative Commons Attribution-ShareAlike 4.0 License that allows others to share the work with an acknowledgement of the work's authorship and initial publication in this journal