The Efficiency Of Cauliflower Farm In Sumber Bening Village Selupu Rejang Sub District Rejang Lebong Regency
Rita Feni

Universitas Muhammadiyah Bengkulu

Irma Irmeliani

Program Studi Agribisnis Fakultas Pertanian, Universitas Muhammadiyah Bengkulu
Keywords:
Efficiency, Cauliflower, Farm
Abstract
Cauliflower is one of horticulture vegetable which has potential to be cultivated by farmer, because of it's price is higher than other vegetables on the market. This study aims to analyze the efficiency of cabbage farm in Sumber Bening village Selupu Rejang Lebong Regency. This study used census method by using all 22 cauliflower farmers as respondent. Data used in this study is primary and secondary. Data analyzed using quantitative and qualitative method. This study result shows that revenue of cauliflower farmer is Rp 1.675,628,75 per season. Efficiency value or R/C ratio is 1.36, BEP 769,82 kg and Rp 4.402,78
Downloads
Download data is not yet available.
References
BPS. (2019a). Produksi Tanaman Sayuran. BPS Statistics Indonesia.
BPS. (2019b). Survei Hortikultura Potensi Tahun 2019 (Pedoman Teknis). Badan Pusat Statistik.
BPS Provinsi Bengkulu. (2020). Provinsi Bengkulu Dalam Angka 2020. BPS Provinsi Bengkulu.
Direktorat Jenderal Hortikultura. (2013). Pedoman Teknis Peningkatan Produksi, Produktivitas dan Mutu Produk Hortikultura Berkelanjutan Tahun 2014. Dirjen Hortikultura Kementerian Pertanian.
Hukom, J., Kakisina, L. O., Sari, R. M., Agribisnis, P., Pertanian, F., Pattimura, U., Putuhena, J. I. M., & Poka, K. (2019). Passo Kecamatan Baguala Kota Ambon Productivity Analysis of Leaf Vegetables in Passo Village Baguala District Ambon City. AGRILAN : Jurnal Agribisnis Kepulauan, 7(3), 227–240.
Mandang, M., Sondakh, M. F. L., & Laoh, O. E. H. (2020). Karakteristik Petani Berlahan Sempit Di Desa Tolok Kecamatan Tompaso. Agri-Sosioekonomi, 16(1), 105. https://doi.org/10.35791/agrsosek.16.1.2020.27131
Maulidah, F., & Soejoto, A. (2017). Pengaruh Tingkat Pendidikan, Pendapatan Dan Konsumsi Terhadap Jumlah Penduduk Miskin Di Provinsi Jawa Timur. Jurnal Ekonomi Pendidikan Dan Kewirausahaan, 3(2), 227. https://doi.org/10.26740/jepk.v3n2.p227-240
Rahmadona, L., Fariyanti, A., & Burhanuddin, B. (2015). Analisis Pendapatan Usahatani Bawang Merah Di Kabupaten Majalengka. Jurnal AGRISE, XV(2), 72–84.
Safitri L. S. (2015). Analisis Pendapatan Usahatani Kubis Bunga di Desa Gandasari Kecamatan Cikaum kabupaten Subang. Agroektan, 2(1), 30–41.
Suratiah, K. (2015). Ilmu Usahatani. Penebar Swadaya.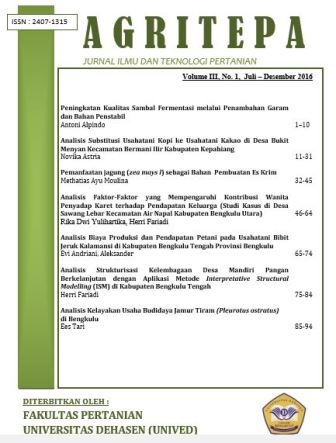 How to Cite
Feni, R., & Irmeliani, I. (2022). The Efficiency Of Cauliflower Farm In Sumber Bening Village Selupu Rejang Sub District Rejang Lebong Regency. AGRITEPA: Jurnal Ilmu Dan Teknologi Pertanian, 9(1), 161-172. https://doi.org/10.37676/agritepa.v9i1.1853
Section
Article Reasearch
Copyright (c) 2022 Rita Feni; Jumita Irmeliani
This work is licensed under a Creative Commons Attribution-ShareAlike 4.0 International License.
Author retains the copyright and grants the journal the right of first publication of the work simultaneously licensed under the Creative Commons Attribution-ShareAlike 4.0 License that allows others to share the work with an acknowledgement of the work's authorship and initial publication in this journal