Farmers' Knowledge And Adoption Level Of Vub In Tebing Kaning Village, Bengkulu Utara Regency
Robiyanto Robiyanto

Balai Pengkajian Teknologi Pertanian Bengkulu

Wawan Eka Putra

Badan Riset dan Inovasi Nasional

Shannora Yuliasari

Balai Pengkajian Teknologi Pertanian Bengkulu

Lina Ivanti

Badan Riset dan Inovasi Nasional

Yahumri Yahumri

Badan Riset dan Inovasi Nasional

Tri Wahyuni

Badan Riset dan Inovasi Nasional
Keywords:
knowledge, adoption, rice VUB
Abstract
The purpose of the study is to determine the level of knowledge and adoption of farmers on the use of new high yielding varieties (VUB). The research location is in Tebing Kaning Village, North Bengkulu Regency in March 2021. The selection of locations and respondents purposively are farmers and extension workers totaling 58 people who take part in labor-intensive technical guidance. Data collection is done through surveys. The results showed that the level of knowledge of farmers before and after the study on the introduction of VUB increased by an average of 20.07% for each measurement variable and the adoption of VUB technology showed high adoption by 36 samples (92%), moderate adoption rate by 14 samples (7%) and low adoption rate as much as 2 samples (1%)
Downloads
Download data is not yet available.
References
Agustina. 2017. Kajian Karakterisasi Tanaman Pepaya (Carica papaya L.) di Kota
Madya Bandar Lampung. Skripsi. Lampung : Fakultas Matematika dan Ilmu
Pengetahuan Alam Universitas Lampung.
Adri dan Yardha. 2014. Upaya Peningkatan Produktivitas Padi Melalui Varietas Unggul Baru Mendukung Swasembada Berkelanjutan di Provinsi Jambi. Jurnal Agroekotek. 6(1):1-11
Artawan, Sumarni, Ansor. 2017. Tingkat pengetahuan petani dalam penggunaan pupuk organik dan penerapannya pada budidaya tanaman padi sawah. Jakarta : Agromedia Pustaka.
Arikunto, S. 2010. Prosedur Penelitian Suatu Pendekatan Praktik. Jakarta:
Rineka Cipta.
Arsyad, D.M. dan E. Jamal. 2011. Kajian Karakter Inovasi Teknologi Padi Sawah Guna Percepatan Adopsinya. Prosiding Seminar Nasional Pengkajian dan Diseminasi Inovasi Pertanian mendukung Program Strategis Kementerian Pertanian: 1473-1481.
Badan Litbang Pertanian. 2009. Daerah Pengembangan dan Anjuran Budidaya Padi Hibrida. Badan Penelitian dan Pengembangan Pertanian.
Erythrina, R. Indrasti, dan A. Muharam. 2013. Kajian Sifat Inovasi Komponen Teknologi.
Fadhillah, M., Eddy, B. ., & Gayatri, S. 2018. Pengaruh Tingkat Pengetahuan, Sikap dan Keterampilan Penerapan Sistem Agribisnis Terhadap Produksi pada Petani Padi di Kecamatan Cimanggu Kabupaten Cilacap. Jurnal Sosial Dan Ekonomi. 2(1):1-15
Fagi, M. 2001. Fisiologi Tanaman Pangan. Disertasi Fakultas Pertanian Universitas Brawijaya. Malang.
Maulana, W., Suharto dan Wagiyana. 2017. Respon Beberapa Varietas Padi (Oryza Sativa L.) terhadap Serangan Hama Penggerek Batang Padi dan Walang Sangit (Leptocorisa acuta Thubn.). Jurnal Agrovigor.10(1):21-27.
Putra, S dan Y. Haryati. 2018. Kajian Produktivitas dan Respon Petani terhadap Padi Varietas Unggul Baru di Kabupaten Sukabumi, Jawa Barat. Jurnal Pengkajian dan Pengembangan Teknologi Pertanian. 21(1):1-10.
Sri Murtiati dan Meinarti Norma, 2019. Respon Penyuluh pada Dampak Perubahan Iklim Terhadap Produksi Pertanian Tanaman Pangan di Kabupaten Boyolali. Prosiding Temu Teknis Jabatan Fungsional Non Peneliti. Malang 17-18 Juli 2019
Sirappa, M. P. 2011. Kajian Perbaikan Teknologi Budidaya Padi melalui Penggunaan Varietas Unggul dan Sistem Tanam Jajar Legowo dalam Meningkatkan Produktivitas Padi Mendukung Swasembada Pangan. Jurnal Budidaya Pertanian 7(2):79-86
Sembiring, Hasil. dan Sarlan Abdulrachman. 2008. Potensi Penerapan dan Pengembangan PTT dalam Upaya Peningkatan Produksi Padi. Iptek Tanaman Pangan 3(2):276-281.
Sugihartono, dkk. 2007. Psikologi Pendidikan, Yogyakarta: UNY Press.
Zen, S. 2007. Penyebaran Varietas Unggul dan Produktivitas Padi Sawah di Propinsi Sumatera Barat. Jurnal Ilmiah Tambua Universitas Mahaputra Muhammad Yamin. VI(1):72-78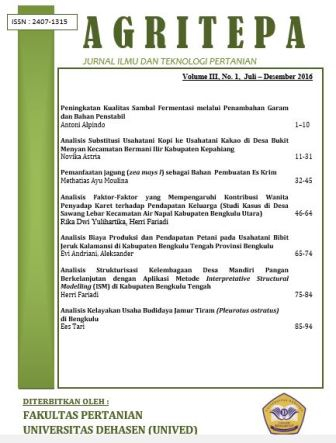 How to Cite
Robiyanto, R., Putra, W., Yuliasari, S., Ivanti, L., Yahumri, Y., & Wahyuni, T. (2022). Farmers' Knowledge And Adoption Level Of Vub In Tebing Kaning Village, Bengkulu Utara Regency. AGRITEPA: Jurnal Ilmu Dan Teknologi Pertanian, 9(2), 341-350. https://doi.org/10.37676/agritepa.v9i2.1852
Section
Article Reasearch
Copyright (c) 2022 Robiyanto Robiyanto, Wawan Eka Putra, Shannora Yuliasari, Lina Ivanti, Yahumri Yahumri, Tri Wahyuni
This work is licensed under a Creative Commons Attribution-ShareAlike 4.0 International License.
Author retains the copyright and grants the journal the right of first publication of the work simultaneously licensed under the Creative Commons Attribution-ShareAlike 4.0 License that allows others to share the work with an acknowledgement of the work's authorship and initial publication in this journal