KAJIAN VARIASI KONSENTRASI SUKROSA TERHADAP KARAKTERISTIK NATA TIMUN SURI (Cucumis sativus L.)
Netty Herawaty

Universitas Dehasen Bengkulu

Methatias Ayu Moulina
Abstract
Nata is a gel-like substances, insoluble in water and is formed on the surface of the fermentation medium coconut water or some sour juice. Making nata involving microorganisms (microbes) are known as Acetobacter xylinum. Nata is one type of food gel (agar-agar) with slightly chewy texture, dense, white and slightly transparent. The purpose of this study was to determine the effect of sucrose on the quality characteristics of the physical, chemical, and organoleptic nata cucumber and determining the most appropriate sucrose concentrations in processing cucumber nata. The experimental design used in this study is completely randomized design ( CRD ) with a single factor. Factors used as treatment is the addition of sucrose concentration are : 4% sucrose concentration = 40 g, 6% sucrose concentration = 60 g, 8% sucrose concentration = 80 g, 10% sucrose concentration = 100 g, and 12% sucrose concentration = 120 g. The research covers : analysis of thickness measurement, texture, fiber content, and organoleptic tests natacucumber . The best results were obtained in 10% sucrose with a thickness of 1,1 cm, 2,57 kgf/cm2 texture and fiber content 1,11%. The results of organoleptic acceptance rate panelist to panelist color parameters like sucrose over 12% with a value of 3,85, while the parameters of taste and texture panelists preferred the addition of 10% sucrose with a value of 4,1 and 3,95. The best sucrose concentration in the processing of nata cucumber is 10%.
Keywords : Nata de Cucumber Suri, Suri Cucumber, Sucrose.


Downloads
Download data is not yet available.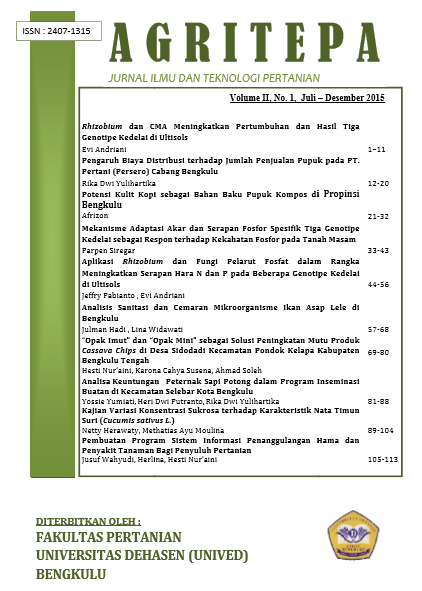 How to Cite
Herawaty, N., & Moulina, M. A. (2016). KAJIAN VARIASI KONSENTRASI SUKROSA TERHADAP KARAKTERISTIK NATA TIMUN SURI (Cucumis sativus L.). JURNAL AGRITEPA, 2(2). Retrieved from https://jurnal.unived.ac.id/index.php/agritepa/article/view/185
Section
Jurnal Penelitian