Physical And Sensory Characteristics Of Emulsion Drinks Red Palm Oil
Devi Silsia

Universitas Bengkulu

Liza Bunaiyah

Budiyanto Budiyanto
Keywords:
Emulsion Drinks, Mango Aroma, Red Palm Oil
Abstract
Red palm oil contains carotenoids (β, α, ϒ-carotene) so that it has the potential to be developed into a healthy oil. This study aims to obtain physical characteristics (viscosity and stability) and sensory of red palm oil emulsion drink at various concentrations of the addition of CMC and mango flavor. This study used a completely randomized design (CRD) with 2 factors, namely the CMC concentration (0.5%, 0.75% and 1%) and the mango flavor concentration (1.5% and 2%). Red palm oil emulsion drink has a viscosity of 137.93 - 314.92 cP and stability of 77.66 - 94.06%. Sensory score for color 3.44 - 3.80, aroma 3.0 - 3.53, taste 2.72 - 3.00 and viscosity 3.16 -3.32. The higher the CMC concentration and the added manga flavor, the higher the viscosity and stability as well as the sensor score.
Downloads
Download data is not yet available.
References
Atkins, P. W. 1999. Kimia fisika jilid 11 edisi iv. Erlangga. Jakarta
Azahari, D.E. 2018. Hilirisasi Kelapa Sawit: Kinerja, Kendala, Dan Prospek. Forum
Penelitian Agro Ekonomi. 36 (2). 81-95.
Budiyanto., D, Silsia dan Fahmi. 2012. Kajian Pembuatan Minyak Sawit Merah (Red Palm Oil) dengan Bahan Baku Minyak Sawit Kasar yang diambil dari Berbagai Stasiun Pengolahan Crude Palm Oil (CPO). Di dalam Prosiding Seminar Nasional 12 September 2012 : Menuju Pertanian Berdaulat-Toward Agriculture Soverignity. Fakultas Pertanian. Universitas Bengkulu.
Budiyanto, B.Sidebang, dan R. S.D. Samosir.2019. Pengaruh Penambahan Ekstrak Jeruk
Kalamansi (Citrusmicrocarpa) Dan CMC Terhadap Preferensi Emulsi Minyak Sawit
Merah (Red Palm Oil) Jurnal Agroindustri. 9 (1) : 49-55
Cassiday, L. 2017. Red Palm Oil. Inform. 28 (2): 6-9.
Choo, Y. M. 1994. Palm Oil Carotenoids. J.Food and Nutrition Bulletin, 15(2) : 130-136.
[Ditjenbun] Direktorat Jenderal Perkebunan. 2016. Statistik Perkebunan Indonesia 2015- 2017. Jakarta (ID)
Hambali, E dan A. Suryani. 2002. Teknologi Emulsi. Departemen Teknologi Industri Pertanian.Institut Pertanian Bogor. Bogor.
Harahap,I.S., P. Wahyuningsih, dan Y. Amri, 2020. Analisa Kandungan Beta Karoten Pada
CPO (Crude Palm Oil) Di Pusat Penelitian Kelapa Sawit (PPKS) Medan Mengguna-kan Spektrofotometri Uv-Vis. Quimica, Jurnal Kimia Sains dan Terapan . 2 (1) : 9-13.
Harlen, W.C., T. Muchtadi dan N.S. Palupi, 2017. Bioavailabilitas α-Tokoferol Minuman
Emulsi Minyak Sawit dalam Plasma Darah dan Hati Tikus (Rattus norvegicus). AGRITECH. 37 (3): 352-361.
Ketaren 1986. Pengantar Teknologi Minyak Dan Lemak Pangan. Universitas Indonesia Press.
Lawless And Heymann, 1999. Sensory Evaluation of Food. New York: Aspen Publishers, Inc.
Mancini, A., E.Imperlini , E.Nigro, C. Montagnese, A. Daniele, S. Orru, dan P. Buono.2015.
Biological and nutritional properties of palm oil and palmitic acid: Effects on health. Molecules 20 (9) :17339–17361.
Marbun, D. 2016. Pemanfaatan Buah Asam Gelugur (Garcinia Atroviridis) Dalam Pembuatan Emulsi Minyak Sawit Merah (Red Palm Oil) Yang Berkualitas. Skripsi Teknologi Industri Pertanian. Fakultas Pertanian. Universitas Bengkulu. Bengkulu.
Murtiningrum., Z.L Sarunggallo., G.N Cepeda dan N. Olong . 2013. Stabilitas Emulsi Minyak Buah Merah Pada Berbagai Hidrophilic Liphophilic Balance (HLB) Pengemulsi. Jurnal Tek. Industri Pertanian. 23(1) :30-37.
Nadapdap S. L, B Budiyanto, L Hidayat. 2020. Penambahan Ekstrak Salak Sidempuan
(salacca sumatrana) Untuk Meningkatkan Penerimaan Emulsi Minyak Olein Sawit
Merah. Agritepa 7 (2) : 88-98.
Nurhayati dan Budiyanto. 2016. Stabilitas Dan Penerimaan Emulasi Sawit Minyak Sawit
Merah Menggunakan Berbagai Konsentrasi Tween 80. J. Agroindustri, 6(2), 80-87.
Saputra, YRP. 2016. Proses Pembuatan Minuman Emulsi Minyak Sawit Dan Analisa Teknoekonomi Pada Skala Industri. Skripsi. Institut Pertanian Bogor. Bogor.
Sukardjo. 2004. Kimia Fisika. PT. Rineka Cipta. Jakarta
Sumarna, D. 2014. Studi Metode Pengolahan Minyak Sawit Merah (Red Palm Oil) dari Crude Palm Oil (CPO).Prosiding Seminar Nasional Kimia. Universitas Mulawarman. Kalimantan Timur.
Traynor M.P., R, Burke ., JM, Frias., E, Gaston dan B, Ryan C. 2013. Formation and Stability of an Oil In Water Emulsion Containing Lecithin Xanthan Gum and Sunflower Oil. Int Food Res J. 20 (5) : 2173-2181.
Wulandari, S., Budiyanto., E, Silvia. 2012. Karakteristik Emulsi Minyak Sawit Merah dan Aplikasi Qualitiy Function Deployment (QDF) Untuk Pengembangan Produk. Jurnal Teknologi Industri Pertanian 25 (2) : 136-142.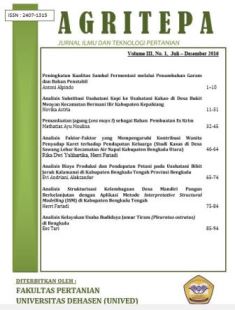 How to Cite
Silsia, D., Bunaiyah, L., & Budiyanto, B. (2021). Physical And Sensory Characteristics Of Emulsion Drinks Red Palm Oil. AGRITEPA: Jurnal Ilmu Dan Teknologi Pertanian, 8(2), 123-136. https://doi.org/10.37676/agritepa.v8i2.1333
Section
Article Reasearch
Copyright (c) 2021 Devi Silsia, Liza Bunaiyah, Budiyanto Budiyanto
This work is licensed under a Creative Commons Attribution-ShareAlike 4.0 International License.
Author retains the copyright and grants the journal the right of first publication of the work simultaneously licensed under the Creative Commons Attribution-ShareAlike 4.0 License that allows others to share the work with an acknowledgement of the work's authorship and initial publication in this journal