PENAMBAHAN EKSTRAK SALAK SIDEMPUAN (Salacca sumatrana) UNTUK MENINGKATKAN PENERIMAAN EMULSI MINYAK OLEIN SAWIT MERAH
ADDITIONAL SALAK SIDEMPUAN (Salacca sumatrana) EXTRACT FOR PREFERENCES IMPROVEMENT OF RED PALM OLEIN OIL EMULSION
Sondang L Nadapdap

Department of Agricultural Technology Faculty of Agriculture, University of Bengkulu

Budiyanto Budiyanto

Department of Agricultural Technology Faculty of Agriculture, University of Bengkulu

Lukman Hidayat

Department of Agricultural Technology Faculty of Agriculture, University of Bengkulu
Keywords:
Red Palm Olein Oil emulsion, Salak Sidempuan Extract, preference
Abstract
Carotenoids in red palm olein oil (RPOOO) have been scientifically proven to have good functional properties for the human health so that RPOOO has the potential to be used as one of the healthy drinks. One of the problems faced in the use of RPOO as a health drink is the taste and aroma is less interesting. This study aims to obtain the ratio of  RPOO and salak sidempuan extract used to obtain stable emulsion, acceptable  viscosity, and acceptable   emulsion product.    Four emulsions  were prepared using 1% carbonmethylcellulosa as emulcifier and four different composition ratios of RPOO and salak extract were prepared. Emulsions characteristics and their sensory acceptability were investigated.  The results of this study showed that the ratio of RPOO ratio and 1: 2  salak extract obtained the best stability with viscosity of 175 cP emulsion. In addition, emulsions with an RPOO ratio and 1:25 salak extract yield preferable levels of sensory attributes such as color, aroma and taste.
Downloads
Download data is not yet available.
References
Agromedia. 2009. Budidaya Tanaman Buah Unggul Indonesia. Jakarta: Agromedia Pustaka
Arancibia L., R. Navarro-Lisboa, R. N. Zúñiga, and S. Matiacevich. 2016. International Journal of Polymer Science Volume 2016. P 1-10. Article ID 6280581, 10 pages http://dx.doi.org/10.1155/2016/6280581
Ardiruhiyatman, R. 2013.Optimasi bahan emulsi dari minyak sawit dengan tiga jenis stabilizer dan uji mutu minuman emulsinya. Skripsi. Ilmu dan Teknologi Pangan. Institut Pertanian Bogor. Bogor
Budiyanto, B. Sidebang, R.S.D. Samosir. 2019. Pengaruh penambahan ekstrak Jeruk Kalamansi (citrus macrocarpa) dan CMC terhadap preferensi emulsi minyak sawit merah (RPO). Jurnal Agroindustri,. Vol. 9(1): 49-55.
Budiyanto, D. Silsia dan Fahmi. 2012. Kajian pembuatan Red Palm Olein (RPOO) dengan bahan baku minyak sawit kasar yang diambil dari beberapa stasiun pengolahan Crude Palm Oil (CPO). Prosiding. Fakultas Pertanian Universitas Bengkulu. Bengkulu. 12 September 2012. Hal: 643-654
Cassiday, L. 2017. Red Palm Oil. Inform Vol. 28 (2) : 6-9.
Chemmunique. 1980. The HLB Systems, a Time Saving Guide to Emulsifier Selection. Wilmington: ICI Americas Inc.
Kataren. Ketaren 1986. Pengantar Teknologi Minyak dan lemak Pangan. Jakarta: UI Press
Kipdiyah, S. 2010 Pengaruh jenis dan konsentrasi emulsifier terhadap kestabilan dan sifat reologi emulsi oil in water minyak sawit merah. Skripsi. Ilmu dan Teknologi Pangan. Institut Pertanian Bogor. Bogor
Nasution, S.A.S. 2011. Pengaruh jenis kemasan dan suhu penyimpanan terhadap kesegaran dan kualitas buah salak sidempuan (Salacca sumatrana). Skripsi. Bogor. Fakultas Teknologi Pertanian Bogor. Bogor
Nurhayati, H. Dan Budiyanto. 2016 Stabilitas dan Penerimaan emulsi Minyak Sawit Merah (Red Palm Oil) menggunakan berbagai kosentrasi emulsifier Tween 80. Jurnal Agroindustri Vol. 6(2) : 80-87.
Murtiningrum, Z., L. Sarungalo, Gino, N. Capeda, N. Olong. 2013. Stabilitas emulsi minyak buah merah (Pandanus Conoideus L) pada berbagai kisaran nilai HLB (Hydrophile-Lyphophile Balance) pengemulsi. Jurnal Teknologi Industri Pertanian. Manokwari: Fakultas Pertanian dan Teknologi Pertanian. Universitas Negeri Papua. Papua
Surfiana. 2002. Formulasi minuman emulsi kaya β Karoten dari minyak sawit merah.Tesis. Pascasarjana Institut Pertanian Bogor. Bogor
Wulandari, S., Budiyanto dan E. Silvia. 2015. Karakterisasi emulsi minyak sawit merah dan aplikasi Quality Funcition Deployment (QFD) untuk pengembangan produk. Jurnal Teknologi Industri Pertanian 25(2): 136-142.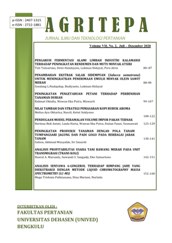 How to Cite
Nadapdap, S., Budiyanto, B., & Hidayat, L. (2020). PENAMBAHAN EKSTRAK SALAK SIDEMPUAN (Salacca sumatrana) UNTUK MENINGKATKAN PENERIMAAN EMULSI MINYAK OLEIN SAWIT MERAH. AGRITEPA: Jurnal Ilmu Dan Teknologi Pertanian, 7(2), 88-98. https://doi.org/10.37676/agritepa.v7i2.1159
Section
Article Reasearch
Copyright (c) 2020 Sondang L Nadapdap, Budiyanto Budiyanto, Lukman Hidayat
This work is licensed under a Creative Commons Attribution-ShareAlike 4.0 International License.
An author who publishes in the Jurnal AGRITEPA agrees to the following terms:
Author retains the copyright and grants the journal the right of first publication of the work simultaneously licensed under the Creative Commons Attribution-ShareAlike 4.0 License that allows others to share the work with an acknowledgement of the work's authorship and initial publication in this journal
Submission of a manuscript implies that the submitted work has not been published before (except as part of a thesis or report, or abstract); that it is not under consideration for publication elsewhere; that its publication has been approved by all co-authors. If and when the manuscript is accepted for publication, the author(s) still hold the copyright and retain publishing rights without restrictions. For the new invention, authors are suggested to manage its patent before published. The license type is CC-BY-SA 4.0.
Jurnal AGRITEPA is licensed under a Creative Commons Attribution-ShareAlike 4.0 International License.