The Effectiveness Of Techniques Of Cradle Hold And Football Hold Lowing On The Event Of Labet Milk Clothing In The Principal Mother Year 2023
Mariance Aiba

Fakultas Ilmu Kesehatan,Universitas Kadiri

Eko Winarti

Yudied Agung Mirasa
Keywords:
Injectable Contraception, Women, Childbearing Age
Abstract
Background: Hormonal contraceptives are the type that is more widely used because of how it works, it is effective, practical, the price is relatively cheap and practical. However, long-term use of injectable contraceptives can cause changes in serum lipids, cause vaginal dryness, decrease libido, emotional disturbances, headaches, acne and can reduce bone density. Research Objectives: To describe what factors influence mothers in choosing injectable contraception. Methods: This type of research is a descriptive study with a cross sectional approach that provides an overview of the factors that influence mothers in choosing injectable contraception. The population in this study were all users of injectable contraceptives at the Amban Health Center in January - April 2020 using the Sampling Technique. Data analysis using the Proportion formula. Results: Age factor < 35 years was 30 (93.75%), experience with past contraceptives was 22 (68.75%), health status without a medical history was 19 (59.38%), side effects experienced side effects amounted to 28 (87.5%). Conclusion: The dominant factor influencing mothers to use injectable family planning is the age factor.
Downloads
Download data is not yet available.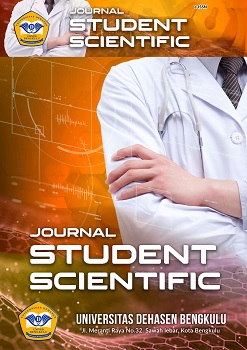 How to Cite
Aiba, M., Winarti, E., & Mirasa, Y. (2023). The Effectiveness Of Techniques Of Cradle Hold And Football Hold Lowing On The Event Of Labet Milk Clothing In The Principal Mother Year 2023. Student Scientific Journal, 1(2), 145–150. Retrieved from https://jurnal.unived.ac.id/index.php/ssj/article/view/3952
Copyright (c) 2023 Mariance Aiba, Eko Winarti, Yudied Agung Mirasa
This work is licensed under a Creative Commons Attribution-NonCommercial-ShareAlike 4.0 International License.