Application Of Florance Nightingale Theory Of Bronchial Pulmonary Asthma Patients With Pursed Lip Breathing Exercise And Effective Cough At Lebong District Health Center Test Care In 2022
Dwilius Aprilia

Fakultas Ilmu Kesehatan Universitas Dehasen Bengkulu

Murwati Murwati

Danur Azissah roeslina Sofais
Keywords:
Pulmonary Bronchial Asthma Patients,, Pursed Lip Breathing Exercise and Effective Cough, Theopry Florance Nightangale
Abstract
Asthma is a condition in which the airways experience narrowing due to hyperactivity to certain stimuli that cause inflammation with manifestations of recurrent wheezing, shortness of breath, and coughing especially at night and morning. Asthma is a disease that commonly affects people of all ages, and can affect psychological as well as social domains of quality of life. This disease generally begins in childhood. Where the purpose of nursing action is to maintain, prevent infection and injury, recover from illness, conduct health education and control the environment. The reason for nursing according to Florence Nightingale is to put humans in the best condition naturally to heal or improve health and prevent disease and injury.This study uses a method that is a nursing process approach based on the chosen nursing theory, the techniques used in data collection are interviews, observations, physical examinations and conducting nursing care. The source of data obtained or used is primary obtained directly from patients and secondary data obtained from family, health workers and documentation from other examination results to carry out nursing care, while literature study is to study source books related to nursing care given to patients.The results of nursing care in bronchial pulmonary asthma patients from the Florence assessment data focus more on environmental conditions (physical, psychological and social environment). Data are grouped based on physical, social and mental environment related to client conditions related to the overall environment. Focused on the relationship of individuals with the environment for example: lack of information about environmental hygiene, ventilation, garbage disposal, environmental pollution, social communication and others
Downloads
Download data is not yet available.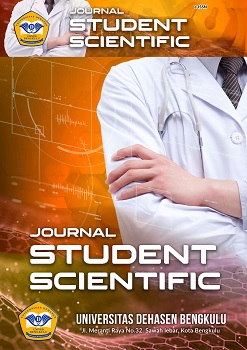 How to Cite
Aprilia, D., Murwati, M., & roeslina Sofais, D. (2023). Application Of Florance Nightingale Theory Of Bronchial Pulmonary Asthma Patients With Pursed Lip Breathing Exercise And Effective Cough At Lebong District Health Center Test Care In 2022. Student Scientific Journal, 1(2), 131–138. Retrieved from https://jurnal.unived.ac.id/index.php/ssj/article/view/3919
Copyright (c) 2023 Dwilius Aprilia, Murwati Murwati, Danur Azissah roeslina Sofais
This work is licensed under a Creative Commons Attribution-NonCommercial-ShareAlike 4.0 International License.