Giving Deep Breathing Relaxation to Hypertension Patients Using Theory Application of the Jean Watson Model at the M Thaha Health Center in 2022
Fitri Asnaini

2ProgramStudi Ilmu Keperawatan(S-1)Fakultas Ilmu Kesehatan(Fikes)Universitas Dehasen Bengkulu

Kartika Murya

Danur Azissah roeslina Sofais
Keywords:
Hypertension, Deep Breathing Relaxation, Theory of Jean watson
Abstract
Intoduction: Hypertension is blood pressure per system where the systolic pressure is> 140 mmHg and the diastolic is> 90 mmHg. High blood pressure or hypertension is a medical condition in which there is a chronic (long term) increase in blood pressure. Patients who have at least three blood pressure readings that exceed 140/90 mmHg at rest are considered to have high blood pressure. Constantly high blood pressure is a risk factor for stroke, heart attack, heart failure and arterial aneurysm, and is a leading cause of chronic heart failure.The purpose of this case study is to apply Jean Watson's theory and be able to understand and apply nursing care in the provision of deep breathing relaxation in hypertensive patients with the application of Jean Watson's Model Theory. As well as being able to implement, evaluate and analyze the effectiveness of Giving Deep Breathing Relaxation to Hypertension Patients With the Application of Jean Watson's Model Theory at the M Thaha Health Center in 2022
The method of this case study research is to use a method that is the nursing process approach based on the selected nursing theory, the technique used in data collection is by interview, observation, physical examination and carrying out nursing care. Sources of data obtained or used are primary which are obtained directly from patients and secondary data obtained from families, health workers and documentation from other examination results to carry out nursing care, while library research is studying source books related to nursing care given to patients. Patient.The results of nursing care for hypertensive patients with the application of Jean Watson's model theory at the Thaha Health Center with nursing actions providing deep breathing relaxation are very effective in hypertensive patients. Jean Watson's theory can be applied and well applied in the treatment of hypertensive patients focusing on cases. Suggestions for patients and families to maintain good health, both physical and psychological health and diet to prevent complications due to high blood pressure.
Downloads
Download data is not yet available.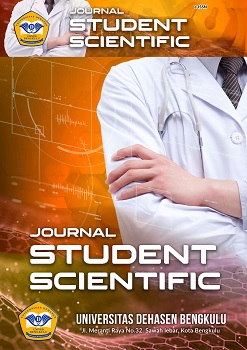 How to Cite
Asnaini, F., Murya, K., & Sofais, D. (2023). Giving Deep Breathing Relaxation to Hypertension Patients Using Theory Application of the Jean Watson Model at the M Thaha Health Center in 2022. Student Scientific Journal, 1(2), 95 –100. Retrieved from https://jurnal.unived.ac.id/index.php/ssj/article/view/3918
Copyright (c) 2023 Fitri Asnaini, Kartika Murya, Danur Azissah roeslina Sofais
This work is licensed under a Creative Commons Attribution-NonCommercial-ShareAlike 4.0 International License.