PENGARUH SIMULASI MENGHADAPI BENCANA GEMPA BUMI  TERHADAP KESIAPSIAGAAN SISWA SDN 86 KOTA BENGKULU
Nova Yustisia

TITIN APRILATUTINI

TUTI ANGGRIANI UTAMA
Keywords:
Pelatihan Kesiapsiagaan Bencana, metode simulasi
Abstract
Indonesia merupakan daerah rawan bencana gempa bumi dan provinsi Bengkulu adalah salah satu daerah yang mengalami gempa bumi. Gempa yang terjadi pada tahun 2000 menyebabkan banyak korban. Kebanyakan dari mereka adalah orang tua dan anak-anak. Tidak semua anak dilatih untuk menghadapi bencana, oleh karena itu perlu diadakan pelatihan di sekolah dasar sehingga anak-anak memiliki pengetahuan bagaimana menangani bencana ini jika tiba-tiba terjadi. Tujuan utama dari penelitian ini adalah untuk mengetahui pengaruh metode simulasi bencana terhadap kesiapan anak-anak. Desain penelitian menggunakan eksperimen semu dengan dua desain pre post test. Sampel diambil dengan menggunakan sampel tota untuk 62 responden dan data dikumpulkan dengan menggunakan kuesioner. Hipotesis diuji dengan menggunakan U-Man Withney. Hasil: Hasil penelitian ini menunjukkan ada pengaruh terhadap kesiapan bencana metode simulasi anak dengan nilai P <0,005. Kesimpulan: Pelatihan kesiapan menghadapi bencana gempa meningkatkan level kesadaran anak-anak. Semua siswa tingkat 6 SD N 86 Bengkulu mampu dan terlibat setelah pelatihan diulang 5 kali dan sebagian besar anak-anak menunjukkan bahwa tingkat kesadaran dikategorikan sebagai kurang siap.
Downloads
Download data is not yet available.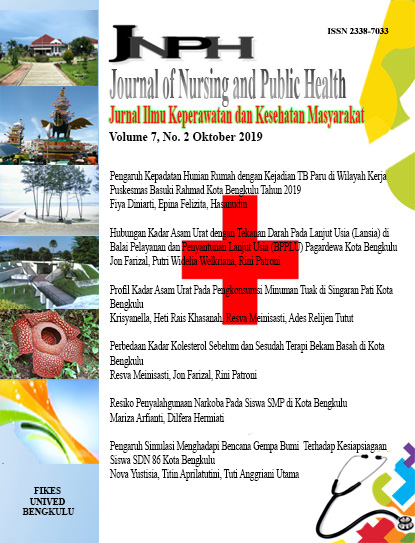 How to Cite
Yustisia, N., APRILATUTINI, T., & UTAMA, T. (2019). PENGARUH SIMULASI MENGHADAPI BENCANA GEMPA BUMI  TERHADAP KESIAPSIAGAAN SISWA SDN 86 KOTA BENGKULU. Journal of Nursing and Public Health, 7(2), 32-38. https://doi.org/10.37676/jnph.v7i2.888
An author who publishes in the Journal of Nursing and Public Health agrees to the following terms:
Author retains the copyright and grants the journal the right of first publication of the work simultaneously licensed under the Creative Commons Attribution-ShareAlike 4.0 License that allows others to share the work with an acknowledgement of the work's authorship and initial publication in this journal
Submission of a manuscript implies that the submitted work has not been published before (except as part of a thesis or report, or abstract); that it is not under consideration for publication elsewhere; that its publication has been approved by all co-authors. If and when the manuscript is accepted for publication, the author(s) still hold the copyright and retain publishing rights without restrictions. For the new invention, authors are suggested to manage its patent before published. The license type is CC-BY-SA 4.0.
Journal of Nursing and Public Health is licensed under a Creative Commons Attribution-ShareAlike 4.0 International License.
You are free to:
Share — copy and redistribute the material in any medium or format
Adapt — remix, transform, and build upon the material
for any purpose, even commercially.
The licensor cannot revoke these freedoms as long as you follow the license terms.