HUBUNGAN PERSEPSI IBU TENTANG KETIDAKCUKUPAN ASI (PKA) TERHADAP PEMBERIAN ASI EKSKLUSIF PADA BAYI DI WILAYAH KELURAHAN KUALA LEMPUING KOTA BENGKULU
Des Metasari

Berlian Kando Sianipar
Keywords:
persepsi ibu, ASI ekslusif, ketidakcukupan ASI
Abstract
Menurut Riset kesehatan dasar (Riskesdas) tahun 2015, cakupan ASI eksklusif hanya sekitar 38%, sementara pemerintah menargetkan cakupan ASI eksklusif sebesar 80%.2,3. Cakupan ASI eksklusif di Provinsi Bengkulu mASIh rendah.  Sekitar 35% ibu yang memberikan makanan tambahan kepada bayi sebelum berusia enam bulan ternyata karena mengalami Persepsi Ketidakcukupan ASI (PKA). PKA adalah pendapat ibu yang meyakini bahwa produksi ASI-nya kurang (tidak cukup) untuk memenuhi kebutuhan bayinya dan selanjutnya memberikan makanan pendamping ASI dini. Tujuan penelitian ini adalah untuk mengetahui hubungan antara persepsi ibu tentang ketidakcukupan ASI terhadap pemberian ASI ekslusif pada bayinya. Jenis penelitian ini adalah diskriptif analitik dengan desian crosesectional, sampel dalam penelitian ini adalah seluruh ibu yang mempunyai bayi di kelurahan Kuala Lempuing yang berjumlah 55 orang ibu. HASIl penelitian ini menujukkan sebagian besar (58,2 %)persepsi ibu baik, sebagian (63,6 %) ASI Eksklusif dan ada hubungan antara persepsi ibu dengan pemberia ASI eksklusif dimana nilai p (0,000) < α (0,05). Kesimpulan terdapat hubungan antara persepsi ibu dengan pemberia ASI eksklusif, sehingga disarankan untuk menanamkan, mengevaluASI serta menentukan kebijakan program kesehatan, khususnya untuk menurunkan angka kesakitan pada balita.
Downloads
Download data is not yet available.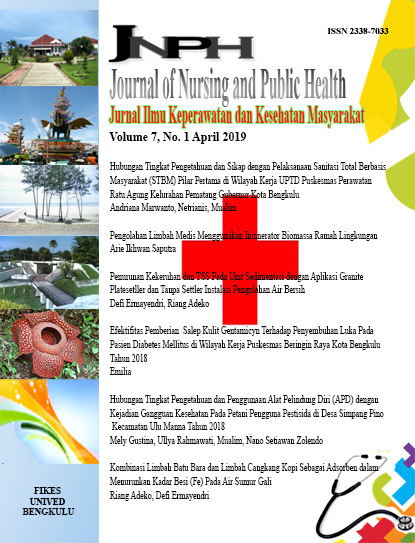 How to Cite
Metasari, D., & Sianipar, B. (2019). HUBUNGAN PERSEPSI IBU TENTANG KETIDAKCUKUPAN ASI (PKA) TERHADAP PEMBERIAN ASI EKSKLUSIF PADA BAYI DI WILAYAH KELURAHAN KUALA LEMPUING KOTA BENGKULU. Journal of Nursing and Public Health, 7(1), 41-45. https://doi.org/10.37676/jnph.v7i1.786
An author who publishes in the Journal of Nursing and Public Health agrees to the following terms:
Author retains the copyright and grants the journal the right of first publication of the work simultaneously licensed under the Creative Commons Attribution-ShareAlike 4.0 License that allows others to share the work with an acknowledgement of the work's authorship and initial publication in this journal
Submission of a manuscript implies that the submitted work has not been published before (except as part of a thesis or report, or abstract); that it is not under consideration for publication elsewhere; that its publication has been approved by all co-authors. If and when the manuscript is accepted for publication, the author(s) still hold the copyright and retain publishing rights without restrictions. For the new invention, authors are suggested to manage its patent before published. The license type is CC-BY-SA 4.0.
Journal of Nursing and Public Health is licensed under a Creative Commons Attribution-ShareAlike 4.0 International License.
You are free to:
Share — copy and redistribute the material in any medium or format
Adapt — remix, transform, and build upon the material
for any purpose, even commercially.
The licensor cannot revoke these freedoms as long as you follow the license terms.