FAKTOR-FAKTOR KEJADIAN KARIES GIGI PADA BALITA DI WILAYAH KERJA PUSKESMAS BETUNGAN KOTA BENGKULU
Katli Katli

UPTD PUSKESMAS PERAWATAN BETUNGAN KOTA BENGKULU
Keywords:
Food Consumption Cariogenic, Brushing Teeth, Dental Care to doctor, Dental Caries
Abstract
The main problem of oral health of children is dental caries. Caries is a dental health problem incidence which is increasing. Factors that cause dental caries among gender, consumption of cariogenic foods/sweet, brushing teeth, dental care doctor. This study was conducted to determine the factors associated with the incidence of dental caries on toddlers in the region of Betunganhealth center. This study was an analytical study using case control design. The study population were all toddlers who came to visit the health center for dental treatment, with the sample size of 96 people, and the sampling technique used an accidental sampling. Data collection was done by direct interview using a questionnaire. Data was analyzed using univariate and bivariate analysis with chi-square test at α 5%. The results showed that most respondents (51.0%) frequently consume cariogenic foods, most respondents (55.2%) did not brush their teeth well, most respondents (58.3%) carried out dental care to the doctor was not effective, almost half respondents (47.9%) were female sex, and half of the respondents (50.0%) experienced dental caries. There was a relationship between the consumption of foods cariogenic, brushing and dental care to the doctor with the incidence of dental caries in BetunganHealth Center in Bengkulu(ρ = 0.000), and there was no relationship between gender and the incidence of dental caries in Betunganhealth center in the city of Bengkulu (ρ = 0.540). It is expected that health workers in the health center of Betungan can be a channel of information and give more intensive counseling and health promotion of the factors associated with the incidence of dental caries, as well as convey the prevention of dental caries.
Downloads
Download data is not yet available.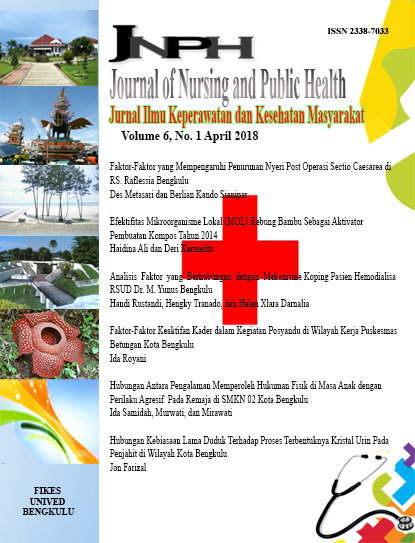 How to Cite
Katli, K. (2018). FAKTOR-FAKTOR KEJADIAN KARIES GIGI PADA BALITA DI WILAYAH KERJA PUSKESMAS BETUNGAN KOTA BENGKULU. Journal of Nursing and Public Health, 6(1). https://doi.org/10.37676/jnph.v6i1.495
An author who publishes in the Journal of Nursing and Public Health agrees to the following terms:
Author retains the copyright and grants the journal the right of first publication of the work simultaneously licensed under the Creative Commons Attribution-ShareAlike 4.0 License that allows others to share the work with an acknowledgement of the work's authorship and initial publication in this journal
Submission of a manuscript implies that the submitted work has not been published before (except as part of a thesis or report, or abstract); that it is not under consideration for publication elsewhere; that its publication has been approved by all co-authors. If and when the manuscript is accepted for publication, the author(s) still hold the copyright and retain publishing rights without restrictions. For the new invention, authors are suggested to manage its patent before published. The license type is CC-BY-SA 4.0.
Journal of Nursing and Public Health is licensed under a Creative Commons Attribution-ShareAlike 4.0 International License.
You are free to:
Share — copy and redistribute the material in any medium or format
Adapt — remix, transform, and build upon the material
for any purpose, even commercially.
The licensor cannot revoke these freedoms as long as you follow the license terms.