HUBUNGAN KEBIASAAN LAMA DUDUK TERHADAP PROSES TERBENTUKNYA KRISTAL URIN PADA PENJAHIT DI WILAYAH KOTA BENGKULU
Jon Farizal

POLTEKKES KEMENKES Bengkulu
Keywords:
Crystal urine, tailor
Abstract
Background: Urine crystals are conditions in which the formation of stones in the outlet of the urine can be in the kidneys, ureters, bladder and urethra. The incidence of urinary tract stones (BSK) is more prevalent in people who sit in many jobs such as convection workers (tailors), because it interferes with the body's metabolism process and will cause bone loss calcium bleeding, will further spur the formation of urine crystals that will lead to the emergence of urinary tract stones. The purpose of this study is to know whether there is a relationship between the old habit of sitting on the process of formation of urine crystals at tailors in the city of Bengkulu Method: Using a cross sectional design with a sample of 30 respondents. The morning urine of the respondent is examined microscopically by the presence or absence of urine crystals found. Then the data is analyzed by using spearman correlation. Result: Long habits seated at tailors in bengkulu city area in 2017 with a sample of 30 samples known mean habits of seats sat tail mean is 8 hours and with median value of 7.94 hours, a minimum value of 7 hours and a maximum value of 10 hours. The result of statistic by using spearman test result p = 0,10 (p> 0,05) so there is no relation between old habit of sitting with process of urine crystals forming at tailor in city region Bengkulu Conclusion: There is no relation between old habit of sitting to process of crystal formation urine on tailors in the city area of Bengkulu
Downloads
Download data is not yet available.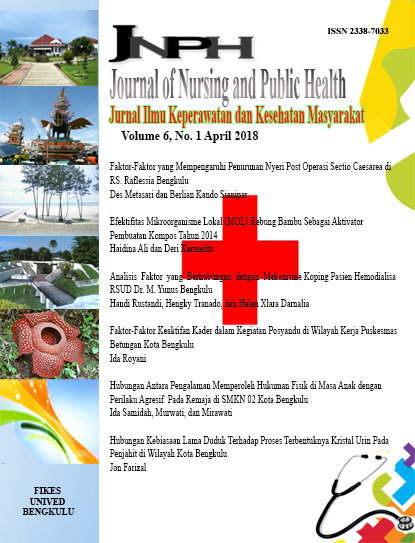 How to Cite
Farizal, J. (2018). HUBUNGAN KEBIASAAN LAMA DUDUK TERHADAP PROSES TERBENTUKNYA KRISTAL URIN PADA PENJAHIT DI WILAYAH KOTA BENGKULU. Journal of Nursing and Public Health, 6(1). https://doi.org/10.37676/jnph.v6i1.493
An author who publishes in the Journal of Nursing and Public Health agrees to the following terms:
Author retains the copyright and grants the journal the right of first publication of the work simultaneously licensed under the Creative Commons Attribution-ShareAlike 4.0 License that allows others to share the work with an acknowledgement of the work's authorship and initial publication in this journal
Submission of a manuscript implies that the submitted work has not been published before (except as part of a thesis or report, or abstract); that it is not under consideration for publication elsewhere; that its publication has been approved by all co-authors. If and when the manuscript is accepted for publication, the author(s) still hold the copyright and retain publishing rights without restrictions. For the new invention, authors are suggested to manage its patent before published. The license type is CC-BY-SA 4.0.
Journal of Nursing and Public Health is licensed under a Creative Commons Attribution-ShareAlike 4.0 International License.
You are free to:
Share — copy and redistribute the material in any medium or format
Adapt — remix, transform, and build upon the material
for any purpose, even commercially.
The licensor cannot revoke these freedoms as long as you follow the license terms.